Highlights

Dividend stocks could prove to be a steady source of income for the stakeholders.
Downer EDI noted an increase during the full-year revenue and declared dividend.
Property for Industry would be paying the dividend soon due to solid half-year results.
Dividend stocks are often looked upon as a consistent source of earnings. The companies pay dividends - a part of profits to its stakeholders, which makes it the most attractive feature.
By 2021, with the vaccine rollout and recovery of the economy across the world, businesses have adjusted to the 'new normal' ways of running the business. Most of the companies have started declaring dividends on a regular basis.
Source: Copyright © 2021 Kalkine Media
On the above backdrop, let's skim through the five NZX stocks that are going to pay a dividend in September.
Downer EDI Limited (NZX:DOW; ASX:DOW)
Provider of infrastructure management services, Downer EDI Limited released its annual report last month.
During the period, the Company noted total revenue and other income from ordinary activities at more than NZ$11.58 million, which had increased by 9.1% on pcp.
The Company has delivered a solid FY21 earnings and cash result, with the rise in dividend payout ratio to 57% (21 cents per share for the full year).
On the urban services portfolio front, total proceeds of Laundries and Mining Divestments sales until August (when the annual report was published) stood at NZ$628 million, with NZ$510 million received in FY21.
Downer would be paying a dividend of NZ 12 cps on 23 September for the period ended 30 June this year. The dividend had gone ex on 25 August and had a record date of 26 August.
Do read; Report Card: Telstra And Downer's Six Months Performance
Contact Energy Limited (NZX:CEN; ASX:CEN)
Electricity generating entity Contact Energy Limited declared the 12-month results for the period closed 30 June in August.
During the period, Contact Energy noted EBITDAF at NZ$553 million, up by 24% on pcp. Profit stood at NZ$187 million, up 50% on pcp.
For the 12-month period, the Company announced the final dividend of 21 cps (imputed to 67%), payable by 15 September.
On 6 September, Contact Energy last traded at NZ$8.12, down by 1.58%. The dividend went ex on 26 August and had a record date of 27 August.
Related read; Meridian and Contact Energy join hands for 'biggest' green hydrogen plant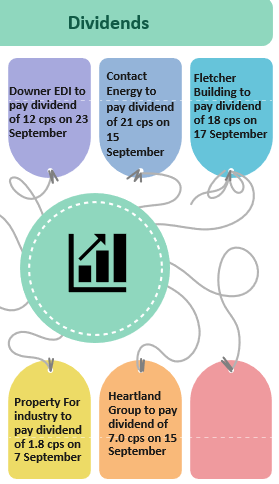 Image source: © 2021 Kalkine Media New Zealand Ltd, data source- Companies' announcements
Fletcher Building Limited (NZX:FBU; ASX:FBU)
New Zealand's prominent infrastructure conglomerate Fletcher Building Limited released its annual results for the period ended 30 June last month.
During the period, Fletcher Building recorded revenue from continuing operations at NZ$8,120, up by 11% on pcp. NPAT stood at NZ$305 million, while there was a loss of NZ$196 in pcp.
The Company declared a final dividend of 18 cps payable on 17 September. The dividend had the ex-date of 26 August and the record date of 27 August, respectively.
On 6 September, Fletcher Building was up by 0.27% at NZ$7.37.
Do read; Are Fletcher And Ebos Poised To Have A Banner Year After Strong H1 FY21?
Property for Industry Limited (NZX:PFI)
NZ-based entity Property for Industry Limited is aiming for the industrial market.
The Company released half-yearly results for the duration ended 30 June this year. During the period, the revenue from continuing operations stood at above NZ$306.46 million, up 507% on pcp.
A dividend of 1.8 cps and imputation credits of 0.608 cps have been approved by the directors of the Company, which is payable on 7 September. The dividend went ex on 26 August and had a record date of 27 August.
Also, the share price utilised to calculate entitlements under DRS (Dividend Reinvestment Scheme) has been placed at NZ$2.9652. The new shares would be issued on 7 September to the stakeholders who were chosen to take part in DRS.
By the close of the trading session, on 6 September, Property for Industry was 0.16% up, at NZ$3.04.
Heartland Group Holdings Limited (NZX:HGH)
Financial services company Heartland Group Holdings Limited released the annual report for the period ended 30 June 2021.
During the period, NPAT was at NZ$87 million, increasing by 20% and return on equity rose by 11.9%, up by 144 bps on pcp.
The bank declared the final dividend of 7.0 cps to be paid on 15 September, which took the total dividend to 11 cps. The dividend went ex on 31 August and had a record date of 1 September.
Related read; How did Heartland Group (NZX:HGH) perform in its annual results?
Heartland Group Holdings closed the day's trading session at NZ$2.33, up by 0.43%.
Bottom Line
A lucrative dividend amount paid on a frequent basis also denoted the financial health of the Company. The pandemic has been creating havoc since its outbreak, which has affected stock exchanges worldwide.
However, this year, many companies are looking forward towards declaring dividends to the shareholders.