Highlights

New Zealand boasts a highly innovative, integrated as well as technically advanced dairy sector.
Last month, The a2 Milk Company affirmed about a 75% stake in the Southland's dairy nutrition firm, Mataura Valley Milk.
Synlait Milk to unveil its FY21 performance towards September end.
As one of the leading dairy producers across the globe, the New Zealand dairy sector is characterised by highly mechanised, integrated as well as innovative dairy farming. The country produces nearly 21 billion litres of milk each year and its dairy farms are spread across around 1.74 million hectares of land.
It is noted that NZ produces over 1,500 varied dairy products and product formulations from milk.
No doubt, the NZ dairy industry contributes a large portion of the country's export income and is a major contributor to the country's economic growth.
With this backdrop, let us go through the most popular dairy companies across Kiwi land.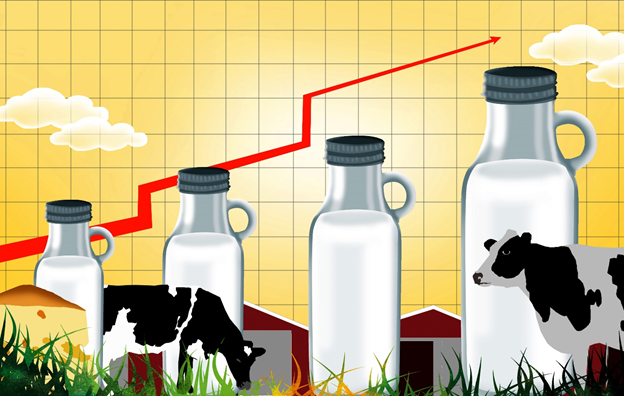 Source: Copyright © 2021 Kalkine Media
The a2 Milk Company Limited (NZX:ATM; ASX:A2M)
One of the most famous dairy companies of New Zealand, supplying premium milk and milk products both in New Zealand as well as overseas, is known as The a2 Milk Company Limited.
It has affirmed its competition of acquiring a 75% stake in Mataura Valley Milk, which is a Southland-based dairy nutrition firm. The total purchase price amounts to NZ$268.5 million and has been funded by ATM's existing cash reserves.
On 16 August, at the time of writing, The a2 Milk Company last traded, up 11.37% at NZ$7.050.
Recommended Read: Which are the 5 popular dairy stocks listed with NZX?
Synlait Milk Limited (NZX:SML)
Another dairy processing company is Synlait Milk Limited, which is based in the country's Canterbury region. The Company has declared about publishing its FY21 full-year results on 27 September.
At the end of the trading session, Synlait Milk climbed by 0.86% at NZ$3.520, on 16 August.
Related Read: Would the dairy stocks keep afloat post Canterbury flood situation?
Fonterra Co-operative Group Limited (NZX:FCG)
Next, we would talk about Fonterra Co-operative Group Limited, which is NZ's dairy co-operative, engaged in manufacturing as well as selling milk and milk-derived products.
In its global monthly update for July 2021, the Company revealed the start of the new milk production season in New Zealand. Its milk production for the month has been higher across NZ, Australia, the US, as well as EU markets.
Moreover, its exports continue to rise in all the markets, however, the EU market witnesses ease. Also, imports increased in Asia, China, and the Latin American region.
Further, FCG is formulating a revised capital structure based on farmers' feedback.
Shares of Fonterra Co-operative Group were down by 1.25% at NZ$3.150, on 16 August, at the close of the market session.
Do Read: Here's a glance at the top 10 NZX 50-listed companies
Livestock Improvement Corporation Limited (NZX:LIC)
Operating as an agri-tech company, Livestock Improvement Corporation Limited provides world-class genetics and technology for herd improvement, thereby improving the efficiency and productivity of the farmers.
In its recently released 2020-21 results, the Company witnessed a 31% increase in its NPAT amounting to NZ$22.9 million and its total revenue from continuing operations clocked NZ$249.0 million, underpinned by solid growth across its core businesses, especially in its premium genetics segment.
LIC would reward its shareholders by distributing a 12.51 cps on 20 August.
While the Company continues to focus on its operational efficiency, software reliability, and enhanced genetic improvement, it has forecasted underlying earnings between NZ$19-25 million for 2021-22.
On 16 August, Livestock Improvement Corporation last traded flat at NZ$1.190.
Related Read: Are these five dividend stocks worth following in August 2021?
Allied Farmers Limited (NZX:ALF)
Allied Farmers Limited functions as a regional rural servicing company, having a significant interest in NZRLM, which oversees NZL.
Recently, ALF disclosed that NZL had calculated a performance fee worth NZ$1.183 million, payable to NZRLM, its manager, for the year ended 30 June 2021, subject to audit completion.
Shares of Allied Farmers had dropped by 3.33% at NZ$0.580, at the end of the market session, on 16 August.
Also Read: Which are the 5 most sought-after NZX listed agriculture stocks?
Bottom line
NZ's dairy sector is one of the leading export sectors for the country. With its premium-quality herds and large-scale processing facilities, the country holds one of the top positions across the global dairy marketplace and continues to deliver premium milk and milk products through its operational efficiency, software performance, and superior genetics.