Highlights

Restaurant Brands NZ announces favourable total group sales
California business doing well, one of the biggest contributors
Increase witnessed in number of total stores, NPAT and EBITDA
Restaurant Brands NZ (NZX: RBD) released its half year financial results in which the total group sales till 30 June 2021 was up by NZ$157.2 million at NZ$540.6 million. The Company highlighted that this result is inclusive of its California business as well as the adverse effects of COVID-19. The NPAT was recorded NZ$34.5 million, which is a growth of NZ$23.3 million from pcp.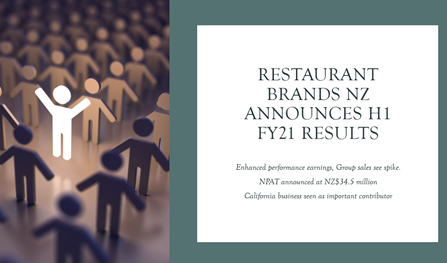 Image source: © 2021 Kalkine Media New Zealand Ltd
Image Description: Group sales spike announced
Financial performances
The EBITDA earned was up by NZ$426.5 million, taking it to NZ$89.9 million, out of which it was specified that NZ$12.7 million resulted from a maiden profit through the new California based business.
Don't miss: Which are 5 NZX retail stocks showing positive momentum this week?
The challenges being faced by the Company have been immense in the form of border closures and supply chain disruptions, however, inspite of thosetthe company was able to showresilient performance across geographies, hence the strong operating results in the first half of FY21.
The result is inclusive of NZ$12.7 million from the California division and the NZ$77.3 million from sales.
In terms of the store sales, there was a new high reached, up by NZ$157.2 million, reaching at NZ$540.6 million, from 1H 2020.
Don't miss: Restaurant Brands (NZX:RBD) declares robust 1H 2021 results despite COVID-19 outbreak
With the number of total stores gone up by 60 restaurant brands now has 350 total stores across different geographies, evenly spread amongst New Zealand Hawaii, Australia, and California.
New Zealand Operations
Store sales in New Zealand were up by NZ$64.7 million, standing at NZ$239.3 million, as compared to the first half of 2020. The sales for Carl's Jr and KFC have contributed majorly to this, besides the fact that the comparable period that is 1H2020 was shadowed by 5-week lockdown, which meant a loss of about NZ$40 million in sales.
While the EBITDA measured was NZ$43.1 million, the 18.0% margin was softer than the previous year's owing to cost pressures besides lesser profitable brand sales by Taco Bell.

Related article: How would a strong NZ dollar impact these 10 NZX stocks?
Restaurant Brands NZ is an Auckland based corporate franchise that specialise is in the management of multi-site food chains. It employs over 9600 people in different locations like New Zealand, Hawaii, Australia and works with brands such as Pizza Hut, Taco Bell, KFC.
Bottom Line
Company envisions growing further, fuelled by recent triumphs in terms of group sales and net profits.
On 9 September 2021, Restaurant Brands NZ traded at NZ$15.640, down by 1.09% at the time of writing.