Highlights

Agriculture is the largest sector in New Zealand and adds significantly to the NZ economy.
Fonterra provided a global dairy update for August 2021.
Synlait launched Synlait Swappa Bottles to help in eliminating plastic waste.
The agriculture sector forms a significant part of the New Zealand economy and earns about 50% of the country's export income. There has been a strong demand for New Zealand's primary products globally, which has also helped in keeping the economy resilient amid the COVID-19 pandemic.
The sector produces dairy, meat and horticulture products, which also form a part of the country's exports, making it a desirable choice for investors.
New Zealand's S&P/NZX 50 Index includes a group of listed firms that are strongly related to the agriculture sector. The index includes firms like A2 milk, Fonterra, Skellerup, Synlait Milk, etc.
Let's go through the performance of these 4 NZX agriculture stocks.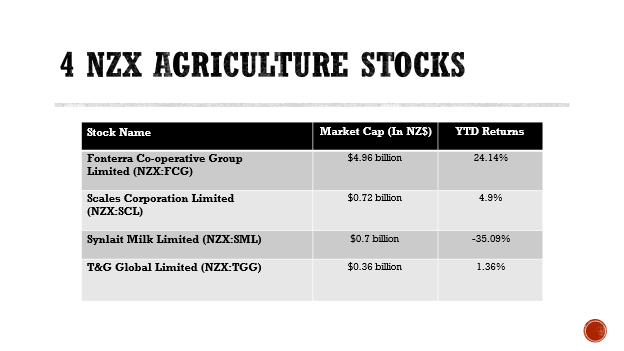 Fonterra Co-operative Group Limited (NZX:FCG)
Fonterra is involved with the dairy sector and has some of Australia's favourite dairy brands under its umbrella.
FCG released its global dairy update for August 2021. The Group reported a record shipment year even after facing supply challenges. FCG posted low milk volumes in NZ and Australia while the monthly production in the US saw an increase.
RELATED READ: Did Fonterra Group (NZX:FCG) pass with flying colours?
Total NZ dairy exports fell by 12.9% in August compared to the same month in 2020, while dairy exports for the US and Australia rose 7.4% and 50.5%, respectively, in July compared to the same month in 2020.
At the time of writing, FCG shares were trading flat at $3.37 on Thursday.
Scales Corporation Limited (NZX:SCL)
Scales is a diversified agribusiness company. The Group performed remarkably in H1 of 2021, reporting a 17.5% increase in NPAT to $32.6 million. SCL benefitted from containers obtained by Scales Logistics which helped the business to export their finished products.
Also Read: 5 consumer stocks that have been performing well on NZX
The Group also announced the selection of Sun Qiang as a Non-Executive Director of SCL, in effect from 13 September 2021.
At the time of writing, SCL shares were trading 1.11% lower, at $5.34 on Thursday.
Synlait Milk Limited (NZX:SML)
Synlait Milk, a dairy processing company, recently unveiled its own-branded first consumer foods product named Synlait Swappa Bottle. The Bottle is a 1.5 litre deep reusable stainless steel milk bottle and has a B-Corp stamp, which shows SML's 2020 certification.
RELATED READ: What made Synlait (NZX:SML) introduce its first consumer food product
The Group is targeting to help eliminate plastic waste and adding to the better future of Kiwis. The Bottles will be first launched in 2 South Island New World stores and SML will further expand the distribution over time.
At the time of writing, SML shares were trading 0.55% higher, at $3.65 on Thursday.
T&G Global Limited (NZX:TGG)
T&G Global is involved in growing, packaging and selling fruits and vegetables to consumers worldwide. The Group reported a total revenue of $652.1 million, down 2.9% on pcp and an operating profit of $10.9 million for the 6 months ended 30 June 2021.
DO READ: Which are 5 NZX agriculture stocks with 6-month yield?
The Group is experiencing amazing growth possibilities for premium brands amid high global demand for quality, fresh produce. Disrupted shipping schedules and continued supply chain challenges impacted TGG's ability to get fresh produce to the market.
TGG's strength, approach and team have supported the company to stay well positioned to meet future growth objectives.
At the time of writing, TGG shares were trading 1.67% lower at $2.95 on Thursday.
Bottom Line
NZ's agriculture sector plays an important role in NZ's economy.
(NOTE: Currency is reported in NZ Dollar unless stated otherwise)