Summary

Retirement industry is expanding to meet the demand created by a surge of Kiwis joining the 70+ age group, offering investors with solid investment prospects in the sector amid the coronavirus pandemic.
Senior Trust fulfils investors' desires for a steady, attractive income return by funding the expansion and operation of Retirement Villages and Aged Care facilities.
Senior Trust's Key Investment Principles reflect the experience gained through a long involvement in lending to the Retirement Village and Aged Care sector.
Senior Trust consider that the Retirement Village and Aged Care industry is well regulated and orderly and due to demographic factors, has strong prospects for sustained growth over an extended period.
Senior Trust is a NZ-based company, which was established to provide investors with a consistent, reliable, and attractive returns by taking advantage of the growth in the Retirement Village and Aged Care sector.
The NZ retirement village industry is benefitting from the ageing population and people's shifting taste in retirement living accommodation.
ALSO READ: A Glance at NZX Listed Retirement Village Stocks -SUM, RAD
Income Generator makes loans to the retirement village sector and provides investors with the ability to benefit from the opportunities that exist within the Retirement Village and Aged Care sector.
Considered approach to lending
Senior Trust lends to carefully chosen well-located and soundly operated retirement villages. The total lending in relation to each operator of a Retirement Village or Aged Care Facility will be restricted to a 75% loan to value ratio.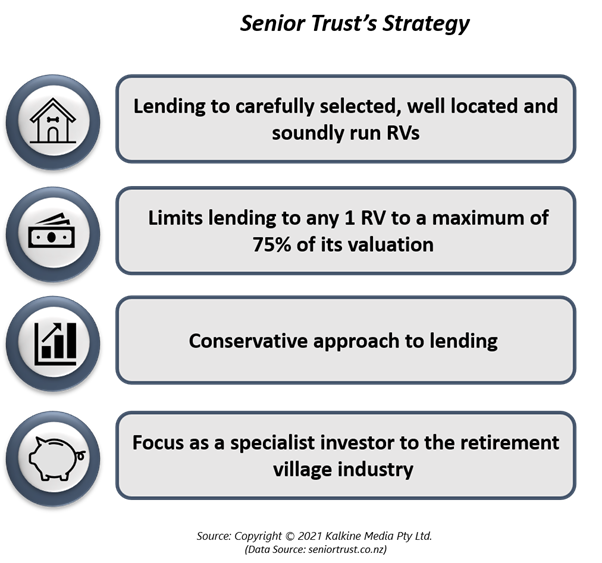 The Group solely focuses as a specialist investor to the retirement village industry and follows a considered approach to lending.
DO READ: A Flick Through The Notable Track Record Of Senior Trust
Senior Trust management team provide services under a Management Services Agreement, allowing investors to gain from a depth of expertise and specialist industry knowledge. The team at Senior Trust identifying suitable Retirement Village and Aged Care operators to lend to, in order to pay a consistent, reliable and attractive quarterly distribution to shareholders.
Senior Trust Retirement Village Income Generator Limited is the issuer of the products. The Product Disclosure Statement for the offer is available and can be obtained on our website at www.seniortrust.co.nz or at www.business.govt.nz/disclose under Senior Trust Retirement Village Income Generator Limited's offer number (OFR12802).