Highlights

New Zealand issues tsunami warning for its coastal areas.
The country's children aged 5-11 years to be vaccinated from today.
Freightways to release its half-year results next month.az
As we step into the third week of January 2022, let us quickly go through some of the top headlines that are seeking readers' attention.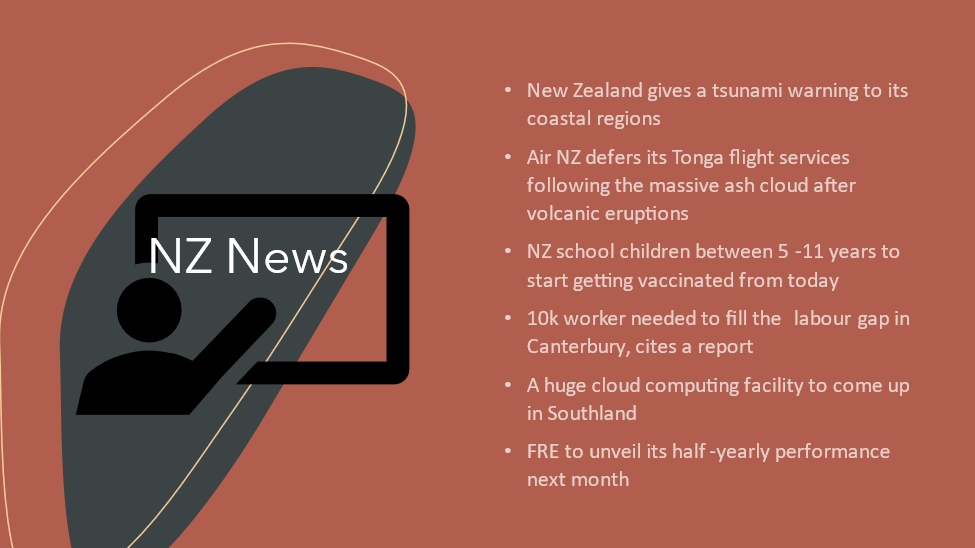 Source: © 2022 Kalkine Media®
Tsunami warnings for coastal regions, Cathlam Islands
Following the volcanic eruption over the weekend in Tonga, a tsunami warning has been issued by New Zealand for its coastal regions and the Chatham Islands.
These areas are likely to witness strong waves at the shore. Hence, people are advised to remain vigilant and cautious.
Air NZ defers its Tonga flight services
Air New Zealand Limited (NZX:AIR) has postponed its next repatriation flight to Tonga islands, owing to a massive ash cloud from the mammoth underwater eruption.
Must Read: How is Tonga coping with the underwater volcano?
As of now, the Tonga service route is the only where Air NZ flight is being impacted, and AIR will keep on monitoring the situation across the region.
NZ school children get vaccinated today
From today onwards, Kiwi school children aged between 5 to 11 years will start getting their COVID-19 vaccination shots as the highly infectious Omicron cases are on the rise in New Zealand.
Interesting Read: Why are New Zealanders so keen on receiving COVID-19 booster shots?
It is noted that these pediatric vaccines are of lesser dose and smaller volume and are given using a smaller needle as compared to the ones administered to the adults.
NZ health authorities have announced the emergence of 16 new community cases as about 93% of all the eligible population is doubly vaccinated, and its booster programme is underway.
Summer harvest festival to be celebrated next month
Five-hour summer harvest festivities at the Hobbiton Movie Set are set to take place on 5 February.
The said festivities would take place in green pastures of Waikato-based, The Shire, and would commence with a Hobbiton Movie Set Tour and would include festival-like food stalls as well as sit-down buffet dining.
The tickets for the said event are priced at NZ$250 per person.
10K workers needed to fill labour gap in Canterbury, cites report
A recent report has revealed that 10,000 new workers a year will be needed to bridge the labour gap in Canterbury, which has been left in the lurch by the pandemic and subsequent border restrictions.
Also Read: How COVID-19 pandemic impacted working arrangements in labour market
Further, it disclosed that while NZ's COVID-19 elimination strategy proved effective in curtailing the spread of the virus, the closed borders led to a significant drop in the country's labour intake.
A huge cloud computing facility to come up in Southland
Datagrid has purchased a 43-hectare site near Invercargill, worth NZ$1 billion-plus, which might turn Southland into an IT hub worldwide.
The Company plans to commence construction for the same later this year.
FRE to unveil its half-yearly performance next month
Freightways Limited (NZX:FRE), NZ's famous logistics company, has lately announced that it would release its interim results on 21 February.
These results pertain to the half-year ended 31 December 2021.
Related Read: Are these 5 NZX mid-cap aiming to become large-cap stocks?