Highlights

Foundry Lab, a start-up from Wellington, successfully raises NZ$11 million.
The NZ govt announces tougher freedom camping rules to be introduced in the Parliament next year.
The annual New Year's Eve fireworks event of SkyCity called off.
Let us look at the latest business developments capturing the attention of New Zealanders.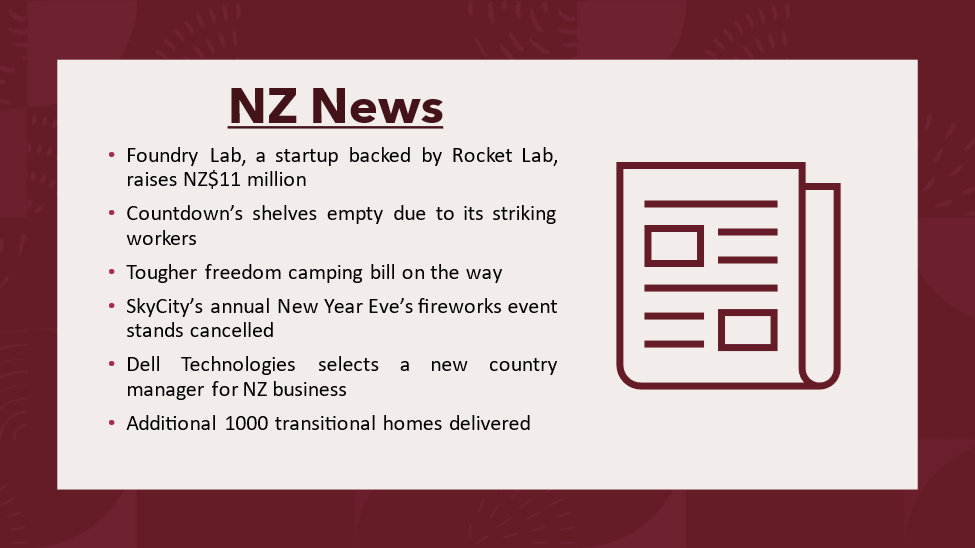 Source: Copyright © 2021 Kalkine Media
Rocket Lab-backed Wellington start-up raises NZ$11 million
Wellington-based startup, Foundry Lab, has raised NZ$11 million in a Series A funding round led by Blackbird Ventures.
It is noted that the firm functions as a metal prototype business and is backed by Rocket Lab's founder.
Related Read: Rocket Lab (NASDAQ:RKLB): How did it perform in the interim results?
Countdown's shelves empty due to its striking workers
Due to the recent strike organised by Countdown's distribution workers, many of the supermarket's outlets were found empty with only a few remaining items.
However, the supermarket has reached an agreement with the striking workers, and it would take a few days to restock the shelves.
Do Read: Consumers at the receiving end due to low supermarket competition
Tougher freedom camping bill on the way
NZ Tourism Ministry has proposed new and tougher rules so as to protect the country's reputation as being a world-class tourist destination.
Related Read: Is there any respite from pandemic to 3 NZX travel and tourism stocks?
The law, titled 'Self-Contained Vehicles Bill' that would be presented to the Parliament next year, would require campers to stay in a certified self-contained vehicle when staying overnight, among other changes.
Also, higher penalties of up to NZ$1000 would replace the existing fine of NZ$200 if passed in the Parliament.
SkyCity's fireworks event stands cancelled
SkyCity Entertainment Group Limited's (NZX:SKC; ASX:SKC) annual New Year's Eve fireworks event has been called off in the wake of the prevailing Auckland's COVID-19 crisis.
The said decision has been jointly taken by SkyCity Auckland, police and the Auckland Council after months of planning.
Also Read: Do these 2 NZX midcap stocks have growth prospects in Q4?
Dell selects a new country manager for NZ business
Dell Technologies has appointed a new country manager, Leanne Buer, to oversee the Company's NZ operations.
It is noted that Buer has a vast experience of 25 years in the tech sector and was earlier associated with Cisco prior to taking up the new role at Dell.
Additional 1000 transitional homes delivered
The NZ government has delivered the next phase of 1000 transitional housing to reduce homelessness, thus bringing the total transitional houses to around 3000 ever since this Government came into being.
Further, more transitional housing is under the pipeline under the Public Housing Plan 2021 – 2024 to support families and the vulnerable population.