Source: M-Foto, Shutterstock
Summary

Vaccine wars are in full swing across the world, with one company trying to outdo other.
AstraZeneca has come under fire for several reasons, have a look at a few.
Another vaccine claims to reduce infection severity in patients, have a look!
With the coronavirus pandemic recently becoming an year old and people across the world learning to live with it, the vaccine varieties across the world are being analysed to ensure that the best options are available for people . With regard to vaccine reactions, new development are being witnessed every day. Several parts of the world have already begun the process of administering the vaccine. While some people are witnessing little to no side effects, some are facing severe ones.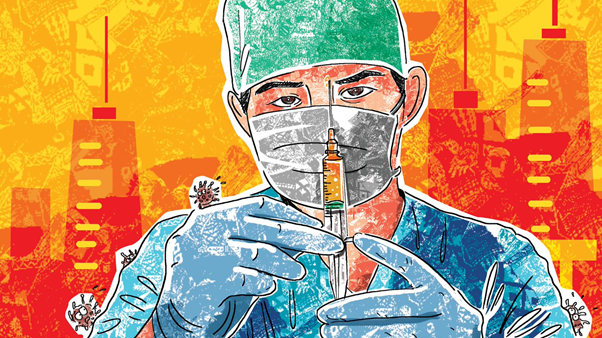 Image Source: Copyright © 2021 Kalkine Media Pty Ltd
In a recent update, it was revealed that the AstraZeneca vaccine was under scrutiny yet again, for its efficacy as well as dosage quantity distribution. The problem seemed to have started from the point when the EU started feeling that the UK had an extra edge in terms of dosage quantities, with millions of doses exported to Britain from the European Union, but none of the doses being exported to the EU from Britain's side.
There seem to be discrepancies with what was agreed upon, between the two parties. While the clauses of the Britain's contract are seemingly stronger, they could be reasons for it being made a priority, while the other countries are apparently not being treated the same way at the moment.
Also Read: EU could block vaccine export amid a shortage of AstraZeneca's COVID-19 shots
AstraZeneca lying about efficiency
AstraZeneca has been accused of releasing false reports on the efficiency of the vaccine. The Company has since countered accusations it with its own report on how well the vaccine actually worked. The company states the vaccine is 76% efficient in treating symptomatic COVID-19 infection, which is a little lower than the 79% it had claimed in its release on Monday. The vaccine's efficiency in the age group of above 65 also seems to have increased by 5%, now being declared at 85%.
In another recent update, it was reported that Remdesivir could shorten the infection time frame. Found to be effective on people from different backgrounds and health records, the study conducted by the Journal of American Medical Association could be a game-changer. Though the study warns that this doesn't mean that Remdesivir could be considered a cure, it can go a long way to help reduce the severity of the disease, meaning less suffering for the patient.