New Zealand's economy is highly dependent on the agricultural and export sectors. The top export markets are China, the United States, and Australia. Leading export products include dairy products, beef, wine, sheep meat, lumber, fresh apples, and kiwifruit. Fonterra Cooperative Ltd. is responsible for about 80% of New Zealand dairy industry employment. The New Zealand meat industry had "core" revenue of $10.2b in 2017, with 78% of revenue coming from export markets.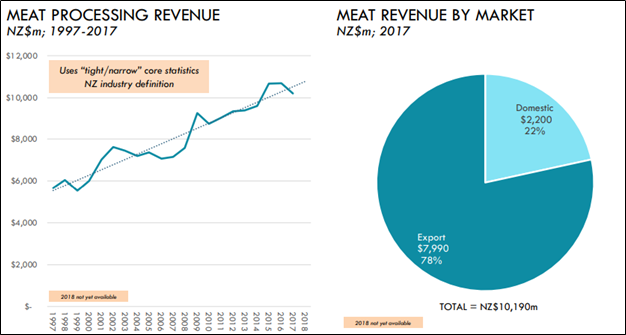 Key Numbers (Source: MBIE)
Let us have a look at some of the top listed firms in New Zealand's food and beverage industry.
Fonterra Co-operative Group Limited
Fonterra Co-operative Group Limited (NZX: FCG) happens to be a global dairy nutrition company which is owned by 10,000 farmers.
Strong Financial Performance in the First Half of FY20
For the six months ended 31st January 2020, the company reported total normalised Earnings Before Interest and Tax of $584 million, up from $312 million. The company achieved the growth with the help of steady underlying earnings from Ingredients business, improvement in the gross margins from Foodservice as well as by decreasing the operating expenses. The Foodservice business has been the outstanding performer in the 1HFY20 as it grew its sales to coffee and tea houses and bakeries throughout the Greater China and Asia.
The company has also wrapped up the sale of DFE Pharma and foodspring® in 1HFY20 with $624 Mn of cash proceeds. This cash proceeds were utilized to decrease net debt by 22% or $1.6 Bn, as compared to pcp.
Outlook
Coming to the outlook, Fonterra Co-operative Group Limited has reaffirmed forecast Farmgate Milk Price range which happens to be $7.00-$7.60 per kgMS. It also reaffirmed forecast normalised earnings guidance of 15-25 cps. However, the company is expecting several risks in 2H of the year mainly because of the impact of COVID-19 on global demand, geopolitical risks in main markets like Hong Kong and Chile, and dry weather conditions in NZ which could affect collections as well as potentially input costs.
T&G Global Limited
T&G Global Limited (NZX: TGG) happens to be one of NZ's largest fresh produce companies. It is in the business of growing, packing, shipping, marketing, and selling delicious fruit and vegetables to the consumers.
Approval Given for Acquisition of Freshmax New Zealand's Domestic Business
The company stated that it has received approval for the acquisition of domestic division of Freshmax New Zealand. The acquisition would be bringing together 2 of the country's leading fresh produce companies, offering a superior partnership for retailers as well as growers.
The acquisition comprises 3 market sites (i.e. Christchurch, Auckland, as well as Wellington) and it also includes distribution services all through NZ (i.e. Palmerston North, Auckland and Christchurch).
T&G builds strong foundations for future growth
For the year ended 31st December 2019, the company reported operating profit of $16.5 million, compared to $15.6 million in 2018. Net assets for the company stood at $474.4 million, compared to $413.6 million in 2018. Revenue was maintained which stood at $1.2 billion, as compared to the level of 2018 and profit for the year stood at $6.6 million, as compared to $8.3 million in FY18. In most of the key export markets, like Asia, Australia, the United States, the Pacific Islands and the United Kingdom, the company experienced strong growth in sales and margin.
Comvita Limited (NZX: CVT)
Comvita Limited happens to be a global natural health company which is dedicated to development of the innovative products, supported by ongoing investment in scientific research.
Strong demand Continues Amidst Coronavirus
The strong demand, which the company experienced in mid-March, has continued during the whole month of March and resulted in a solid quarter registering double digit growth YoY, with all key markets registering good sales output. The company remains profitable in each month and it has generated good cashflows as well as working capital improvements which has enabled it to reduce debt.
The company stated that this year's honey harvest has increased by more than 60% YoY with more than 95% of the extraction complete. In addition, the quality of the crop has also improved by over 150%.
In China, the company witnessed online sales growth of more than 70% in the first 10 days of March. New Zealand and Australia performance were negatively affected by decline in footfall through duty free as well as traditional retail.
NZ Meat Exports to China Back at Pre-Outbreak Levels
The country's exported sheepmeat and beef amounting to $921 million in the month of February. As a result of coronavirus, the value of exports to China fell 45% to $175 Mn as compared to the month of February in 2019. Notably, it was offset by increases in value of overall exports to the United Kingdom, North Asia (Taiwan and Japan) as well as North America.
Month-on-month, export volumes of sheepmeat rose by six percent in February compared to January 2020, but beef volumes fell by three percent;
Sheepmeat exports to China were down 50 percent by volume and 46 percent by value compared to February 2019;
Beef exports to China dropped 60 percent by volume and 53 percent by value.
The spread of coronavirus generated extraordinary challenges and interrupted supply chain. However, the global demand for protein happens to be solid. The demand from China has begun to rise again as people have started to go back to work and restaurants have started to re-open.