Highlights

As on October 26, 2022, the stock price of Waste Connections Inc. rose to US$ 179.30.
In Q2 2022, revenue of Cargojet Inc. was reported at C$ 246.6 million.
On April 1, 2022, Stantec Inc. acquired Barton Willmore.
In the Canadian stock market, the industrial sector has a major market capitalization and has jumped by 5.92 per cent on a month-to-date (MTD) basis.
But the sector suffered a deep impact due to the coronavirus outbreak, and other macroeconomic factors such as supply chain disruptions, rising interest rates, and high inflation.
But as the pandemic seemingly comes to an end, the sector is hopeful. In addition to this, economic growth also leads to a changed and fresh outlook for businesses. This may lead to the building and development of new machinery and equipment.
Amid all these developments, let us look at five Industrial stocks with their recent financial performances:
Cargojet Inc. (TSX: CJT)
Cargojet Inc. operates in 16 major cities of Canada. It is a domestic network for air cargo co-load and it is engaged in providing aircrafts to customers. Moreover, the company operates between Europe, Canada, the US, and Mexico.
For Q2 2022, Cargojet's revenue was reported at C$ 246.6 million as against C$ 172.1 million in the year-ago quarter. The adjusted EBITDA was noted at C$ 81.1 million compared to C$ 67.4 million for the same time period. Further, the net income was reported at C$ 160.9 million versus a net loss of C$ 11.1 million.
The adjusted Free Cash Flow also rose to C$ 44.8 million as against C$ 36 million. Cargojet Inc. pays a quarterly dividend of C$ 0.286 per share to its shareholders. The earnings per share (EPS) is C$ 11.20.
Waste Connections Inc. (TSX: WCN)
Waste Connections serves industrial and energy markets, commercial markets, and residential markets. It is an integrated provider of traditional solid waste and recycling services. The company operates in North America, operating 97 active landfills, 142 transfer stations, and 71 recycling operations.
In Q2 2022, Waste Connections' revenue grew by 18.4 per cent and was reported at US$ 1.816 billion. The net income was posted at US$ 224.1 million compared to US$ 177.1 million in Q2 2021.
The adjusted EBITDA rose to US$ 566.81 million in Q2 2022 compared to US$ 484.9 million in Q2 2021.
As of June 30, 2022, the cash and cash equivalents increased to US$ 217.8 million as against US$ 147.44 million on December 31, 2021.
Waste Connections paid a quarterly dividend of US$ 0.23 per share. The graph below depicts the change in total assets of Waste Connections between two time periods.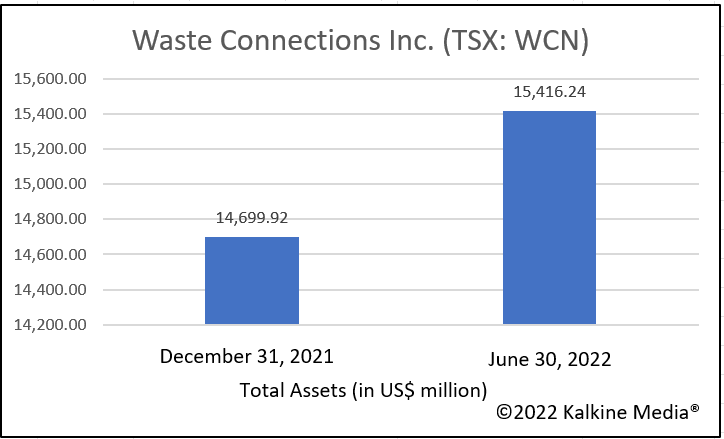 SNC-Lavalin Group Inc. (TSX: SNC)
SNC-Lavalin is an integrated professional service provider and is based in Montreal. Further, the company offers services, including procurement, consulting, financing, construction, and engineering. The group caters to clients in the sectors such as engineering, infrastructure, nuclear, and project management industries.
In Q2 2022, the revenue witnessed an increase and was noted at C$ 1,871.5 million compared to C$ 1,797.8 million in the same quarter of the previous year. The net income saw a decline and was reported at C$ 1.6 million versus C$ 29.2 million for the same comparative period. The company distributes a quarterly dividend of C$ 0.02 per share to the shareholders.
Stantec Inc. (TSX: STN)
Stantec Inc. is an environmental consulting company offering services across different sectors including buildings, water, resources and energy, environmental services. Further, in every project cycle phase, the company delivers its services such as maintenance, construction, administration, commissioning, and decommissioning.
In Q2 2022, Stantec Inc.'s net revenue was C$ 1.1 billion. The adjusted EBITDA increased by 27.4 per cent to C$ 186.7 million. On the contrary, the net income decreased to C$ 60.7 million by four per cent for the same comparative period.
The operating cash flows was reported at C$ 4.4 million compared to an inflow of C$ 78.2 million in the previous year.
On April 1, 2022, Stantec Inc. completed its acquisition of Barton Willmore.
ATS Automation Tooling Systems Inc. (TSX: ATA)
ATS Automation is engaged in providing automation systems, designing and building customized systems related to manufacturing and testing. The Canada-based company offers pre- and post-automation services as well. The product range of the company includes laser systems, automated electrified monorails, tray handlers, conveyor systems, and software products.
In the quarter that ended on July 3, 2022, revenue of ATS Automation Tooling Systems was C$ 610.6 million versus C$ 510.6 million on July 27, 2021. The net income increased to C$ 39.4 million compared to C$ 28.7 million in the year-ago quarter. The adjusted EBITDA rose to C$ 100.8 million versus C$ 77.9 million. The EPS is at C$ 1.53 with a price-to-earnings (P/E) ratio of 30.
Bottom Line:
As an investor, it is crucial to have the right perspective while selecting your stocks. Check with market factors that may affect the sector as well as your portfolio. There are many factors that work in a subtle way. Be diligent towards every minute detail.
During your investment journey, some stocks may show significant growth on a regular basis while others may post an irregular growth pattern. To select your stocks, make sure to avoid staying just at the surface. Try to dive in deep and assess the past performances as well. If the stocks are selected based on overall growth, your portfolio is bound to flourish in the long run.
Please note, the above content constitutes a very preliminary observation based on the industry and is of limited scope without any in-depth fundamental valuation or technical analysis. Any interest in stocks or sectors should be thoroughly evaluated taking into consideration the associated risks.