Summary

Altan Rio holds a strong land position in a premier gold province of Western Australia.
The Southern Cross North project has near term cash flow potential to fast track the exploration and development activities.
The recent drilling program and downhole EM survey on the Pilot deposit confirm high-grade gold mineralisation.
The Company's focus on maximising shareholder returns aligns well with the vision to become a dominant gold player in the region.
Australia focused gold explorer Altan Rio Minerals Limited (TSXV: AMO) is progressing exploration over its a Southern Cross North gold project in a premier gold jurisdiction of Western Australia. Altan holds fifteen granted Prospecting Licences, spread over an area of 23.7 km2. The tenement lies in the prolific Fraser-Corinthian Shear Zone (FCSZ), which hosts gold mineralisation along its entire length.
Recent update: Altan Rio (TSXV:AMO.H) brings in more depth to the management team, appoints Strategic Advisor
The project is divided into two discrete tenement packages, the Corinthia North and Hopes Hill tenements. Altan Rio has identified five high priority targets within these tenement packages along the FCSZ. These are Pilot, Aries, GPN (Hopes Hill) Glen Innes, and Paddocks (Corinthia North).
High priority targets on Southern Cross North Project (Image source: Company update, May 2021)
Altan Rio has planned extensive exploration programs to delineate mineralisation potential on the prospects. The Company owns 80% of Aries, GPN, Glen Innes and Paddock in joint venture with Surveyor Resources Pty Ltd. For the Pilot deposit, Altan is in 50-50 JV with Barto Gold. Two diamond drill holes are planned on the Aries prospect with the program will be co-funded by the Western Australian Government under its EIS scheme.
Read here: Altan Rio (TSXV: AMO.H) strikes high-grade gold mineralisation in Southern Cross
Pilot Deposit
Altan Rio entered a 50-50 JV mining agreement with Barto Gold for exploration and development activities at its Pilot deposit in June 2020. Barto Gold owns and operates the Marvel Loch milling facility located at an economic trucking distance of 40km from Pilot. The presence of an operational milling facility in close vicinity to the project provides an opportunity for early commercial production once the decision of mining at Pilot is made.
The historical data suggest that Pilot had produced 54,554 ounces of gold in the past from its open pit mine. The mining reached a depth of 65m in open pit while the historical drilling has revealed the mineralisation up to a depth of 150m. Thus, the Pilot deposit exhibits potential for open pit and underground mining operations.
Also read: Pilot proving its gold worth to Altan Rio
The company recently undertook a 10-hole RC drilling campaign at Pilot. The drill program was intended to test mineralisation along the strike of the pit and at depth below the pit for extensions to mineralisation. The assay result confirmed the extension of high-grade mineralisation up to depth of 60m beneath the level of historical workings.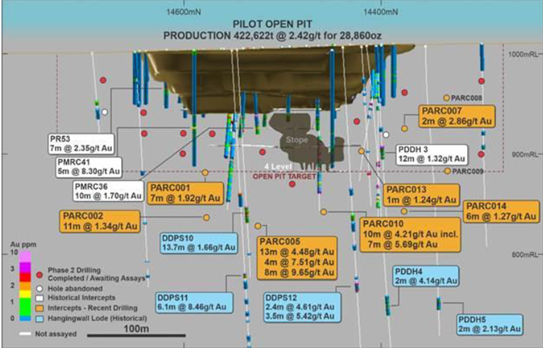 Pilot long section with latest assay result (Image source: Company update, May 2021)
Significant drill intercept results include
Hole PARC005
4m @ 7.51g/t from 176m, including 1m @ 19.14g/t
8m @ 9.65g/t from 199m, including 5m @ 13.93g/t
12m @ 4.41g/t from 160m
Hole PARC010
10m @ 4.21g/t from 182m, including 7m @ 5.69g/t
Following the assay results, Altan Rio conducted a downhole EM survey in hole PARC005. The EM survey indicated a strike extent of gold mineralisation that was initially estimated from historical geophysical data. Based on the consultants' recommendations, Altan will drill test at a position down dip from the intersection of PARC005.
A more conclusive picture of Pilot deposit can be drawn with more drillholes on the deposit and surface EM survey planned. The deposit has the potential to generate cash in near term and could help fund the further exploration activities on other identified high priority targets.
Also read: Altan Rio (TSXV:AMO.H) appoints mining specialists hoping to fast track the development of the Southern Cross Gold Project
Why Altan Rio bodes well for investors?
The company holds a strong land position in a premier gold district of Southern Cross. The project has near term cash flow potential. The JV with Barto Gold provides a unique opportunity for a rapid transition into the production phase with an operation milling facility in close vicinity of the project. The cash flow from the Pilot deposit could be utilised to accelerate the exploration on other identified priority targets.
Good read: Altan Rio (TSXV:AMO)making the most of gold's bull run
Altan Rio envisages becoming a dominant gold producer in Southern Cross Region with the next big gold discovery.
Share Price: Last traded on 5 May 2021, Altan closed the day trade at C$0.13 with a market cap of C$11.301 million.