The TSX Composite Index on Friday, May 6, fell lower by 0.3 per cent, 62.89 points, to 20,633.28. This ended the week with its sixth straight weekly loss, having fallen 0.62 per cent. The benchmark index has fallen 6.37 per cent in six weeks.
Energy closed in the green but healthcare, tech and base metals were down 1.9, two and 2.2 per cent, respectively. Vehicle parts maker Martinrea International Inc's stock zoomed 14.6 per cent.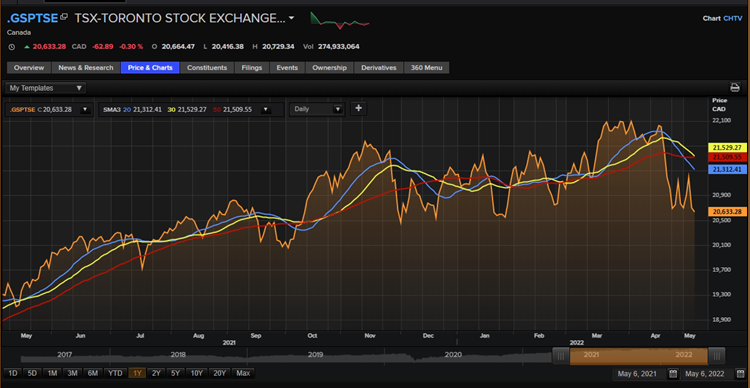 One-year price chart (May 6). Analysis by © 2022 Kalkine Media®
Volume actives

Enbridge Inc saw 18.1 million shares traded, making it the most active stock. It was followed by Manulife Financial Corporation that saw over 12 million shares switch hands, and Cenovus Energy Inc saw 8.4 million shares traded.
Movers and laggards
Wall Street updates
The bearish sentiment stretched to Wall Street too, in fact, to stock markets the world over. The Dow dropped 98.6 points, 0.3 per cent, to 32,899.37 points, and the S&P 500 shed 23.53 points, 0.57 per cent, to 4,123.34 points. Nasdaq's benchmark was down by 173.03 points, 1.4 per cent, to 12,144.66.
Commodities update
Gold was up 0.48 per cent to US$ 1,883.50. The price of Brent oil was up 1.87 per cent and was at US$ 113.12/bbl and that of crude oil was up 1.69 per cent to US$ 110.56/bbl.
Currency news
The loonie lost 0.62 per cent compared to the US dollar while USD/CAD ended at 1.2907. The US Dollar Index was at 103.66 against the basket of major currencies, up 0.08 per cent.
Money market
The US 10-year bond yield gained 2.95 per cent to 3.142 and the Canada 10-year bond yield was up 2.02 per cent to 3.109.