Summary

Functional superfood company Rritual has inched closer to the rollout of its e-commerce store on Amazon with the initial shipment delivered to Amazon Fulfillment Center.
The Company highlighted that its superfoods product line would be available to customers shortly.
Rritual Superfoods' Feature Story on Worldwide Business with Kathy Ireland® broadcasted on FOX Business Network this Sunday.
Rritual Superfoods Inc (CSE:RSF) has moved a step closer to the launch of its e-commerce store on Amazon.com with the delivery of the first shipment to Amazon Fulfillment Center. The superfood company highlighted that the products would be available to the customers soon.
Committed to revving up its US market expansion strategy, Rritual has been going full steam ahead with a series of swift developments. The latest news comes hot on the heels of the company's announcement about its superfood product line securing certification for the 'Tested to be Trusted program'.
ALSO READ: Rritual Superfoods continues to boost its brand, secures 'Tested to Be Trusted' certification
Rritual's Amazon rollout inches ahead
Rritual's launch on Amazon forms an integral part of the company's e-commerce strategy. With its full line of products already shipped to the Amazon Fulfillment Center, Rritual has taken a big step towards its rollout on the retail giant's website. Now, its products can soon be accessed by Amazon customers.
Earlier, on 17 June, Rritual had stated that its products were approved for listing on RSF's Amazon Store in the US.
TO KNOW MORE, DO READ: Milestone on the cards for Rritual Superfoods (RSF:CSE) as it readies to go live on Amazon in US
David Kerbel, CEO of Rritual, commented-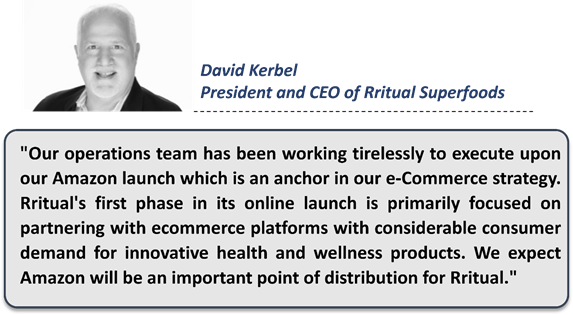 Rritual's CEO interviewed on FOX business network
In another exciting update on 25 June 2021, Rritual announced that the Company's Feature Story was highlighted on Worldwide Business with Kathy Ireland®. Kathy Ireland's interview with Rritual's CEO David Kerbel, which was broadcast on FOX Business Network on 27 June, underlined RSF's rapid growth and the Company's leadership within the fast-moving functional superfood category.
ALSO READ: Rritual Superfoods widens its US presence with The Good Trends listing
Mr Kerbel stated:
Notably, Rritual's product offerings are all USDA-certified organic and can be mixed with other beverages or served independently. RSF's proprietary Immune-Synergy Six Mushroom Blend is the only functional health product available in the market, which contains a daily prebiotic blend for a healthy gut microbiome and accelerates balanced digestive function.
The launch of Rritual's product at Amazon store eCommerce will elevate the Rritual Brand and expand the nationwide customer reach.
On 25 June 2021, RSF shares closed the day's trading at CA$0.78.