The average real estate prices in Canada popped up by massive 6.3 per cent in 2020, as compared to 0.7 per cent in 2019, according to Statistics Canada. Furthermore, the average prices of the residential segment increased by 38 per cent year-over-year (YOY) in May this year. Increased demand, limited supply of houses, and a lower interest rate fuelling borrowing were the main factors behind this spike.
As fears of the housing sector in a bubble gained momentum, the authorities tightened borrowing rules. After months of bull run, the real estate finally cooled down and prices finally moderating in May. National home sales fell by 7.4 per cent on a month-over-month (MoM) basis in May, reported the Canadian Real Estate Association.
The S&P/TSX Capped Real Estate Index, the benchmark index of the Canadian Real estate sector with 26 constituents, posted a return of 22.49 per cent year-to-date (YTD). The top ten real estate stocks have a combined market cap of over C$ 61 billion.
Among these companies is FirstService Corporation (TSX: FSV), which has returned about 26 per cent YTD and holds the second-highest market capitalization of C$9.66 billion in the segment.
FirstService Corporation (TSX: FSV)
FirstService Corporation (TSX: FSV, NASDAQ: FSV) operates in the North American region. FirstService Residential is one of its main business arm that manages residential communities. Another division, FirstService Brands, provides property-related services via franchisee network and company-owned business units.
In May this year, First Onsite Property Restoration, one of the subsidiaries of FSV, had acquired Maxons Restorations, Inc. The company aims to increase its footprints via this strategic expansion in major geographies and gain direct access to New York and Manhattan real estate markets.
In mid-2020, the company acquired US-based restoration and disaster recovery firm Rolyn, via subisidiary Interstate Restoration, to strengthen its capabilities in the commercial and healthcare segments.
How is FSV stock performing?
The stock was trading at C$219.62 as on Jul 9, 2021 (7:53 EST) and had 43.83 million shares outstanding.
Over the last one-year, the scrips retuned over 59 per cent. In the last three months, it gained 13.22 per cent.
The stock is trading nearly 64 per cent above its 52-week low of C$134.30, which was recorded on July 14, 2020, and 1.51 per cent below its 52-week high of C$222.99 on July 07, 2021. Investors still have narrow elbow room to enter the stock before it peaks again.
FirstService is also ranked as one of the top price performers in the real estate sector on the TSX.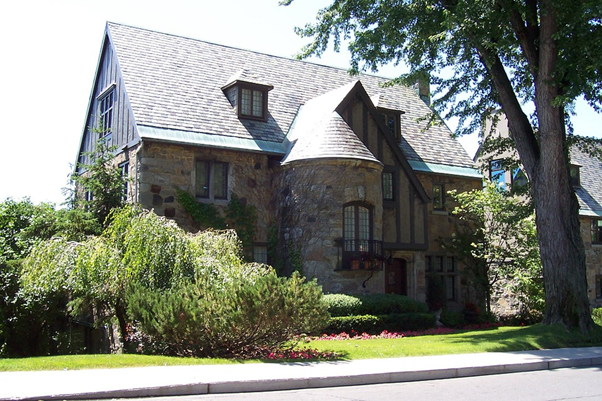 Montreal, Canada (Image: Pixabay)
FirstService stock fundamentals and financial outlook
The real estate giant's revenue grew for four consecutive years. It posted a total revenue is US$2,772.4 million for year ending December 31, 2020, up from US$2,407.4 million a year ago. United States contributed 88.05 per cent to the revenue and Canada 11.95 per cent.
The stock's ROE is 16.07 per cent higher than industry median of 7.24 per cent. FSV also netted a better profit margin and faster asset turnover as compared to the industry.
The relative valuation suggests that the stock has a trailing 12 months EV/EBITDA of 26.45x versus the industry median of 14.29x while its forward 12 months EV/EBITDA is 24.77x versus the industry median of 12.67x.
The current P/E ratio is 74.08x. The stock posted a 52-week low P/E ratio is 63.37x and a 52-week high P/E ratio of 95.64x.
As per the latest filing, the revenue posted is US$711 million for the quarter ending March 31, 2021, up from US$634 million the same quarter a year ago.
The company distributes quarterly dividends of US$0.182 and currently yields 0.396 per cent.
Technical analysis of FSV stock
Stocks of FirstService was trading at C$219.62 at 8:24 am EST on July 9, 2021. Its average 30-day volume 88,316 and a 30-day volatility of 13.40 per cent.
Moreover, the stock has a 90-day average traded volume of 75,120 shares and a 90-day volatility of 22.26 per cent.
The difference between closing price and 30-day Simple Moving Average (SMA) is 5.28 per cent. Similarly, the difference between Close price and 200 Day Simple Moving Average (SMA) is 17.22 per cent. This indicates that the stock is in bullish zone in the last one-year and hovering around attractive price points.
On a one-year time frame, the support level of the stock is 215.00 and the resistance level of 225.00. The price pattern is reflective of an ongoing up-trend in stock prices.
Future outlook
Reports indicate, the company is keen to venture into new geographies and strengthen its property management ancillary service division, which could result in higher revenue growth. It also plans to focus more on customer retention and referrals for continued growth.
The company delivered an organic revenue growth of 4 per cent in 2020, with a 15 per cent CAGR revenue growth between 2019 and 2020.
FirstService will also focus on two priority cities of Kansas and Washington D.C, with a long-term vision to grow at 10 per cent each year.
Based on these evaluations and fundamental analysis, FirstService is likely to be a long-term hold stock. However, if the real estate market enters a correctional or declining phase, the stock's returns is likely to be impacted.