Summary

S&P/ASX 200 Information Technology sector has had a rough start to 2021 following a scintillating 2020. Despite the sector index's recent performance, several tech players have gained substantial market attention.
Pro Medicus Limited, the software and IT solutions developer to healthcare sector signed a seven-year deal with Intermountain Healthcare.
Graphene tech company Sparc Technologies reported encouraging results from its continuing coatings test work.
BNPL company, Splitit Payments Ltd signed a contract with Google Japan G.K. to enable Japanese clients to use of instalment plans to buy from the Google Store.
Technology has been the backbone of several sectors during the pandemic. In 2020, when most industries struggled to get going, the Information Technology sector index delivered an impressive return of 41%. However, the sector did not start well in 2021. The YTD performance of the sector is -1.42% (As on 15 January 2020).
Despite the index performance, some tech sector players have performed reasonably well and have garnered considerable attention from the market participants.
In this article, we would look at three such companies and their recent developments.
Pro Medicus Limited (ASX:PME)
The developer and supplier of software and IT solutions to the Public and Private Health sectors reported a YTD growth of ~12% (as on 15 January).
On 14 January 2021, the Company signed a 7-year deal with Salt Lake City-based Intermountain Healthcare. Intermountain Healthcare is a major health system in Utah, the US and offers medical services in the states of Idaho & Nevada.
As part of the deal, PME's Visage 7 Viewer and Visage 7 Open Archive products would be implemented across all radiology and subspecialty imaging units of Intermountain Healthcare.
The implementation would be done on Google Cloud Platform using Visage's cloud-engineered enterprise imaging technology.
The roll-out plan would commence in the third quarter of FY2021 and post that the data migration would start by the Visage engineering team.
This deal is the fifth major contract won by the Company. PME believes that its market-leading technology, enhanced product portfolio and native cloud capability has supported the Company to expand its total addressable market in North America, Europe, and Australia.
Stock Information:
Shares of PME last traded at A$38.190 on 15 January 2021, up 4.544% from the previous close. The Company has a market capitalisation of A$3.80 billion.
Do Watch: What is Driving Pro Medicus' (ASX:PME) Share Price Today? | AUS |
Sparc Technologies Limited (ASX:SPN)
Graphene technology company Sparc Technologies Limited focuses on developing innovative technology solutions utilising the unique properties of graphene. The Company recently announced positive results from its ongoing coatings test work that was performed with the University of Adelaide.
Utilising ISO testing approach, the Company assessed the performance of various graphene-based additives produced applying variations of raw material sources, processing techniques, and graphene quantities.
The results, versus control coating, showed that there was an improvement of ~73% in scribe creep performance and ~19% in adhesion.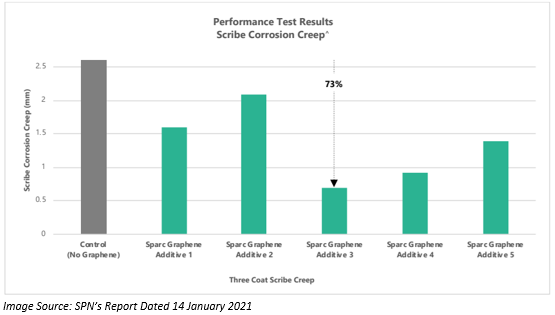 Stock Information:
On 15 January 2021, SPN shares stood at A$0.325, in line with the previous close. The Company has a market capitalisation of A$22.90 million.
Splitit Payments Ltd (ASX:SPT)
BNPL company, Splitit Payments Ltd has been in the spotlight lately after it signed an agreement with Google Japan G.K. to enable Japanese clients, to use instalment plans to buy from the Google Store in Japan for the first time. Its shares have delivered a YTD return of ~10%.
Deal with Google Japan G.K. (Google)
In the upcoming weeks, Japanese consumers who will purchase the new 5G phone, Pixel 5, or Nest devices from the Google Store, would be able to divide their expenses into equivalent monthly payments.
The agreement is for 12 months which will get renewed automatically unless either party provides a notice to cease at least 180 days before the termination of the then-current term. The agreement may terminate for cause or in case of liquidation.
Splitit is in works with Google to give the greatest feasible experience for its clients. Further, with the smooth incorporation of SPT into Google Store Japan means that the customers would not have to abandon the platform.
The partnership is a step towards the Company's expansion in the Asia region.
Stock Information:
On 15 January 2021, SPT shares were up 0.706%, at A$1.425. The Company has a market cap of A$633.53 million.