Summary

Afterpay is a fintech company that offers Buy Now Pay Later services to customers.
It provides short-term financing options to shoppers at zero interest.
Its unique business model has helped it expand operations across major economies of the world.
Afterpay is a BNPL (Buy Now Pay Later) company that has changed the definition of fintech in Australia. It follows an affiliate marketing business model, incentivizing customers to buy from affiliates using its payment plans. It has ~ 85.8k affiliates and has integrated with multiple e-commerce platforms. It can also be accessed on IOS devices. Over the years, it has acquired a large customer base across borders. Other than Australia, it operates in Canada, New Zealand, UK and the USA. Afterpay currently strives to expand in Asia.
Suggested Read: BNPL: Unbridled Convenience or The Wild West of Retail?
What does Afterpay offer to customers?
Afterpay empowers customers to purchase products while allowing them to split payments in four without charging any interest on it. It allows customers to shop both online and offline just by creating an account with it. The retailers connected to Afterpay are responsible to ship the goods. Payment approvals are instant. Services are completely free to customers who pay on time.
How does it help affiliates?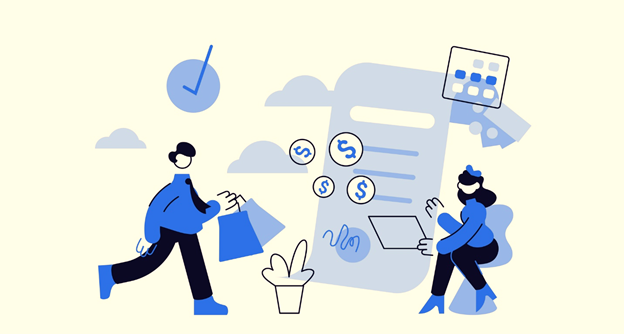 Image Source: © Vavozyan | Megapixl.com
Afterpay allows partners to offer instalment plans on online shopping. While customers pay in instalments, Afterpay pays its partners the full amount upfront for each purchase. It therefore drives, greater business ecosystem value to merchants. Merchant partners are offered insights on consumer behaviour, along with tools and value-added services. It provides the small and medium businesses an opportunity to tap broader markets.
What does Afterpay earn?

Source: Copyright © 2021 Kalkine Media
Afterpay charges zero interest or additional fees to customers. Its' primary source of earnings is the commission it charges from partner merchants. Afterpay enters a paid affiliate partnership with merchants and earns a percentage commission on each customer transaction with the merchant using Afterpay. It charges a flat 30% affiliate commission with a variable 4- 6% per transaction rate. The commission varies from merchant to merchant.
The second source of revenue for Afterpay is the penalty it levies on its customers who fail to make timely instalments. The aggregate sum of late fees on a particular order does not generally exceed 25% of the order value.
How has Afterpay fared for investors?
Afterpay (ASX:APT) stock has been an all-time favourite of investors. It has a market capitalization of AU$ 30.59 Billion, with shares closed at AU$ 107.470 on 17 June 2021. It has given a return of about 85% over the last year and a ~24% return in last month. Though it is still running in losses, industry experts expect it to turn profitable soon. Its revenue has grown significantly since 2019, and it is all set to tap into the rise of e-commerce and online payments.
Suggested Read: Three ASX shares with long-term growth potential