A long-term compounding machine whose market capitalisation crossed the $6 billion mark. One of the founders of the firm continues to serve on its Board, bringing in skin in the game. He has been with the firm for nearly thirty-eight years now.
Harvey Norman Holding limited (ASX:HVN) is primarily a consumer electronics retailer, but also retails homewares and furniture. Long term investors in Harvey Norman know that the business has been a great compounding machine.
Harvey Norman stores came into existence when Gerry Harvey and Ian Norman sold their previous retailing venture and founded Harvey Norman in 1982. Five years later, the company made its public debut.
Now Harvey Norman is a global brand with stores in Europe and Southeast Asia, in addition to its widespread presence in Australia and New Zealand. The company also owns properties across its markets.
FY20 Review
In FY20, the company's aggregated headline franchisee sales were $6.16 billion, which do not form part of consolidated revenues. Company-operated stores delivered a revenue of $2.29 billion.
Consolidated revenue for the group was $3.55 billion, which also included $1.05 billion from franchisees and $195 million from other income. The company reported profit before tax of $661.29 million, up 15.1% from $574.56 million in FY19.
Excluding property revaluations and AASB 16, the company's profit before tax was $635.6 million, up by 26% from $504.26 million in the previous year. Profit after tax of the company came at $480.54 million, up by 19.4% from $402.32 million.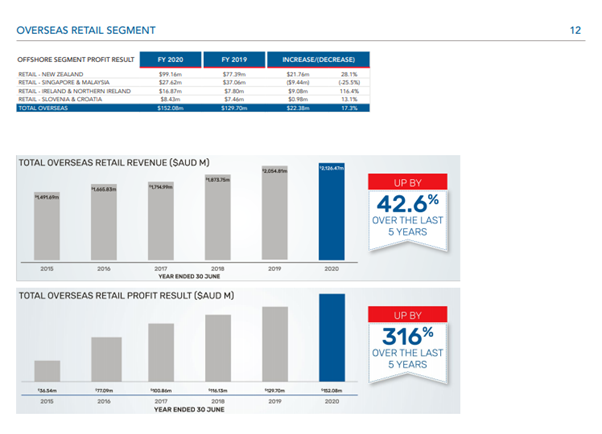 Source: FY20 Presentation, 28 August 2020
Excluding property revaluations and AASB 16, profit after tax for the company was $462.16 million, up by 30.9% from $353.09 million in the previous year. EBITDA for the period was $944.67 million, up by 37.2% from the previous year.
Excluding property revaluations and AASB 16, EBITDA was $742.47 million, up by 20.1% from the previous year. Similarly, EBIT for the period was $721.08 million, up by 19.5% from the previous year. Excluding property revaluations and AASB 16, EBIT was $654.86 million.
Harvey Norman delivered basic earnings per share of 39.19 cents, up from 33.94 cents in the previous year. It paid fully franked dividend of 24 cents during the year.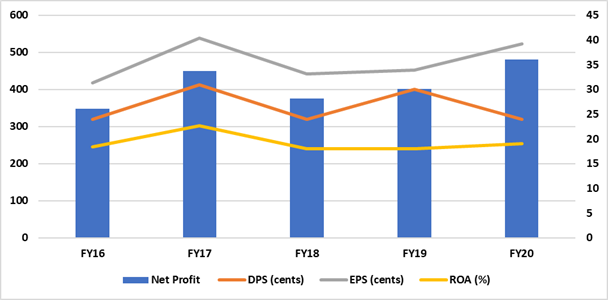 Source: 2020 Annual Report
At the end of the year, there were 194 franchised complexes in Australia and 96 company-operated stores. Property portfolio was valued at $3 billion, consisting of freehold properties in Australia, owner-occupied buildings in NZ, Singapore, Slovenia, Ireland, Australia, and JV assets.
In FY20, the company opened six new stores, which included 5 stores in Malaysia and 1 store in New Zealand. In FY21, the retailer was targeting to open 12 new stores, however the pandemic impacted the expansion plans of the company.
Around five stores, which were slated to open in the second half, were delayed due to lockdowns. In a revised plan, the company is now seeking to open 12 new stores in FY21. COVID-19 pandemic also impacted operations significantly.
While business impact was visible in the trading for store, the company also received assistance from Governments in its markets. Harvey Norman's subsidiaries received wage assistance of $22.28 million.
All of the wage support received by the retailer was passed on to its employees. The company also received property-related support and assistance of $9.81 million in total. The support package ensured that business was sustaining after the lockdowns.
Harvey Norman stated that the level of demand for products catering to work and study from home, cooking and entertainment from home was elevated on account of the pandemic. Despite the Melbourne lockdowns, the sale uptick continued.
Sales update
In November, the company reported sales update. In FY21 to 21 November, total sales for the business were up by 28.8% compared to the same period last year. Comparable sales were up by 27.5% compared to the same period last year.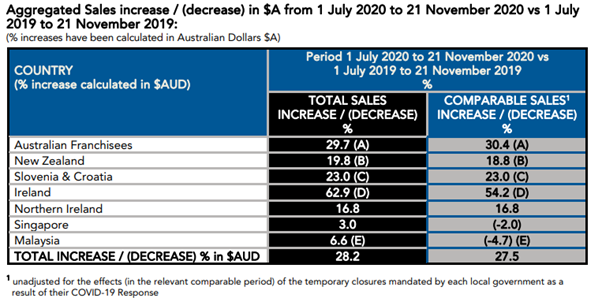 Source: Company update, 25 November 2020
During the period, two stores were opened in Ireland, and Singapore. In Australia, Harvey Norman opened one premium-format store and one small format store, and two stores were inaugurated in New Zealand.
Unaudited accounts for the 1 July to 31 October indicated profit before tax of $341.11 million, excluding AASB 16 and net property revaluation impact. The unaudited result reflected an increase of 160.1% compared to same period last year.
All eyes are now set on the vaccine rollout, as investors try to gauge the uptick in economic activity post a successful execution.