Summary

Real Energy Corporation has closed its Share Purchase Plan (SPP) following strong support from shareholders.
Reconciliation and verification of applications will follow suit, with announcement of the allocation policy due later this week.
Proceeds from the SPP will be used to fund the drilling and development of Project Venus plus general working capital.
For Project Venus, first pilot well (Venus-1) is scheduled to be drilled this month.
Shares of Australian east coast focused gas company, Real Energy Corporation Limited (ASX:RLE) garnered significant investor attention on 6 October 2020. RLE traded up by over 9 per cent at $ 0.024 on the day, after the Company announced that its SPP has been closed earlier than planned and was significantly oversubscribed.
Oversubscribed SPP Closes Early
As notified on 6 October 2020, Real Energy has closed the SPP, which was announced on 21 September 2020. The SPP provided the opportunity to all eligible Company shareholders or securities holders to further increase their shareholding in Real Energy.
Impressively, the SPP was closed earlier than anticipated, as it was heavily oversubscribed. As intimated earlier, the new shares will be issued at a price of 2 cents each, with half an option at an exercise price of 4 cents for each new share subscribed. The options have an expiry date of 30 September 2022.
Under the SPP-
Real Energy offered eligible shareholders or securities holders the opportunity to purchase maximum fully paid ordinary shares worth $ 30k.
The opportunity was regardless of the size of shareholding, devoid of any brokerage or transaction costs.
Applications were made in increments of $ 1,000 for between $ 1,000 and $ 30,000 worth of new shares.
Way Forward
The shares and options under the SPP are likely to be issued early next week. Real Energy notified that the Company will now engage in the process of reconciling and verifying all applications. The allocation policy could be announced soon after, probably on 9 October 2020.
The funds raised from the SPP will be used to fund the drilling and development of Project Venus plus general working capital.
On this note, let us cast an eye on the upcoming drilling and development plan of Project Venus-
First Pilot Well For Project Venus: Venus-1
A proposed merger of the Company with Strata-X Energy Limited (ASX:SXA) will form Pure Energy. This symbolises a compelling opportunity to build a material gas business with substantial holding in the Surat as well as Cooper Basins with 100 per cent of Project Venus.
Project Venus is situated within the main Walloon CSG fairway in the productive Surat Basin of Queensland. The Company plans to drill Venus-1 as a new vertical well in October 2020, with subsequent flow testing anticipated to continue into early next year, 2021.
Venus-1 is planned to be drilled to ~ 680 metres. The drilling contractor has also been selected. Drilling would be within ATP2051, that is surrounded by major CSG producing permits. Reportedly, there are > 1,200 PJ 2P reserves in nearby CSG fields.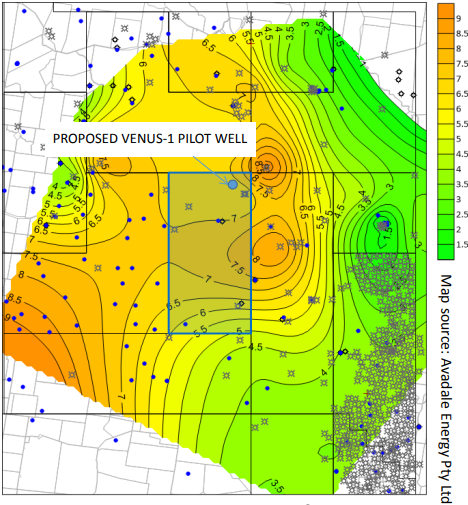 Project Venus Bcf/km2 (Source: RLE's ASX Annual Report, Sep 2020)
The primary target is Walloon Subgroup Coal Measures whereas the second target is the Permo-Triassic pervasive gas play.
After the reservoir enhancement, Venus-1 is planned to be set up as first-ever CSG pilot well for long term testing. The focus would be on commercial gas flows that may enable the commencement for predictable conversion of the prospective 694 PJ gas resources in ATP2051 into reserves, thereby offering the potential for early cash inflows.

(Source: RLE's ASX Annual Report, Sep 2020)
Interesting Fact !
If Venus 1 is successful, the Company may use that as a pilot. Then, it could drill couple of more wells to have sufficient number of wells to obtain a certified reserve position on Project Venus. The sign of ultimate development would be to sign a gas sales agreement for the Project. What may follow is- production and a good cash flow, according to Mr Brown.
DID YOU READ? Real Energy Executes Term Sheet To Sell ATP1194