Summary

Platina Resources (ASX:PGM) has closed the sale of its Skaergaard project to Major Precious Metals for AUD 13.7 million.
The deal provides funds to advance Platina Resources' gold projects in Western Australia.
The much-awaited divestment of the Skaergaard project by Platina Resources Limited (ASX:PGM) to Major Precious Metals Corp (CSE: SIZE) has finally been closed. The deal is valued at AUD 13.7 million.
The funds raised are planned to be directed towards the Company's Going for Gold strategy, which is focused on the Australian gold, in line with the record prices for the yellow metal in 2020.
Skaergaard Deal Pushes the Gold Drive in WA
The deal is significant for Platina Resources' current strategic focus on expanding its gold footprint in Australia.
Managing Director Corey Nolan has highlighted that the capital gained through the deal would be primarily used to advance the Company's projects in Western Australia.
Located in a prolific gold producing district, the Challa Gold Project covers two exploration licences spread over 293km2. Recently, the Company completed a massive reconnaissance soil geochemistry program at the promising project to identify potential targets for deeper drilling.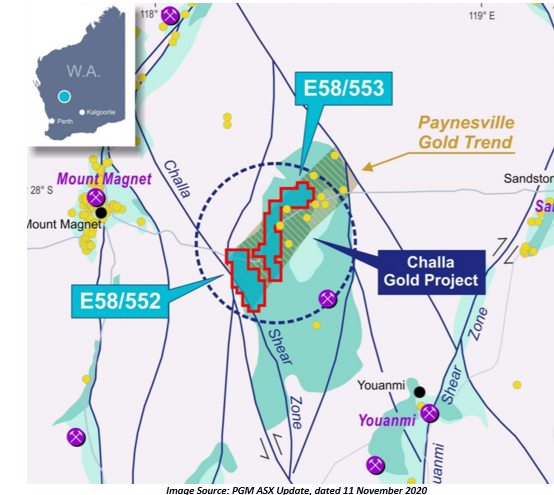 The Company is also assessing several merger & acquisition opportunities to boost its gold presence.
Must read: Platina Resources Releases Investor Presentation, Highlighting Renewed Strategic Focus on "Going for Gold"
About the Deal

Shareholding of Platina Resources in the Canadian-listed entity will be subject to a pooling arrangement of a 24-month time-release. During this period, it may not be assigned, pledged, transferred, or traded. The shares are planned to be released in four (4) equal tranches. The first release will occur after six months; three tranches will be released every six months thereafter.
Subject to an obligatory four-month escrow period completing on 28 February 2021, there are plans for accelerated share releases concerning changes in the corporate structure, share price performance or distribution of the shares to the shareholders of PGM.
Must Read: Platina Resources (ASX:PGM) closer to a 'win-win' deal for Skaergaard Project
Gold and Palladium Skyrocketing Prices Add More Value
In the backdrop of gold and palladium touching record-high prices, Major Precious Metals is striving to create value from the Skaergaard gold and palladium project in Greenland. Its plans for the project include delivering a Mineral Resource Estimate and Preliminary Economic Assessment in line with Canadian NI 43-101 Standards and a drilling program for summer 2021.
The recent strength and positive price outlooks for palladium and gold are expected to positively impact the anticipated outcomes of the studies. Palladium was recently trading above USD 2,400 per ounce, while gold was trading at USD 1,786 per ounce, Mr Nolan stated.
These prices are much higher than what Wardell Armstrong used while completing the Skaergaard Mineral Resource estimate in 2013.
PGM traded at $ 0.044 on 30 November 2020.
Also Read: Platina Resources' (ASX:PGM) September 2020 Quarterly Report Highlights Key Milestones