Summary

Pacifico Minerals' Sorby Hills Project (75% owned) holds large shallow Silver-Lead resource and proximal infrastructure.
Sorby Hills' Pre-Feasibility Study typically highlights the project's low-risk nature, well-defined large-scale Mineral Resource, and high metal recoveries.
The ongoing Phase IV drilling program with high quality near mine drilling targets along with the incorporation of a DMS circuit will underpin the Sorby Hills Definitive Feasibility Study (DFS).
Sorby Hills has passed through Stage 1 and Stage 2 of NAIF's four-stage assessment process of financing and is now within the Due Diligence Stage.
Australian base metal developer and explorer, Pacifico Minerals Limited (ASX: PMY) has made quite an achievement this year, marking off critical milestones to advance successfully on its Sorby Hills project. PMY share price mirrored the remarkable exploration journey of the Company, exhibiting the momentum of 5.5x in the past six months. PMY shares traded at $0.020 mid-day on 13 October 2020.
The impressive stock performance is backed by a wide array of upside potential attached with the Company's 75% owned Sorby Hills Joint Venture.
Meanwhile, significant undertakings such as major drilling, resource upgrade and Pre-Feasibility study have further bolstered the project's vast resource potential. Pacifico Minerals is currently utilising is existing strength and surrounding market prospects to grab the value addition opportunities and advance successfully.
Let us explore how the fusion of these internal and external factors is setting the stage for the Company's success at Sorby Hills.
ALSO READ: Pacifico Embarks Upon Capital Raising, Boosting Exploration Endeavours and Final Investment Decision at Sorby Hills
Current Strengths
Sorby Hills project is 75%/25% Joint Venture Partnership with Henan Yuguang Gold and Lead Co. Ltd, which is China's largest Lead smelter and Silver producer. The advancing journey of the project is supported by varying boosting factors, paving the way for further exploration success.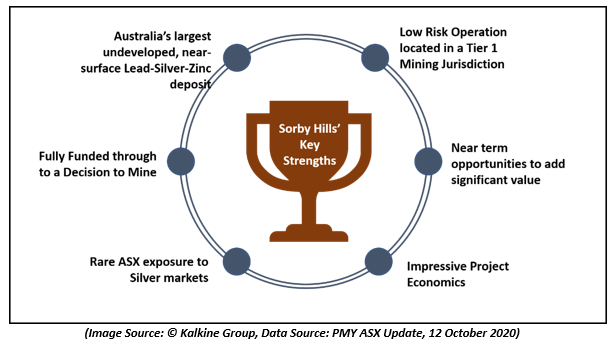 Infrastructure Advantage
The project enjoys proximity to existing infrastructure such as Kununurra (50km) and Wyndham Port (~150km via existing sealed road) and opportunity to access grid power.
Mineral Resource
Sorby Hills hold large shallow resource, comprising six gently dipping lead-silver deposits that have well-defined geology. Open Pit Reserves of 494kt Lead and 17.6Moz silver are present, with significant growth potential.
ALSO READ: Pacifico Minerals' FY20 Annual Report Reflects Robust Developments at Sorby Hills
Impressive Project economics Highlighted by the PFS.
The PFS highlights several valuable points inextricably linked to Sorby Hills Project, consequently defining progress for Pacifico Minerals' exploration endeavours. The PFS indicates initial 10-Year Mine life processing 14.8Mt ore, allowing the annual production of 50kt Lead and 1.5Moz silver. The project involves upfront Capex of $183m, including $20m contingency.
PFS' robust economics consist of Pre-Tax NPV8 of A$303m, Pre-Tax 46% IRR and 1.6-year payback. Average Life of Mine EBITDA is $75m per annum, over the first two years of production.
ALSO READ: Pacifico Minerals Sitting on a Sweet Spot with Outstanding Economic Outcomes from Sorby Hills Pre-Feasibility Study
Opportunities from All Corners: Interlocking Value Addition with Market Prospects
Market Opportunities: Defining Future of Sorby Hills Resource
The commercial potential for both Lead and silver, which are key resources of Sorby Hills project, has shown a tremendous increase in the past few years.
Lead- Lead batteries are known to play a key role in the transition to a low carbon economy with extensive applications in electric vehicles, E-bikes and 5G network base stations. As per the forecast of Business Wire, Lead demand is expected to grow at a CAGR of 6.74% between 2018 and 2022.
Silver- Best-known conductor of electricity, Silver has substantial application in the green industry. The usage of silver in Photovoltaics (PV) cells edged up by 7% last year, while silver demand grew by 0.4% to 991.8 Moz amidst declining production (1.3%),as indicated by Silver Institute.
Value Adding Opportunities: Backing DFS Advancement
Drilling Program- The project has demonstrated the ability to expand Resource size and confidence with each drilling program efficiently. The three phases of drilling program undertaken by Pacifico has increased the total Resource tonnage to over 1.5x. The fourth phase of Drill program (5,200m) is underway, which will target 68 drill holes.
ALSO READ: Pacifico Minerals' Drilling Program Underway at Sorby Hills Project; Eyeing Advancement Toward a Definitive Feasibility Study
Drilling Targets- The Program has high quality near mine drilling targets with planned drilling expected to confirm continuity between Norton and Omega deposits.
DMS Option- The incorporation of a DMS circuit would allow for the economic treatment of lower grade ore that would otherwise be classified as waste. The results of the DMS Option indicate increased ore throughput, enhancement of sub-economic ore grade and enhanced flotation feed grade. Encouraging outcomes of the DMS Option warrants further investigation during DFS.
Eight Mile Creek- Strategic landholding (Exploration Licence E80/5317) is wholly owned by Pacifico, paving the way for a long-term future for the Company within the region.
Advancing Well with Robust Undertakings and Strategic Plans
Pacifico has engaged with the NAIF (Northern Australia Infrastructure Facility) concerning financing for the project. The Australian Federal Government organisation has approximately $5 billion of debt finance, which could be lent on concessional terms to support infrastructure development for North Australian public benefit.
Sorby Hills has passed through Stage 1 and Stage 2 of NAIF's four-stage assessment process and is now within Due Diligence Stage.