Summary

Cauldron Energy raised A$1.6 million through Placements to fast-track the exploration activities at its gold and uranium projects.
Cauldron issued 51,612,903 fully paid ordinary shares at an issue price of A$0.031 in order to complete the Placement.
Cauldron has identified drill targets at its Blackwood Gold Project.
The Yanrey Uranium Project is on hold since the government has put a restriction on the exploration of uranium on new tenements.
Cauldron Energy Limited (ASX:CXU), an Australian mineral explorer, is engaged in the exploration and development of the Blackwood Gold Project in the south-east of Daylesford in Victoria.
The Company owns 51% interest in the project and recently completed the Placement of ordinary shares and raised A$1.6 million to accelerate the exploration activities.
Cauldron holds exploration license for 12 tenements in Western Australia for exploration of uranium on its Yanrey Project. No significant exploration activity has been carried on since the government placed a ban on exploration projects for uranium.
For More Read: Cauldron Energy (ASX:CXU) gathers steam on potential high-grade gold target in Blackwood
Let's get acquainted with the Management Team of Cauldron Energy
Amid high gold prices, Cauldron is aggressively moving towards commercial production of Blackwood Gold Project. Let us meet the team behind all the milestones that the Company has achieved so far.
Mr Simon Youds is a seasoned mining executive with vast experience across different geographies like Africa, Asia and Australia. Mr Youds is serving as the Non-Executive Chairman of Cauldron Energy. He is also serving as the CEO of Vector Resource Limited (ASX:VEC) .
Previously, Mr Youds was the CEO of African Iron in the Republic of Congo. He was involved in the A$388 million strategic acquisition of the Company by Exxaro Resources. Mr Youd has extensive experience with the mines of African sub-continent as he has played key roles at the Bibiani Gold Mine in Ghana and the Bulyanhulu and North Mara Gold mines in Tanzania.
Mr Jess Oram enjoys more than 30 years of experience in mineral exploration in different geological terrains with multiple commodities. Mr Oram has been serving as the Executive Director and Chief Executive Officer of Cauldron Energy since 1 January 2018. Prior to this, he had worked as the Exploration Manager.
Mr Oram has an exceptional track record in uranium exploration. He was the Chief Exploration Geologist for Heathgate Resources Pty Ltd where he headed a team of geoscientists which led to the discovery of Pepegoona Uranium, Pannikan Uranium and Pannikan West Uranium deposits.
He also contributed to the mining feasibility studies of many resource projects.
Mr Jess Oram has a Bachelor of Science (BSc) with Geology major from the University of Queensland and is an active member of the Australian Institute of Geoscientists (AIG).
Mr Jess Oram is serving as the Chairman of Force Commodities Limited (ASX:4CE)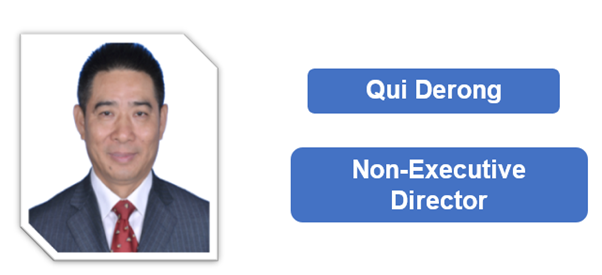 Mr Qui Derong comes with a rich experience of 26 years across a wide variety of fields like architecture, construction and real estate. Mr Qui is an experienced industrialist having exposure in China as well as managing enterprises and projects in Australia.
Mr Derong has an MBA degree from the Oxford Commercial College, which is a joint program run by Oxford University in China.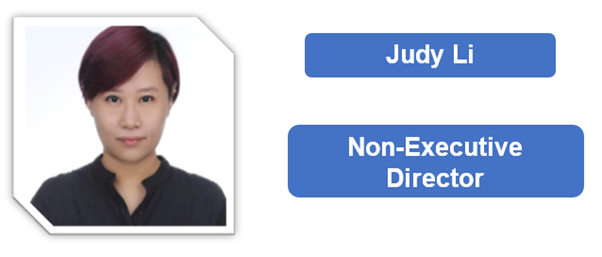 Ms Judy Li holds the designation of Non-Executive Director for Cauldron Energy. She has expertise in international trading of hazardous chemicals. With over 9 years of rich experience, Ms Li has mastered the skill of building tighter relationship between corporates and the governments.
Ms Li has also worked for Surbana Jurong, an urban planning and designing consultancy company. She has obtained a master's degree in art with Honors Architecture from the University of Edinburg, United Kingdom.
Mr Chenchong Zhou is a financial analyst professional with rich experience in the fields of materials and energy sector. Mr Zhou, in his career, has served in junior to mature mining fields and has developed expertise in the field of industrial financing.
In academics, Mr Zhou has a B.Sc in Economics degree from the Wharton Business School.
The strong and experienced management team of Cauldron is steering the Company ahead on a fast track of growth, providing value to the shareholders. The Company has identified priority drilling targets at its Blackwood Gold Project further to accelerate the ongoing resource identification and delineation activities.
Cauldron Energy has an estimated cash reserve of A$692,232 as on 30 September 2020. The Company successfully raised A$1.6 million through Placements and issuing ordinary fully paid shares.