Geologically, Australia is a resource-rich economy, having an abundance of resources such as iron ore, nickel, zinc, uranium, gold, etc. The country is also the world's leading producer of bauxite and rutile and the second-largest producer of uranium. It's no surprise that Aussie mining companies are the cornerstone of the Australian economy, contributing more than 8% to the country's GDP.
It also has an abundance of Scandium (Sc), which is one of the rare earths elements but none of them are currently mined. Scandium is mainly used as an alloy-additive to aluminum-based alloys which limits the high-temperature grain growth. Although it is not a rare element, commercially viable pure-Scandium producing mines are not common. One company that is striving to make its presence felt in the rare earths space and has already zoomed over 2.5X this year is American Rare Earths Limited (ASX:ARR).
Stock Performance
Image Source: Refinitiv
ARR has become one of the hottest stocks of 2022. It's been 20 days into 2022, and ARR shares have already become one of the best performers on the Australian bourse. The stock has more than doubled in the last five trading sessions alone, all thanks to its near-vertical rally. As of 20 January 2022, ARR shares have skyrocketed to deliver a staggering year-to-date (YTD) return of 160.61% to the last traded price of AU$0.43.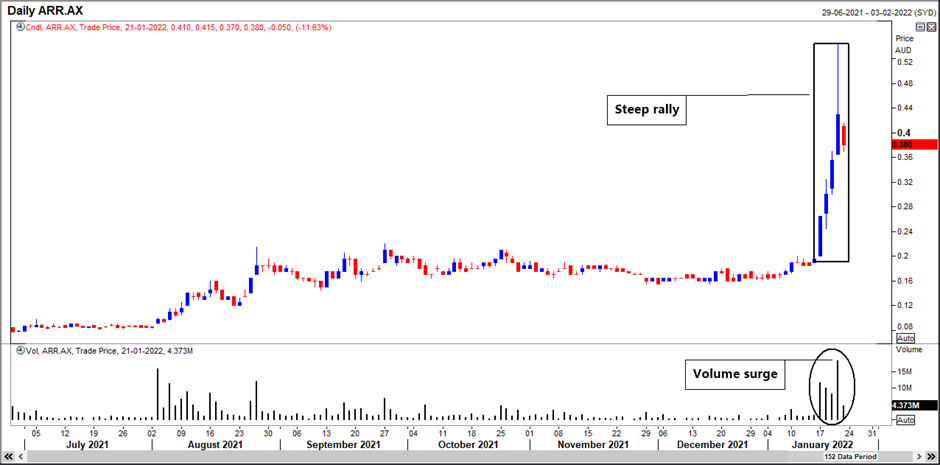 Image Source: Refinitiv
The massive rally has also been supported by a sudden buying interest, as denoted by volume spikes on the chart. On 20 January 2022, the stock clocked a volume of 18.35 million shares, more than five times the 20-day average of 3.1 million shares. The price gain and volume spikes have been so erratic that the ASX has also sent a price and volume query to the company to seek any information that could possibly explain this price action.
During the same period, the ASX 200 Materials index (ASX:XMJ) which tracks the performance of Australian resource-centric firms has delivered a return of 8.689%.
A glance at American Rare Earths' business
American Rare Earths is a NSW-based exploration company, which has a focus on rare earths, especially in the US. After the acquisition of the La Paz Scandium and Rare Earths Project in August 2019, it became the first ASX-listed explorer with exposure to the US rare earths market. La Paz Scandium is a bulk deposit containing high-value light rare earths and very low penalty elements such as radioactive uranium and thorium.
Currently, the company is focusing on the development of the La Paz Scandium and Rare Earth Project in Arizona. These projects have the potential to be the largest rare earths project in North America. In its quest to meet US demand for rare earths, the company expanded its portfolio to include the Laramie Rare Earths Project in Wyoming.
So, what's driving this buying frenzy?
In the first week of 2022, the company announced the appointment of Sten Gustafson as a Non-Executive Director. He has a rich experience of over 25 years and has advised on over 100 corporate transactions around the world for over US$100 billion of the transaction value. Currently, he is serving as the Chief Executive Officer and a director of NASDAQ-listed Pyrophyte Acquisition Corp. He would be playing a key role in securing supply for the US.
Investors were cheerful after the announcement and the same day (7 January 2022), the stock closed ~3% up to AU$0.175.
The next week was followed by a major honour for the company as American Rare Earths' fully owned subsidiary Western Rare Earths has been named a Team Member of the highly esteemed Critical Materials Institute (CMI). It is an Energy Innovation Hub of the US Department of Energy. The aim of CMI is to find innovative technology solutions, which will help avoid a supply shortage.
In mid-December 2021, investors also flocked to the company's shares after it announced that it had received exploration permits to undertake ground-disturbing activities at "La Paz" in Arizona and at "Halleck Creek" in Wyoming. This was one major step towards starting drilling activities at these two key rare earths projects.
The company had already raised approximately AU$6.1 million (before expenses) from Fidelity International via a placement of 38.8 million shares to advance the planned scope of works on both the projects. With both the funds and permits secured to commence drilling activities at projects in Arizona and Wyoming, investors have become extremely bullish on the company's future.
Ownership Summary
Non-executive Director Hill (Geoffrey Guild) is the largest stakeholder of the company, with a 20.15% stake, accounting for a total value of AU$9.42 million. FIL Investment Management (Hong Kong) Limited is the second-largest investor in the company or the largest institutional investor, holding a 9.94% stake or a total of 38.8 million shares.
Image Source: Refinitiv
Managing Director Keith Middleton holds an interest of 1.56% in the company, having the current market value of AU$0.73 million. His recent filings show that he has trimmed down his stake by 1.15 million shares to the current holding of 6.1 million shares.