Summary

Renegade Exploration Limited has been engaged in undertaking activities concerning the continuation of the programs at its Yandal East Gold Project.
RNX has raised $750,000 through the issue of 150,000,000 shares to sophisticated investors under its placement capacity for financing these activities.
RNX has inked a letter of intent for the potential sale of its Yukon Project with Scharfe Holdings Inc. for a consideration of $1.65m plus 1% NSR.
The Company remains in pursuit of new opportunities and adding value through acquisition.
Minerals explorer and developer, Renegade Exploration Limited (ASX:RNX) has been keen towards unlocking the value and potential in Australia's emerging major gold province. RNX has its flagship Yandal East Gold Project situated within a well-renowned gold region known as the Yandal Greenstone Belt in Western Australia.
Another 90% owned Yukon Base Metal Project of RNX is located in the highly prospective Selwyn Basin, Yukon Territory in Canada. The overall objective of RNX remains on generating long-term shareholder value through detection, procurement, as well as the advancement of economic mineral deposits.
September Quarter Update: ASX:RNX Speeding up Exploration at Yandal East Project, Reports September Quarter Full of All Round Progress
Yandal Greenstone Belt Indicates High Prospectivity For Minerals
The Yandal Greenstone Belt is said to have produced more than 10Moz of gold, with key production centre at Jundee, which is located approximately 25km west of Yandal East. Northern Star has budgeted $45 million for exploration at Jundee subsequent to numerous fresh gold discoveries.
The area has also shown untested nickel prospectivity while RNX's focus remains on extracting value with the quality geological process.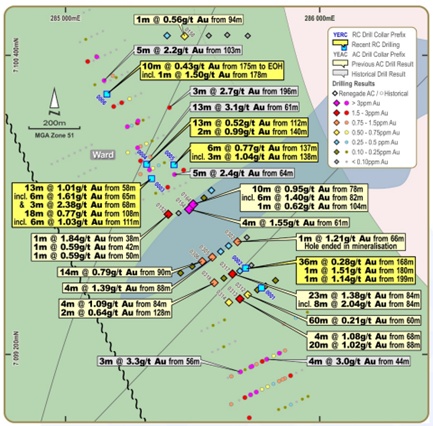 Ward Prospect at Yandal East Project (Source: ASX Announcement 26 November 2020)
The greenstone belt has indicated structural setting for gold in proximity with a regional strike parallel structure with a concentration of high angle, late, brittle cross-cutting structures. Furthermore, mineralisation has been identified to be typically concentrated on one side of the strike-parallel structure.
Previous Update: RNX Share Price Rallies 300% In the Past Year, A Look at Past Activities and Potential Opportunities
RNX believes that the inflexion or folding in the orientation of the regional shear has the potential to play a key role in building up gold mineralisation. Notably, there are known mineralisation along with the main shear and/or cross-cutting structures in the greenstone belt.
In addition to gold mineralisation, the Greenstone Belt is also a host to substantial nickel discoveries in the Leinster area. Moreover, there has been historical work conducted by majors and others included magnetics, limited IP, and some shallow air core drilling.
Did you read: Getting Acquainted With The Operations Of Renegade Exploration Limited, A Walk Through Project Portfolio
One high priority sizeable target, Riches has been identified at the area to date, where nickel has been found to occur in the weathered zone. Presently, RNX is engaged in the interpretation of the data received and is considered drilling to be a priority to test this prospect.
Other than this, there is an ongoing interpretation of other intrusives, and historical data collection is also ongoing for target ranking.
Offloading the Yukon Base Metal Project
The Yukon base metal project is currently subject to a Letter of Intent at purchase for $1.65 million, plus 1% Net Smelter Royalty (NSR) with Scharfe Holdings Inc.
RNX had granted a period of exclusivity to Scharfe until 30 October 2020 for undertaking due diligence and negotiating a Share Purchase Agreement for the acquisition of Overland Resources Yukon Limited, which is the Canadian subsidiary of RNX.
Yukon Base Metal Project (Source: ASX Announcement 26 November 2020)
Related: Renegade Inks a Deal to Sell Yukon Project, Receives Commitments Worth A$750,000
The purchase consideration for the project is expected to be paid in four tranches, the one being paid on the 36-month anniversary of the Closing Date, which is the date of completion of the sale or as the parties may mutually agree.
Once the final payment is made, RNX shall hold a 1% NSR on the Project, while there shall be an option for Scharfe to acquire this royalty by paying $1 million to RNX. However, RNX, being the operator of the Project, shall be responsible for maintenance of all permits in line with the appropriate conditions.
Successful Capital Raising to Fund Exploration Activities
RNX also successful capital raising of $750,000 against which, 150,000,000 shares were to be issued to sophisticated investors at a per-share price of $0.005 under the placement capacity. RNX aims to utilise these funds towards continuing the programs at its Yandal East Gold Project and pursuing fresh opportunities while offering general working capital.
Interesting Read: Renegade Exploration Limited Cracking Crust at Yandal Project, Plans Significant Activities For Yukon Project
As per the previous update, RNX has commenced a gravity program at the Yandal East Gold Project, which is anticipated to offer high definition interpretation of structures for use by RNX while helping to generate fresh targets for drilling.
All in all, RNX remains engaged in reviewing and assessing fresh business opportunities predominantly within the gold sector, while seeking to add value by organic development or acquisition.
Important Update: Renegade Exploration (ASX:RNX) Intends To Off Load Yukon Base Metal Project, A Glance At The Project
RNX share price was noted at $0.007 with a market capitalisation of $5.60 million on 26 November 2020.