Source: Kanjana Kawfang, Shutterstock
Housing markets remain strong in the US. The fiscal stimulus and a recovering economy is expected to likely add further tailwinds to the housing market over the near term. The strength in the housing market is attributed to lower mortgage rates, tight supply, and demographics.
In the US in January 2021, the purchase of a new single-family home rose 4.3%. But mortgage rates are bound to go higher over the near term because yields will be higher (already up presently). As demand is increasing, there would be an affordability issue as well.
The stock is discussion, Toll Brothers, Inc. (NYSE:TOL), is a leading homebuilder listed on the NYSE in the USA. The company largely caters to high end spectrum of the market, but has made ways to affordable luxury range to cater to the demographic change driven by millennials.
The stock on the exchanges has appreciated by 15% in the past 6 months and is up 228% since the March 2020 lows.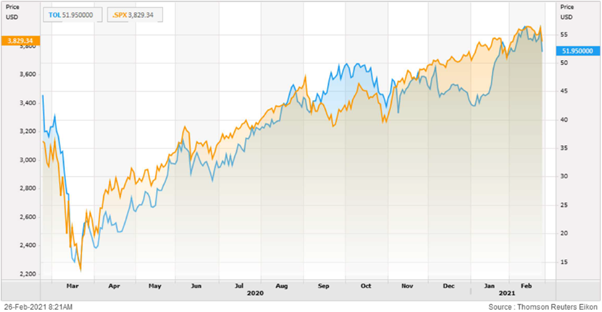 Toll Brothers, Inc. (NYSE:TOL) is an American homebuilder operating in 24 states. It is a fortune 500 company engaged in the design, build, market and sell model. The company caters to various segments, including the first time, affordable luxury, luxury, active-adult, second-home buyers.
In the last five years to October 2020, it has delivered 38,117 homes from 779 communities, including 8,496 homes from 457 communities in FY20 ended in October 2020. Toll Brothers leverages a flexible financing model with builder partnerships.
The developer currently has many land parcels for master-planned communities, which would also be monetised through builders and partners. Besides, Toll Brothers also develop operate-for-rent apartments with joint ventures.
It also houses many vertical businesses to complement core operations, including land development, architectural, engineering, lumber distribution, house component assembly, and manufacturing operations. The company also has investments in several unconsolidated entities.
Niche developer with significant pricing power
In FY20, the company also acquired smaller builders Thrive and Keller, which had a collective acquisition price of nearly $80 million. The company has been experiencing strong demand as housing markets remain robust.
Data Source: Annual Report 2020, USD millions
During Q4FY20, the homebuilder signed contracts for 3,407 homes and achieved $2.4 billion in home sales, which was the highest in the company's history. At the end of the year, it had a backlog of 7,791 homes and $6.37 billion.
In Q3 and Q4, the company also raised the prices of its communities to manage profitability. The demand for housing is driven by lower interest rates, undersupply of homes, and increased focus on homeownership.
In FY20, the company recorded revenue of $7.07 billion, which include home sales of $6.93 billion and land sales and other revenue of $140.3 million. Its gross margin in home sales was $1.4 billion, while the gross margin in land sales and others was $14.48 million.
The company reported an operating income of $550.26 million compared to $680.8 million in the FY19, largely due to lower revenues. Net income for the year was $446.62 million, down from $590 million in the previous year. During the year, TOL reported diluted earnings per share of $3.4 per share and declared a cash dividend of $0.44 per share.
On the risk counter, it is to be noted that Toll Brothers operate in a competitive environment with competition stemming from numerous builders of various size in national and local markets. It competes on price, design, location, reputation, and service. However, TOL's financial stability also provides a competitive advantage against peers.
Earnings and cash flow visibility
Recently, the company also reported first-quarter FY21 earnings. It saw record growth and exceeded guidance. The business was firing on all cylinders as pre-tax income and earnings per share rose 93% and 85%, respectively, over the same period last year.
Management stated that the demand for a new home remains strong, and they are enjoying pricing power. During the quarter, net signed contract rose 68% over the same period last year. Similarly, its backlog has now been increased by 37% in dollars.
They also significant gross margin gains in FY21. It takes 9-12 months to deliver homes; therefore, the management anticipates strong pricing power and gross margin expansion into FY22.
Housing markets remain strong driven by demographic trends, tight supply, low mortgage rates. Most of its buyers have more than one property, and rising housing demand means households can sell homes quickly at gains.
Over the years, Toll Brothers has also expanded its geographic footprint and now operate in 50 markets in 24 states. It seeks to capitalise on housing demand from 72 million millennials looking for affordable luxury homes, which are offered by the firm.
In Q1FY21, it reported revenue of $1.56 billion, which included $1.41 billion in home sales. The net signed contract value was $2.51 billion. Backlog stood at $7.47 billion at the end of the quarter. Net income for the period was $96.5 million against $56.9 million in Q1FY20.
The company is generating strong cash flows, while sales and margins remain strong. In Q1FY21, it paid down debt, increased landholdings, and bought back stock. Its focus on affordable luxury, cost control, efficient land acquisition, and gross margins would improve the ROE.
Toll Brothers estimates a net operating cash flow of $750 million in FY21, after delivering $1 billion in FY20. It has repaid some debt, conducted share repurchases, announced redemption of $250 million notes.
As a result, the company expects the debt-to-equity ratio to fall within the mid-to-high 20% range at the end of FY21. It estimates the average delivered price would be in the range of $790,000 and $810,000 per home for FY21.
All the figures are in USD unless stated otherwise. Toll Brothers, Inc. (NYSE:TOL) is not listed on the Australian stock exchanges. This article is to cater to the readers who follow the US stock market and for educational purpose only.