Summary

This week, Australian biotech behemoth CSL Limited's shares crossed the AU$300-mark for the first time in 2021.
CSL's influenza vaccine company, Seqirus, has co-authored the first study on administering a COVID-19 vaccine with a seasonal influenza shot.
The study was conducted by Novavax and demonstrated that there were no early safety concerns.
The share price of ASX 200-listed biotechnology player CSL Limited (ASX:CSL) climbed over AU$300 for the first time in 2021 this week. The shares moved north after the Company announced that its influenza vaccine company, Seqirus had co-authored the first study on administering a COVID-19 vaccine of Novavax with its seasonal influenza shot.
With the share price increase, CSL became Australia's priciest stock. CSL shares had hit a 52-week high of AU$320.856 in November 2020.
On 18 June 2021, CSL shares closed at AU$305.520, up 1.091%. The Company's market capitalisation stood at AU$137.54 billion.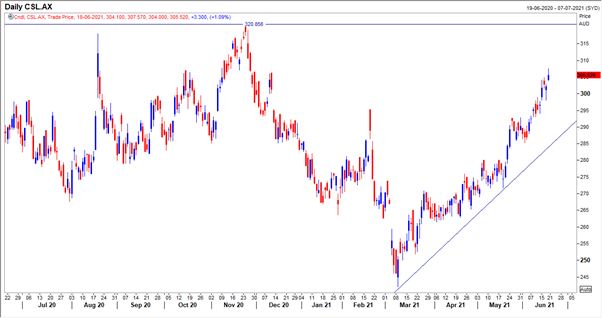 CSL share price chart (Source: Eikon Refinitiv)
Co-administration of COVID-19 vaccine and seasonal influenza vaccine
On 14 June 2021, Seqirus, a division of CSL Limited, updated that it co-authored a study to demonstrate the safety, efficacy, and immunogenicity of a COVID-19 vaccine when it was co-administered with an influenza vaccine.
The study was conducted by Novavax Inc (NASDAQ:NVAX) as part of Phase 3 clinical trial of NVX-CoV2373, its recombinant protein COVID-19 vaccine candidate. Novavax has disclosed that the co-administration study enrolled 431 participants in the UK. All the volunteers have been administered either an adjuvanted, aTIV (trivalent seasonal influenza vaccine) or a cell-based, QIVc (quadrivalent seasonal influenza vaccine) provided by Seqirus.
ALSO READ: COVID-19: Are Intranasal vaccines better than the traditional vaccine shots?
Novavax also demonstrated that there were no early safety concerns during the study. Furthermore, the study indicated that the vaccine's efficacy was preserved in the study participants who have obtained both vaccines compared to those vaccinated with NVX-CoV2373 alone.
The seasonal influenza vaccines of Seqirus have a robust safety profile. The findings from this study indicate that concomitant vaccination may trigger a viable immunisation strategy, although additional research is required.
Raja Rajaram, MD, Medical Affairs Lead, EMEA, Seqirus, a co-author of the study, stated-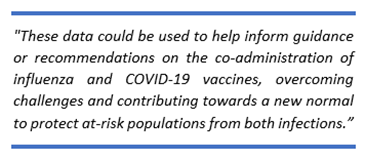 Seqirus is engaged in developing influenza vaccines across its global manufacturing network, including facilities in the US, UK, and Australia. Since the beginning of the COVID-19 pandemic, Seqirus has experienced record demand for influenza vaccines worldwide and has extended production in its three manufacturing sites.
ALSO READ: How are medical chatbots transforming patient care?
Appointment of Non-Executive Director
On 16 June 20201, CSL Limited updated the market with the appointment of Ms Alison Watkins as an independent Non-executive Director. Ms Watkins to commence her role from 19 August 2021.
Copyright © 2021 Kalkine Media
Most recently, Ms Watkins was associated with ASX listed Coca-Cola Amatil Limited (ASX:CCL), where she worked as the Group Managing Director responsible for operations in Australia, New Zealand, Indonesia and across the South Pacific region. From 2010-14, she was Managing Director and CEO of diversified ASX listed agribusiness, GrainCorp Limited (ASX:GNC).
Ms Watkins holds a Bachelor of Commerce from the University of Tasmania.