Highlights

The healthcare sector offers many developments in terms of innovation that gave way to a rise in the performance of healthcare companies.
ASX-healthcare shares rarely fail to cheer up the market participants and offer significant returns.
Oneview Healthcare, Actinogen Medical, Imugene, Prescient Therapeutics and IDT Australia are some ASX-listed healthcare players delivering outstanding returns.
The ongoing COVID-19 pandemic has presented another therapeutic area, and many healthcare companies are entering into the development of new products, diagnostics, as well as therapies to combat the COVID-19. In the healthcare sector, there are enormous opportunities in terms of new innovations and developments that boost up the performance of healthcare players.
Besides, some of the ASX-listed healthcare players have reported better-than-anticipated performances and generating outstanding returns this year.
In this article, we will discuss five ASX-listed healthcare stocks generating massive returns in 2021-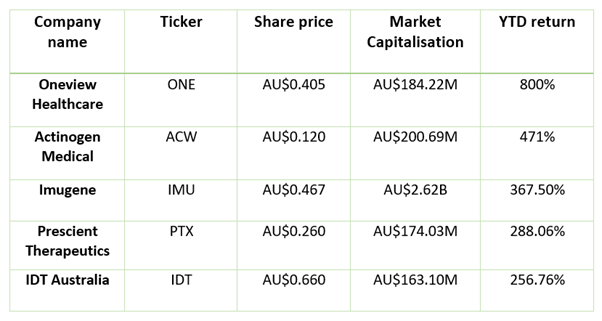 Source: ASX (29 September 2021, 12:08 PM AEST)
RELATED ARTICLE: Five ASX healthcare stocks that delivered over 50% return in a month
Oneview Healthcare Plc (ASX:ONE)
Oneview Healthcare offers digital tools and patient engagement platform for improving the health care experience of patients. The Company has partnered with leading healthcare systems across the US, the Middle East, Asia and Australia.
Five ASX Healthcare stocks with outstanding YTD returns
The first half of 2021 was transformational for Oneview Healthcare; the key highlights are-
In 1H 2021, the Company generated total revenue of €3.4 million, up by 13%.
Oneview had a cash balance of €5.0 million that reflects a substantial reduction in operating cash burn.
The Company signed its first cloud customer in Australia.
Actinogen Medical Limited (ASX:ACW)
Actinogen Medical is engaged in developing pioneering therapies for the treatment of neurological indications associated with dysregulated brain cortisol.
In FY21, the Company completed substantial milestones, including the commencement of its Phase 2 XanaMIA trial, positive pre–IND (Investigational New Drug) feedback from the US Food and Drug Administration (FDA) for its XanaFX trial, as well as Rare Paediatric Disease Designation for the Fragile X program.
Furthermore, the Company remains well-positioned with a solid cash balance of AU$13.4 million as of 30 June 2021, which it believes that sufficient to fund all planned Phase 2 clinical studies.
Imugene Limited (ASX:IMU)*
Clinical-stage immuno-oncology company Imugene is developing a range of new treatments with the support of a leading team of global cancer specialists having vast experience in developing new therapies to treat cancer. The treatments developed by Imugene seek to activate the immune system of patients for tumor identification and eradication.
Imugene's drug pipeline comprises multiple immunotherapy B-cell vaccine candidates and oncolytic virotherapy (CF33) targeted to treat several cancers in combination with standard of care drugs and developing immunotherapies.
Lately, the Company has obtained a grant of a core Japanese patent for HER-Vaxx immunotherapy, which is currently in development to treat HER2 positive gastric cancer.
RELATED READ: Imugene shares welcome grant of HER-Vaxx immunotherapy patent in Japan
To know more about Imugene Click Here.
Prescient Therapeutics Limited (ASX:PTX)*
Prescient Therapeutics is grabbing the attention as the company moves significantly to develop its unique immunotherapy platform- OmniCAR. Other than OmniCAR, the Company is also developing two targeted therapies-PTX-100 and PTX-200- making crucial headways in clinical trials. Also, PTX has several other initiatives for new Cell Therapy Enhancements (CTE) programs, which are currently under development and not disclosed to the market.
Prescient has completed key milestones of manufacturing and delivery of crucial components as well as immunogenicity testing of OmniCAR.
ALSO READ: Here's why Prescient Therapeutics is drawing increasing attention with a ~4x share price surge so far in 2021
To know more about Prescient Therapeutics Click Here.
IDT Australia Limited (ASX:IDT)
IDT Australia is a collaborator for the manufacturing as well as production of pharmaceutical formulations, along with some therapeutic cannabis products. The Company has vast experience in the production of high containment and high potency pharmaceutical products. Furthermore, IDT's facilities are cGMP (Current Good Manufacturing Practice) compliant and are regularly audited by the US Food and Drug Administration (FDA) and the Therapeutic Goods Administration (TGA).
On 28 September 2021, the Company has received a manufacturing licence extension from the TGA for Sterile Licence. The Company disclosed that this Sterile Licence is an extension to IDT Australia's existing licence for manufacturing of therapeutic goods.
RELATED ARTICLE: A look at five ASX Pharmaceutical shares by market capitalisation
*IMU and PTX are sponsored clients.