Highlights

Many ASX-listed healthcare shares are gaining attention because they are providing support to combat the ongoing COVID-19.
Wellfully, ResApp Health, IDT Australia, MGC Pharmaceutical, and Argenica Therapeutics are some healthcare shares delivering significant returns.
The current COVID-19 outbreak has boosted the attractiveness of the healthcare sector as a whole. Many ASX-listed companies are grabbing the attention of market participants as they are engaged in the development of treatment of COVID-19 or supporting vaccine manufacturing.
With healthcare related services and healthcare becoming an essential part of life, we will discuss five ASX-listed healthcare shares that have delivered more than 50% return in one month.
Source: ASX, as of 16 September 2021
Wellfully Ltd (ASX:WFL)
Wellfully Limited is a science-based wellness firm that is engaged in offering a portfolio of proprietary technologies and supporting partners by providing IP (intellectual property) as well as expertise in magnetic array design.
In the FY21, Wellfully delivered material progress across its development pipeline.
During the year, WFL continued to work on a therapeutic product range that uses Magnetic Misting technology of Wellfully for Nebulizer applications. The Company anticipates the launch of the first product using this technology in Q2 of FY23.
RÉDUIT, the first wholly-owned consumer brand of Wellfully, witnessed rapid growth in FY21 following its release in late FY20.
During FY21, WFL commenced its work on inhalers, nebulizers, and spirometers, using the RÉDUIT architecture.
WFL was trading at AU$0.165 at 1:29 PM AEST on 17 September 2021.
ResApp Health Limited (ASX:RAP)
ASX-listed leading digital health company ResApp Health is engaged in the development of smartphone applications to diagnose and manage respiratory indications.
On 14 September 2021, ResApp announced that the Company has obtained authorisation from AusIndustry for its application for an Advanced and Overseas Finding in respect to expenditure associated with its COVID-19 clinical trials.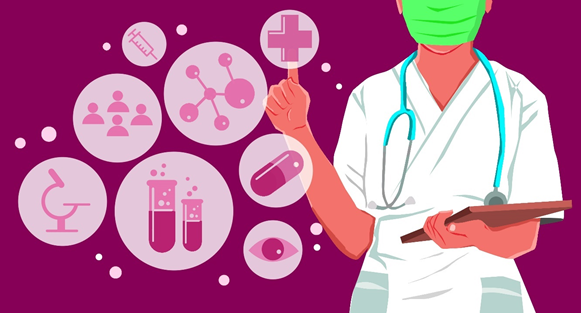 Copyright © 2021 Kalkine Media
ResApp intends to develop a smartphone-based algorithm that would immediately screen for COVID-19 and monitor the progression of disease by using the proprietary cough sound analysis technology of the Company.
Dr Tony Keating, the CEO and Managing Director of ResApp commented-
RAP was trading at AU$0.079 at 1:29 PM AEST on 17 September 2021.
IDT Australia Ltd (ASX:IDT)
Australia-based pharmaceutical firm IDT Australia has extensive experience in the development of high potency as well as high containment therapeutic products for local and global clients.
On 15 September 2021, IDT Australia updated the market with the strategy update for its mRNA COVID-19 vaccine onshore manufacturing. The Company disclosed that the side audit has been completed by the Therapeutic Goods Administration (TGA). Moreover, IDT Australia has received TGA post-inspection letter and submitted its response. The Company is now waiting for TGA determination on sterile licence.
The Company is focused on advancing its Medicinal Cannabis Manufacturing Plan. Besides, the contract manufacturing, as well as new product development activities, are progressing well in its cGMP medicinal cannabis business.
RELATED READ: Seven stunning ASX healthcare shares to keep tabs on
IDT was trading at AU$0.605 at 1:29 PM AEST.
MGC Pharmaceuticals Ltd (ASX:MXC)
European based bio-pharma firm MGC Pharmaceuticals is developing and supplying affordable standardised medicines derived from phytocannabinoid to patients all over the globe.
MGC Pharma is developing proprietary nutraceutical food supplement ArtemiC™ that is designed to support the immune system.
On 15 September 2021, the Company disclosed that it has obtained regulatory authorisation for the sale of ArtemiC™ in Germany and has been issued a Certificate of Free Sale. This is a significant achievement for MGC Pharma that opens the door to the European Union as well as international markets.
RELATED READ: Keen on cannabis stocks? Three ASX shares worth a look
MXC was trading at AU$0.062 at 1:29 PM AEST on 17 September 2021.
Argenica Therapeutics Limited (ASX:AGN)
ASX-listed pharmaceutical company Argenica is developing innovative therapies to reduce the death of brain tissue after stroke as well as improve patient outcomes. The Company's lead candidate, ARG-007, is being verified for its safety and toxicity before commencing Phase 1 clinical trials in humans.
On 14 September 2021, Argenica announced the successful scale-up manufacture of ARG-007 to GMP (Good Manufacturing Practice) guidelines via its Australia based manufacturing partner, AusPep.
The Company also highlighted that AusPep has completed the testing of all aspects of ARG-007 production. Moreover, it has confirmed the successful process development as well as scale-up of GMP grade ARG-007.
RELATED READ: Argenica Therapeutics (ASX:AGN) shares surge ~30% on Day 1 on the ASX
Dr Liz Dallimore, CEO of Argenica, commented-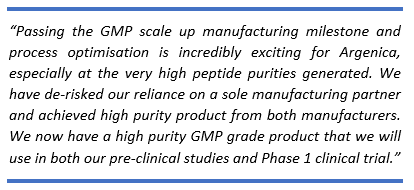 AGN was trading at AU$0.400 at 1:29 PM AEST on 17 September 2021.