Source: Terelyuk, Shutterstock
Summary

An increasing rate of air pollution, coupled with the release of harmful substances/gases, is driving the respiratory disease market's growth.
Pharmaxis has launched its cystic fibrosis drug Bronchitol® in the US while ResApp has received TGA's go-ahead for its wearable device.
Respiri appointed two highly experienced respiratory executives to support wheezo's UK launch.
Respiratory diseases, including asthma, chronic obstructive pulmonary disease (COPD), and pulmonary hypertension, are responsible for millions of deaths every year worldwide. The world health authorities treat respiratory indications as a critical focus area, owning to high prevalence and mortality rate.
The respiratory disease market includes medical devices and drugs that are used to manage and treat respiratory indications.
Source: © Radivoje | Megapixl.com
The increasing rate of air pollution, growing hospital-acquired infections, and release of lethal gases are the main causes of lung diseases such as asthma, COPD, and other respiratory indications worldwide. These factors are considered market drivers for respiratory disease treatments.
With this backdrop, let us quickly glance through 3 ASX-listed respiratory stocks-
Pharmaxis launches cystic fibrosis drug bronchitol in the US
On 19 March 2021, Pharmaxis Ltd (ASX:PXS) announced that Chiesi USA Inc launched Bronchitol® (mannitol) for cystic fibrosis (CF) in the US. Chiesi is responsible for Bronchitol's commercialisation in the US.
The first dry powder inhaled mucoactive agent which offers an efficient and transportable treatment for CF patients, Bronchitol is an add-on maintenance therapy for the improvement of pulmonary function in CF patients aged ≥ 18 years.
Additionally, Chiesi revealed that data from the global Phase 3 clinical trial of Bronchitol was published in the Journal of Cystic Fibrosis. The Phase 3 study was evaluating the efficacy and safety of Bronchitol in adults with CF.
So far, Pharmaxis has obtained a total of US$10 million in Bronchitol milestone payments from Chiesi, generated by the Food and Drug Administration's (FDA) approval in October 2020, and the recent first shipment to the US.
Gary Phillips, CEO of Pharmaxis, commented-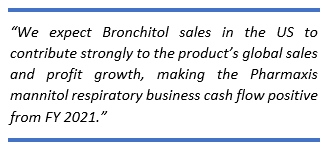 ALSO READ: Here's the latest development on Pharmaxis' (ASX:PXS) cancer treatment
ResApp gets TGA nod for its wearable device
ASX-listed leading digital health player ResApp Health Limited (ASX:RAP) is engaged in the development of smartphone applications for the diagnosis as well as management of respiratory indications.
On 25 March 2021, the Company revealed that it had received approval from the Therapeutics Goods Administration (TGA) for its wearable as a Class I medical device. ResApp's device is now listed on the ARTG (Australian Register of Therapeutic Goods).
Notably, earlier this month, the Company received CE Mark certification for the device. The TGA approval would allow the Company to advance the sale and promotion of the wearable device in Australia.
ResApp's device allows continuous 24-hour monitoring of the patient by using cough sound.
ALSO READ: ResApp (ASX:RAP) to initiate study probing the cough-COVID-19 relationship
When used in conjunction with ResApp's proprietary algorithms, the wearable device gives very high accuracy and precision in identifying more than 93% of coughs events, with less than 1% of identified events being false positives.
Though the device has several applications, ResApp will initially emphasise on clinical trial settings for cough frequency measurement.
Cough frequency is an important factor to determine and manage the progression of respiratory indication. This event will also be a useful outcome measure in clinical trials, involving a comprehensive range of disease states implicated with cough.
CEO and MD, Dr Tony Keating, stated:
Respiri appoints highly experienced Strategic Advisor
e-Health SaaS company Respiri Limited (ASX:RSH), is engaged in respiratory health management. Respiri's innovative technology detects wheeze, which is a typical symptom of several diseases, including asthma, COPD, and other respiratory indications.
DO READ: Respiri (ASX:RSH) gets Pharmacy Catalyst members' support for wheezo™ sales
On 25 March 2021, Respiri announced the appointment of Dr Andrew Weekes, effective 15 March 2021. Respiri stated that Dr Weekes would be a strategic advisor to the Board of the Company. He will provide guidance related to wheezo™ for its commercialisation, clinical development, R&D, key opinion leader introduction, and relationship management.
Source: Copyright © 2021 Kalkine Media Pty Ltd
Mr Marjan Mikel, CEO of Respiri, commented-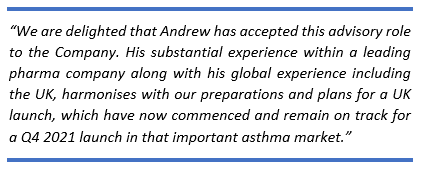 wheezo launch in the UK
Plans for wheezo launch in the UK continue to progress with Respiri in commercial discussions with Cipla and other potential partners.
Recently, Respiri has appointed Dr Mark Levy as the UK advisor. Dr Levy has been a member of the Global Initiative for Asthma (GINA) Executive Board of Directors since 2009.
Moreover, the Company is in advanced discussions with key clinicians in the UK about participation as a key technology partner in several extensive asthma-related studies. These studies are anticipated to offer:
The key clinical evidence for managing treatment decisions for the use of asthma therapeutics.
The role of advanced digital technologies in the management of pediatric asthma in the UK.
Additional scientific evidence for inclusion into the asthma care quality standards issued by the National Institute for Health and Care Excellence (NICE).
Respiri notified that these extensive studies would build awareness as well as educate clinicians in the UK.
Stock Information (as of 26 March 2021)
Let us quickly glance through the stock information of the above three stocks-