Source: Michail Petrov,Shutterstock
Summary

The Australian Securities Exchange has provided impressive returns to investors over the years.
With an improvement in the economic scenario, companies are likely to witness a resurgence in their financial performance and potentially share their profits with shareholders.
The technology sector has excelled during the testing times, with several players offering considerable payouts.
During times of uncertainty, CY2020 being the prime example, investing becomes quite a challenging task as investors are jittery, unsure where to put in their hard-earned money to generate decent returns. Dividends offer a safety net in the form of regular income, and thus, dividend stocks hold more appeal during uncertain times.
While 2020 saw many companies deferring or cutting down dividend payments, the tech sector was an outlier. And with the situation only getting better, several technology players are offering handsome dividends to the investors.
Source: © Youmademoney | Megapixl.com
This article would take you through five such ASX 200 stocks that have provided attractive dividends amid these testing times.
To know about the top 25 stocks by dividend yield, click here.
Iress Limited (ASX:IRE)
Iress Limited provides IT solutions to financial market members & wealth managers. Iress has regularly given dividend to its shareholders. IRE recently announced its FY2020 results, declaring a final dividend of 30 cents per share. Thus, bringing the total dividend for FY2020 to 46 cents per share.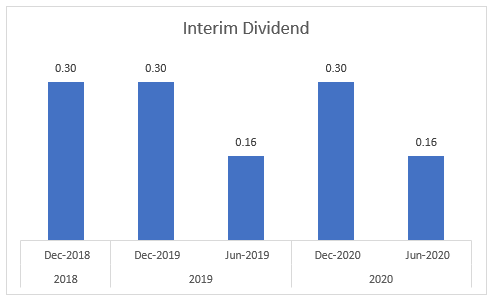 Data Source: Refinitiv, Thomson Reuters
A Quick look at FY2020 Results:
Iress Limited delivered impressive results in FY2020. Key highlights include:
Pro forma revenue improved by 2% to A$535.5 million.
Pro forma Segment Profit grew by 5% to A$155.6 million.
Pro forma NPAT improved by 7% to A$64.3 million.
Iress witnessed an 8% growth in the recurring revenue, making up over 90%.
Cash conversion went up to 108% & pro forma return on invested capital stays robust at 10%, slightly influenced by capital raise.
Computershare Limited (ASX:CPU)
Founded in 1978, Melbourne-based Computershare Limited provides specialist computer bureau services to Australian share registrars. The Company has remained steady in providing a dividend over the last five years, with the dividend payout increasing over the years.
CPU released its 1H FY2021 results on 09 February, announcing an interim dividend of 23 cents per share.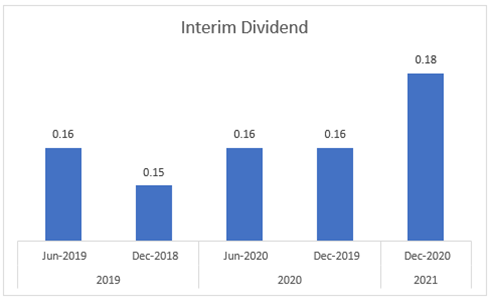 Data Source: Refinitiv, Thomson Reuters
1H FY2021 Highlights:
Computershare highlighted that its operating business was performing ahead of the plan. However, in 1H FY2021, the record low interest rates hurt the margin income and earnings.
Management revenue decreased by 3.2% to A$1.1 billion.
Margin income dropped by 52.4% to A$55.2 million.
Management EPS slipped by 24.8% to 21.77 cents.
Reported growth in fee revenue and contributions from cyclical businesses.
CPU's operating performance supports a positive 2H FY2021 outlook.
FY2021 Guidance:
The Company expects its management EPS to be down ~8% in constant currency (Expected to decline ~11% earlier). Management EPS would be nearly 30 cents. EBIT, after removing margin income, would be up by ~14%.
Bravura Solutions Limited (ASX:BVS)
Bravura Solutions Limited offers software solutions to life insurance, wealth management, and funds administration industries. The Company has consistently provided a dividend to its shareholders since 2017.
However, a significant drop was seen in the amount of dividend announced (A$0.026) for 1H FY2021.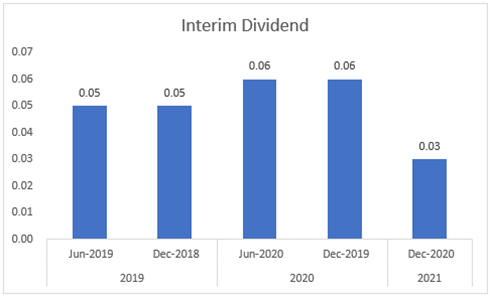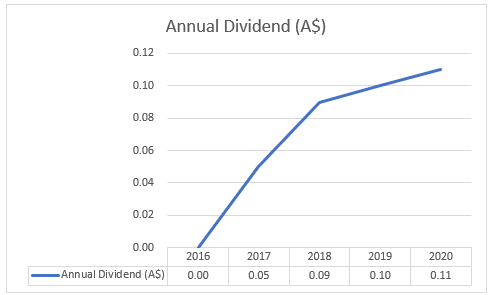 Data Source: Refinitiv, Thomson Reuters
Bravura's 1H FY2021 results reflect the impact of COVID-19, especially on the UK project and sales pipeline. Despite these challenges, BVS responded to the changing market conditions and strategy to stay ahead of the client's demands.
Strategy Update:
Bravura saw considerable development across several key markets. Some of them include:
Fund managers are switching to offer wealth management capability.
There was a reduced interest rate in large-scale implementation.
An underserviced middle tier of prospective clients.
Improved desire for reduced admin costs.
Greater demand for improvement in clients' digital experience.
The Company's technology strategy has evolved and would focus on increasing componentisation via the development of additional microservices. Other focus areas include further cloud enablement, along with improved digital and automation capabilities.
BVS also highlighted the possible transition of the Company's commercial strategy from a traditional revenue model to consumption-based subscription pricing over time. The shift would enable the clients to spread their investments over an extended period, cut costs to serve by buying what is essential, and access further automation and digital instruments.
Technology One Limited (ASX:TNE)
Australia's largest ERP software company, Technology One Limited, is also amongst the tech companies providing dividends consistently. In FY2020 results declared on 24 November 2020, the Company announced a total dividend of 12.88 cents per share.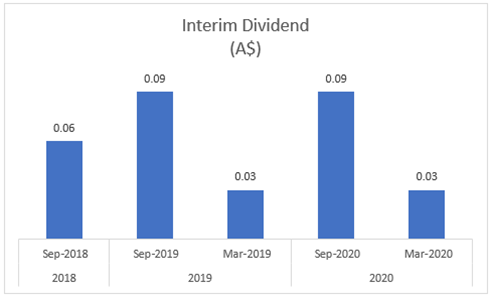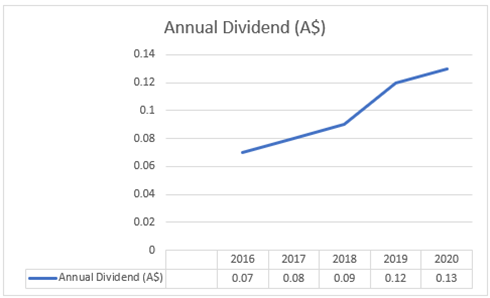 Data Source: Refinitiv, Thomson Reuters
Since its listing, the Company has consistently delivered healthy results. Driven by a clear vision, strategy, culture and significant investment in R&D, the Company has performed considerably well over the last two decades. Further, the Company is confident the growth momentum would continue in the future and expects to double in size in the next five years.
FY2020 Highlights:
Underlying PBT improved by 13% to A$86.1 million.
Revenue from SaaS and Continuing Business grew by 12% to A$269.8 million.
Total revenue improved by 4% to A$299 million.
Cash and cash equivalents by the end of FY2020 was A$125.2 million.
Altium Limited (ASX:ALU)
Headquartered in San Diego, California, Altium is an international software company focused on electronics design systems for 3D PCB design and development of the embedded system. Altium is also a constant dividend provider and, in 1H FY2021, announced a dividend of 19 cents (AU cents).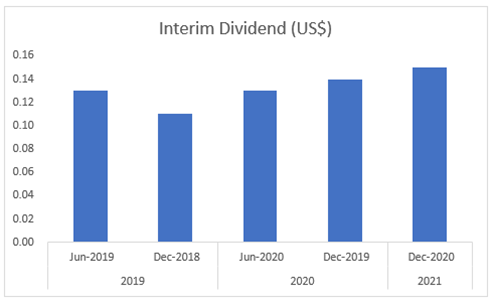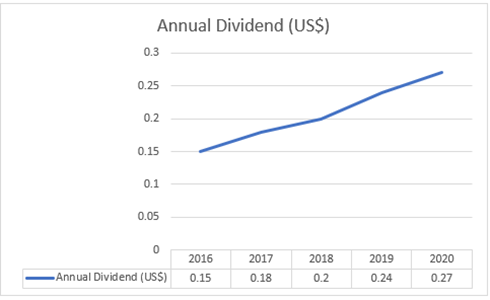 Data Source: Refinitiv, Thomson Reuters
Altium has provided a double-digit revenue growth in the last eight years. However, the successful run came to an end, with the Company experiencing a drop of 4% in its 1H FY2021 revenue due to the COVID-19 pandemic.
1H FY2021 Highlights:
Reported expenses increased by 3% to US$52.966 million.
EBITDA declined by 15% to US$27.005 million.
PAT dropped by 12% to US$16.616 million.
Cash and cash equivalents at the end of 1H FY2021 stood at US$88.318 million.
Stock Information (As of 12 March)
Data Source: ASX