Highlights

MGC Pharmaceuticals has obtained approval to import CimetrATM in India for EUA (Emergency Use Authorisation) registration.
Althea's subsidiary, Peak Processing Solutions, entered into agreements to launch new cannabis-infused beverages in Canada.
AusCann Group completed many significant developments related to the acquisition and clinical trials in FY21.
BOD Australia reported record revenue growth in FY21 supported by new product launches and medicinal cannabis product sales.
ASX-listed cannabis-based companies engaged in developing therapeutic products have developed a sizeable business in a short span of time. While few companies are undertaking clinical trials for medicinal cannabis products for the treatment of anxiety, insomnia, Alzheimer's, dementia, and pain relief in cancer, others are ready to market their cannabis-based medicinal products over OTC in Australia and in other markets.
RELATED ARTICLE: Looking for pot stocks? Here are five exciting ASX cannabis shares
Against this backdrop, this article will discuss four ASX-listed cannabis-based companies-
MGC Pharmaceuticals Ltd (ASX:MXC)
ASX listed European based bio-pharma firm MGC Pharmaceuticals is engaged in the production and development of phytomedicines.
On 3 September 2021, MXC has obtained a grant for permission to import CimetrA™ into India by the Indian CDSCO (Central Drugs Standard Control Organisation) to accelerate final product assessment to complete its application for EUA (Emergency Use Authorisation) for the treatment of COVID-19 patients.
The EUA allows local regulators to help in reinforcing the nation's public health protections against chemical, biological as well as other threats, including infectious diseases. With the EUA, the country can enable the availability and the use of medical countermeasures that are required at the time of public health emergencies.
Roby Zomer, Co-founder and Managing Director of MGC Pharma, said-
On 6 September 2021, MXC shares closed at AU$0.052, down by 3.704%.
Althea Group Holdings Limited (ASX:AGH)
ASX-listed cannabis player Althea Group Holdings manufactures as well as distributes the cannabis-based products for medicinal and recreational use.
On 1 September 2021, the Company announced that its subsidiary, Peak Processing Solutions, has signed binding agreements with BBCCC, Inc and WeedMD Rx Inc. With these agreements, the Company will launch range of cannabis-infused beverages.
Copyright © 2021 Kalkine Media
The Company disclosed that these agreements will cover the product development, manufacturing, as well distribution of BBC-branded cannabis-infused beverages (non-alcoholic) in Canada. The Company disclosed that the agreements terms are for five years.
AGH shares closed at AU$0.265, down by 1.852%, on 6 September 2021.
AusCann Group Holdings Limited (ASX:AC8)
Australian-based cannabis player AusCann Group Holdings is focused on the development as well as commercialisation of cannabinoid (CBD)-based medicinal products for the treatment of the unmet medical needs.
On 30 August 2021, AusCann Group has provided an updated on audited financial results for the financial year 2021 (year ended 30 June 2021).
Copyright © 2021 Kalkine Media
During the financial year 2021, the Company-
Completed the acquisition as well as integration of CannPal Animal Therapeutics Pty Ltd with new leadership team in place for the combined entity.
Completed Phase 1 pharmacokinetic and safety study, in twenty-five subject, evaluating AusCann's hard-shell capsules.
Received positive clinical findings for 46 dog Phase 2A pilot study for CPAT-01 (US FDA veterinary drug candidate).
Commenced product registration activities for DermaCann® in Australia and South Africa.
On 6 September 2021, AC8 shares last traded at AU$0.093, down by 1.064%.
RELATED READ: All you need to know about Australia's burgeoning medicinal cannabis industry
BOD Australia Limited (ASX:BDA)
Bod Australia Limited is an Australian medicinal cannabis, cannabidiol (CBD) and hemp healthcare products company.
On 23 August 2021, BDA updated the market with its audited financial results for FY2021, the year ended 30 June 2021.
The Company reported a revenue of AU$7.52 million during FY2021, up 25% over FY20.
Revenue across all business divisions of BDA increased supported by increasing sales of medicinal cannabis product by 40% to AU$2.3 million and CBD wellness sales by 13%.
BOD Australia is well-positioned to capitalise during FY22 with more than AU$8 million cash at bank.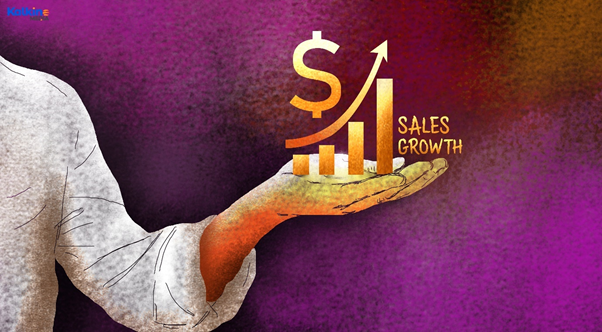 Copyright © 2021 Kalkine Media
Commenting on FY21 performance, Jo Patterson, CEO of BOD, said-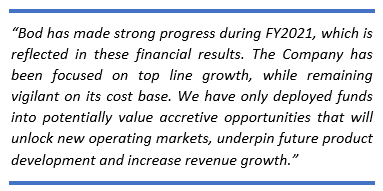 Furthermore, BOD Australia also has several R&D initiatives planned, including the initiation of a study for evaluation of the efficacy of the Company's MediCabilis product when used for treatment of long-term COVID-19 related symptoms.
BDA shares closed the day's trading at AU$0.285, down by 1.725%, on 6 September 2021.
RELATED ARTICLE: 15 ASX cannabis stocks to look at in 2021