Summary

Blue chip stocks are popular on account of their high dividend paying capacity and strong financial structure.
Such stocks never go old fashioned among investors as they tend to weather difficult times due to their strong financial base.
Commonwealth Bank of Australia, BHP Group Ltd, Coles Group are some of the popular stocks in the category.
Blue chip shares find regular mention in stock and company reports. These shares are popular due to their stable reputation and dividend paying capacity. However, there is no blanket definition to define a blue chip stock. Generally speaking, such stocks are some of the oldest and largest companies with strong management and financial structure that find a place among Australia's largest public companies indices like ASX 20 (ASX:XTL ) or ASX 50 (ASX:XFL).
Image source: Shutterstock
Since these stocks generally pay comparatively higher dividends than other smaller cap companies, these are much sought after among long-term investors. During market crash or recession, analysts are generally heard focusing on blue chip stocks as these tend to weather challenging circumstances due to their robust financial base. These shares could also be termed as long-term investments which the investors could use to get a continuous income through the route of dividends. Such shares could be bought by investors directly through a broker or exchange traded funds (ETFs) or unlisted managed funds.
Here we have compiled a list of 5 blue chip stocks for December 2020 on the basis of market capitalisation. These companies are spread over a range of sectors in the Australian economy.
READ MORE: Why blue chips are an obvious choice for long-term investors?
Commonwealth Bank of Australia (ASX:CBA) is a financial company with a market capitalisation of over A$141.1 billion. On 1st December 2020, the bank announced that it has witnessed a steep growth in digital wallet transactions over the last 12 months. The number of monthly transactions rose from 29 million in October 2019 to 52 million in 2020. The stock has rallied by 14.5 per cent in November and has posted a YTD return of mere 0.16 per cent.
BHP Group Ltd (ASX:BHP) is in the business of materials. With a market capitalisation of over A$121.5 billion, the global resources company processes minerals, oil and gas primarily in Australia and America. Even as coronavirus hit the industry, the company's total dividend per share in FY20 stood at US$1.20. It was lower than 2019, but still good enough considering a hit due to coronavirus. The stock has been on a non-stop rally since November and is already up by 22 per cent from November low and YTD return stands at 5.6 per cent.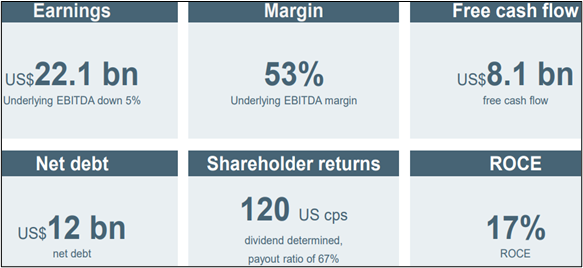 BHP FY20 Highlights (Image Source: BHP's FY20 AGM update, dated 14 October 2020)
Coles Group Ltd (ASX:COL) deals in consumer staples. In FY20, the company's total revenue rose 6.9 per cent, EBIT 4.7 per cent to $1.39 billion and net profit after tax (NPAT) surged 7.1 per cent to $951 million. Such a performance was reported by the company with over A$23.9 billion market capitalisation when coronavirus significantly hit consumer staples business. The stock has moved in a tight range in November with only 0.6 per cent return for the month whereas YTD return stands at over 20 per cent.
Brambles Ltd (ASX:BXB) is a company operating in the industrial sector. With a market capitalisation of over A$16.4 billion, the company specialises in the pooling of unit-load equipment, pallets, crates and containers. The stock has recovered well from the November low of A$9.54 to A$10.93, a healthy recovery of 14.5%. As far as the YTD return is concerned, the stock is down by 6 per cent.
Brambles FY20 Result (Image Source: Brambles' FY20 result update, dated 19 August 2020)
Cochlear Ltd (ASX:COH) is a healthcare firm with nearly A$14.3 billion in market capitalisation. The company designs, manufactures and supplies the Nucleus cochlear implant, the Baha bone conduction implant and the Hybrid electro-acoustic implant. Cochlear promises a strong outlook after it revealed that its cochlear implant revenue was 94 per cent of what was recorded a year ago in constant currency in the September quarter. Even Acoustics revenue was nearly 89 per cent of what it achieved a year earlier. The last three months return of the stock is a decent 13.1% while YTD return is negative 4.1%.
READ MORE: Blue Chips Taking Centre Stage of the S&P/ASX 200 Recovery – BHP, WES, and FMG