Summary

Zenith Minerals owns a prolific suite of land assets located in Tier-1 regions of Australia.
2020 exploration endeavours of the Company have yielded highly encouraging results, reinforcing the potential of its strong project portfolio.
Zenith Minerals has exciting activities either ongoing or planned for 2021.
The Company had a cash reserve of $3.85 million by end of December 2020.
Perth-based explorer Zenith Minerals Limited (ASX:ZNC) continues to push forward developments at its exceptional Australian project portfolio. The key strategy is to target large-scale deposits holding the potential to deliver a substantial value with non-core assets to be divested and new opportunities being added.
Zenith Minerals, moving ahead with its vision of building a gold and base metals discovery business, is very active on its three wholly owned projects in the gold and copper space.
Zenith Minerals' Most Active Project Portfolio comprises:
Red Mountain Gold Project in Queensland
Split Rocks Gold Project in Western Australia
Develin Creek Copper-Zinc Project in Queensland
The projects sit within Tier-1 mining jurisdictions that have proven multi-million ounce historical and current gold endowments. All these projects have delivered encouraging drilling results in the latter part of 2020.
Red Mountain Gold Project Delivering High-Grade Results
At the 100%-owned Red Mountain Gold Project, Zenith Minerals received highly encouraging high-grade gold results from the 2020 maiden and subsequent drill programs.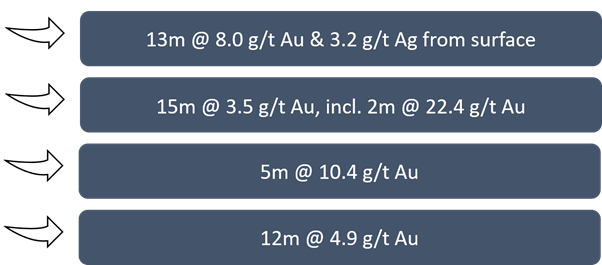 Source: ZNC ASX update, 22 February 2021
The Company recently commenced second phase diamond drill (DD) program at the project. The current follow-up program is designed to test the depth extents of gold mineralisation. The campaign is expected to take approximately three weeks with assay results likely to be received in another three weeks, as per the company update dated 22 February 2021.
The Company is confident about a mineralised breccia pipe system being drilled, and it looks forward to pursuing a commercial-scale gold inventory that is likely to generate notable value for ZNC, said Executive Chairman Peter Bird.
Split Rocks Gold Project in Favourable Land Package
Approximately halfway between Perth and Kalgoorlie, the Split Rocks Gold Project sits within the Forrestania greenstone belt. The project is surrounded by several very large current and formerly operated gold mines.
The Company has defined 18 gold targets over an 18km strike extent. Last year, Zenith Minerals received high-grade, near-surface gold mineralisation at various targets at the project. The most advanced to date is the Dulcie Laterite Pit prospect.
The Company initiated the next phase of the reverse circulation drill program in February 2021 to test the southern constraints of the Dulcie Laterite Pit area. Furthermore, the continuity of higher-grade, near-surface gold mineralisation is planned to be assessed through additional 10 holes.
The project will be a key area of focus during the first half of the current year.
Develin Creek Copper-Zinc Project
The Develin Creek Copper-Zinc Project is believed to be prolific with an Inferred Mineral Resource of 2.57Mt @ 1.76% copper, 2.01% zinc, 0.24g/t gold and 9.6g/t silver (2.62% CuEq).
In the latter part of 2020, the Company successfully concluded a 7-hole maiden RC drill program at the southern end of the project at the new "greenfields" Snook copper prospect, which remains open with instant follow-up work needed.
Further, vast copper-zinc sulphides were discovered from the initial drill test of the Snook copper target at the Develin Project. Now, the Company plans to commence follow-up drilling at the prospect in March/April 2021.
Activities Planned for 2021
For 2021, Zenith Minerals has a bevy of activities planned at its key projects as well as other projects such as Jackadgery Gold – New South Wales (earning 90%).

Source: ZNC ASX update
Zenith Minerals boasts of an exceptional and lean exploration team with a wealth of experience. The Company also has sufficient cash with reserves of ~$3.8 million to extensively advance its portfolio.
ZNC stock traded at $0.130 on 04 March 2021 (AEDT 1:19 PM), up 4% from its last closing price.