Source: Anton Leskov, Shutterstock
Summary

BlackEarth Minerals is developing a globally significant graphite resource in Madagascar.
The Company sees a strong potential for its flagship Maniry project in the light of robust graphite market scenario and a series of project-related developments.
BEM has gained significant partners including Urbix, LuxCarbon and RHI Magnesita.
Offering a significant upside potential, the Donnelly River Prospect is in the initial exploration stages.
The first quarter of 2021 has proven to be quite remarkable for BlackEarth Minerals NL (ASX: BEM), which engaged in a vast spectrum of activities, all oriented towards widening its footprint in the explosively growing global battery market. Additionally, the ideal market scenario for graphite is proving to be a significant catalyst for the company's consistent progress. commodity developer
As a result, the critical commodity developer has remained in the spotlight, with BEM shares exhibiting a growth momentum of 3x on a year-to-date basis, as of 8 April 2021.
In this connection, let us look at both the internal and external factors which are turning out to be of tremendous importance for BlackEarth Minerals.
ALSO READ: How BlackEarth Minerals is planning to make a mark in the exciting battery market
Excellent Graphite Market Conditions
Rising EV demand is one of the critical factors providing strong tailwinds for the graphite market. Recently, there has been a decline in graphite flake supply, triggering a rise in commodity prices. In the latest update released on 7 April, BEM highlighted that the basket of selected ASX graphite stocks was up by more than 200 per cent YTD.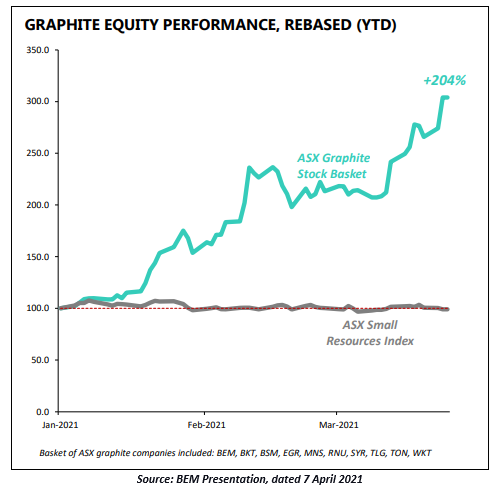 Globally Significant Madagascar-based Graphite Resource
BlackEarth's flagship Maniry Project is stationed in Madagascar, which is one of the globally leading graphite suppliers and has an extensive and established graphite industry. The project hosts a high-grade graphite mineral resource of 20.2Mt and has been fast-tracked to the Bankable Feasibility Study (BFS) stage.
The project area (Razafy) has a mine life of more than 40 years, and a 40-year mining lease has been granted for the Razafy Resource.
Nearly 35 large outcropping graphitic areas cover the Maniry tenements, which stretch over 20 square kilometres. However, only 10 per cent of the project area has been extensively explored. The near-term Exploration Target at Maniry includes 260 to 380 Mt at 6-8 per cent TGC.
ALSO READ: BlackEarth Minerals (ASX:BEM) buoyed up on promising graphite results
Near-Term and Rapid Project Development
The board and management team at BlackEarth have extensive experience in delivering resource projects successfully.
A scoping study into the project has highlighted robust results, including:
Initial project life of more than 10 years based on Indicated Resources only
Pre-tax IRR of 42 per cent
Annual average production of 30kt in the first stage, which could increase to 60kt in the second stage with further upside from near-term exploration and test work.
The project is suited for low-capex start-up of just USD 41 million. The BFS is in progress, and construction is anticipated to commence in CY22.
The current BFS activities focus on grade, recovery, optimising flake size, resource size, and power costs which offer significant upside potential.
Vertical Integration to Add Significant Value
BlackEarth has gained significant product partners in Urbix, LuxCarbon and RHI Magnesita for accelerating downstream processing development.
The company signed an MOU with Urbix Resources, the US-based premier provider of refined graphite powders, to fast-track downstream production.
Under a binding offtake MOU between BlackEarth and RHI Magnesita, which is the world's largest refractory group, BEM would produce "tailor-made" concentrate samples while RHIM would test and evaluate products.
BlackEarth has also entered a graphite supply and marketing agreement with one of Germany's significant suppliers of graphite and carbon products, LuxCarbon.
ALSO READ: BlackEarth Minerals (ASX:BEM) Going from Strength to Strength in Graphite Space
Donnelly River Ni-Cu-PGE Project Provides Further Upside
The Donnelly River Prospect is situated immediately adjoining the Thor and Odin prospects (JV: Chalice Gold Mines and Venture Minerals). Systematic modern exploration underway at the project is expected to provide strong news flow over the coming months.