image source: BEM
Summary

The recent strategic deals concerning graphite supply have provided BlackEarth Minerals a platform for growth for entry into the global graphite industry.
BEM share price zoomed by around 200% following the recent Graphite supply deals with Urbix Inc.
The Company is also accelerating developments at its Maniry Graphite project.
The winning streak of BlackEarth Minerals NL (ASX:BEM) continues to buck up its share price momentum, with the Company shares posting a return of over 183% ever since it announced a significant strategic agreement with Urbix Inc. BEM shares traded at $0.150 on 4 March 2021.
Urbix is a US-based Company headquartered in Mesa (Arizona). It is the global premier providers of pristine graphene, refined graphite powders, and specialty graphite products while developing EV-related graphite products.
BlackEarth's further initiatives have aligned well with the deal allowing it to reinforce its position in the battery-commodity market and grab investors interest. Significantly, the Company joined hand with Luxcarbon and kicked off Madagascan projects' funding discussions, unveiling BlackEarth's intention to make most out of the deal.
ALSO READ: BlackEarth Minerals (ASX:BEM) kicks off funding discussions for graphite project
The recent agreements, together with binding MOU with RHI Magnesita (the world's largest refractory group), might come in handy for not only achieving the near-term growth objectives but also realising the full potential of its Graphite assets in Madagascar.
With this backdrop, let us explore these recent deals in detail and understand how they can spur the growth trajectory of BlackEarth Minerals.
Lens through Urbix MOU
BlackEarth and Urbix inked a collaborative MOU aimed towards catalysing the downstream graphite operations. As part of MOU commitments, BEM at first will deliver its high-quality graphite concentrate to the downstream processing facility of Urbix currently being completed.
The supply of quality graphite products would be secured by BEM and would then be delivered to Urbix. After completing the Urbix plant in the USA, the partnering firms also proposed a Joint Venture catered towards Madagascan or Western Australian facility development.
The proposed facility will generate a sizeable quantity of purified graphite to be available for the expanding battery and alternative energy markets such as that concerning EVs.
How MOU with Urbix benefit BlackEarth Minerals?
Value-added graphite projects are witnessing an accelerating demand driven by applications in electric vehicles and other industries. Urbix possesses advanced technology and intellectual property across a wide variety of graphite applications.
The joint venture with Urbix will enable BEM to enter the growing market with a high-grade graphite product at a crucial time as the world energy and power demands undergo transformation.
Source: BEM ASX Presentation, 11 February 2021
Supply Agreement with Luxcarbon
BlackEarth also signed an agreement with Luxcarbon GmbH, a global top-tier company concerning marketing, procurement and supply of graphite concentrate and downstream graphite products.
ALSO READ: BlackEarth Minerals (ASX:BEM) Share Price Balloons 139% on Luxcarbon Deal
Under the MOU terms, BlackEarth will source up to 25,000 tonnes of quality graphite product from Luxcarbon and assist Urbix to complete its plant development. As part of the deal, BlackEarth will sell up to 25,000 Mt of downstream products annually from its operations as well as joint-venture operations into the European market to tap the escalating demand for battery EV material.
Besides, BlackEarth will also receive technical advisory services concerning the downstream product's production from the proposed Australia/Madagascar based facilities.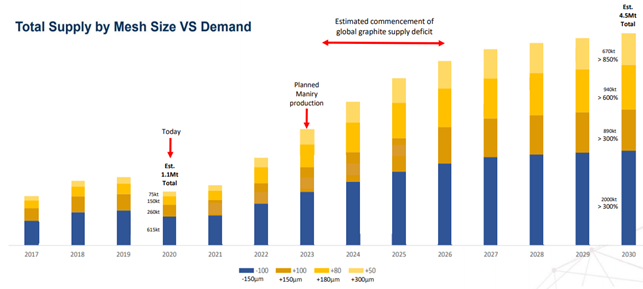 Source: BEM ASX Presentation, 11 February 2021
As per the subsequent BEM announcements, BlackEarth has kicked off discussions with several potential project funding partners in Australia and Europe over the last week, with discussions focusing on developing the intended Graphite Project in Madagascar as well as downstream processing operations. A large-scale pilot metallurgical program (undertaken by BGRIMM) would commence testing 60-70 tonne of graphite material from Maniry Project and run for three months.