Summary

Troy is engaged in brownfield as well as greenfield exploration on its flagship Karouni Project.
The Company recently announced a maiden ore reserve of 1,082,000 tonnes from Smarts Underground.
Karouni is an advanced stage project, which has produced a considerable amount of gold since its acquisition by Troy.
The ASX-listed gold producer Troy Resources Limited (ASX:TRY) is moving swiftly to the development of Smarts Underground on its flagship Karouni Gold Project.
On 26 July 2021, Troy announced the maiden Ore Reserve of Smarts Underground. The prospect holds 1,082,000 tonnes @ 2.6g/t Au for 89,400 ounces of gold. Auralia Mining Consulting took upon the task of evaluating the Ore Reserve on the basis of geotechnical assessment. The economic assessment has given positive cash flow upon considering the Life of mine of 2.5 years. The estimated revenue would be US$137 million, and net cash flow is forecasted to be around US$47 million.
Related read: Troy (ASX:TRY) churns out a decent gold production figure in a rain-hit quarter
To keep the Karouni Project running, Troy would require to identify prospects with a gold value above the cut-off grade. TRY is focusing on brownfield as well as greenfield exploration on the project tenure to beef up the resource potential of the project.
Greenfield prospects on the project
Troy undertook an exploration and drilling campaign on two of its prospects, Singh Link and Honey Camp West during the June quarter.
Singh Link
Troy carried on RC drilling on Singh Link, and hole-SLRC013 returned a high-grade gold intercept of 1m @ 17.33g/t Au from 48m. The intercept is from the bottom of the cover sequence towards the top of the saprolite.
The significant gold intercept identified during the first pass drilling paved the way for further drilling operations on the prospect.
First Greenfield RC drilling in Sing Link prospect (Image source: Company update, 30 July 2021)
Honey Camp West
Honey Camp West has been the centre of artisanal mining since the 1930s. Troy had undertaken a soil sampling program back in 2020, which indicated gold anomalism. Interesting structural settings and lithological contacts were indicated in mapping.
Troy had planned RC drilling for the June quarter, but the operations were largely affected by delays in flagging and clearing process. During the first pass RC drilling on the prospect, southern granite contact will be tested.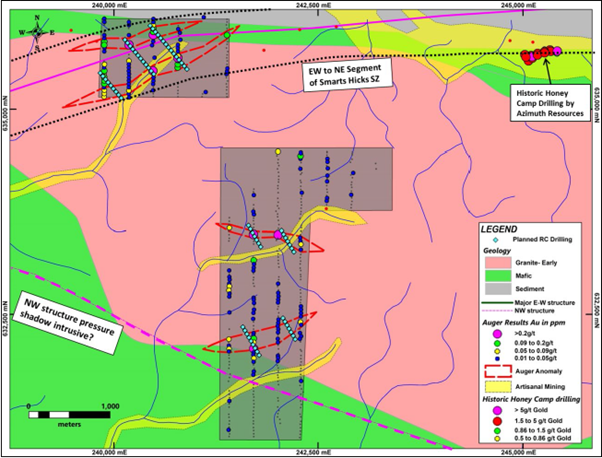 Proposed RC drilling holes on Hney Camp West (Image source: Company update, 30 July 2021)
Brownfield exploration
Gem Creek
First drilling was undertaken at Gem Creek in mid-2020 with a follow-up drilling during Q3 20/21. The drilling operations in two particular areas returned better results. During the June quarter, Troy commenced a 44-hole RC drilling operation on the prospect.
Assay results from the first 23 holes have been received with an average grade above 0.5g/t Au with up to two mineralised zones on an N-S trend.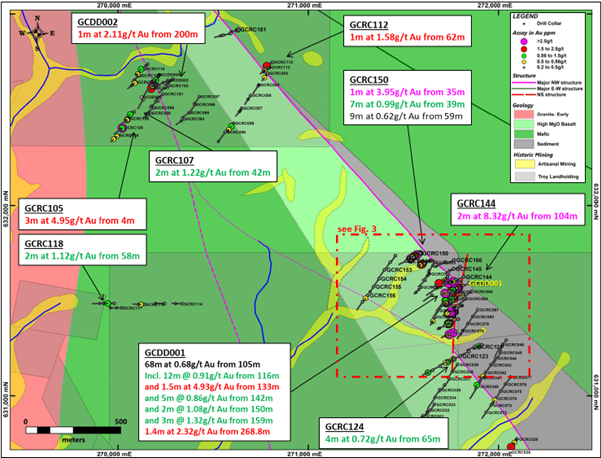 Drill hole locations on Gem Creek (Image source: Company update, 30 July 2021)
Troy is implementing the same exploration model on the Gem Creek as it has done on Hicks and Goldstar deposits.
TRY closed at AU$0.039 per share on 11 August 2021.