Source: Sunshine Seeds, Shutterstock
Summary

Empire Resources Limited owns two highly prolific projects and has been continuing exploration over these areas.
The Company has made significant discoveries by encouraging mineralisation encountered in reconnaissance AC drilling at the Yuinmery base metals project.
ERL has a pipeline of planned activities for its Yuinmery Project and has employed a systematic exploration approach to testing its targets' pipeline.
Au-Cu driven exploration and development company Empire Resources Limited (ASX:ERL) has been engaged in developing of its two highly prolific land assets, namely the Yuinmery Copper-Gold Project and Penny's Gold Project.
ERL's Yuinmery project is located in the base metal-rich Youanmi greenstone belt, while the other project is located in Western Australia's prolific Eastern Goldfields Region. The Company has been reporting various exploration activities to advance its projects.
DECEMBER QUARTER UPDATE: Empire Resources poised for more glory after Busy December Quarter
Growing Geological and Structural Understanding
Lately, the Company has broadened the horizons of its understanding of the project's geology and structure. Moreover, the Company has expanded its opportunities to target earlier untested areas.
Yuinmery Deposits, Prospects and Drill Collar Locations (Source: ASX Announcement 15 February 2021)
ERL looks forward to benefitting from the consistent exploration approach to improve and supplement its present knowledge base. The planning includes a detailed structural interpretation that is slated to be undertaken over the Yuinmery project. This is planned besides geophysical techniques, such as ground gravity and DHEM surveys.
INTERESTING READ: 3 Key Elements of Empire Resources Lucrative Investment Portfolio
Potential to identify VMS Deposits
The Company believes that these techniques have the potential to identify VMS deposits successfully. Moreover, the evolution of ERL's conceptual models of VMS deposits is of great significance for the Company in the exploration of the targets.
In addition to this, ERL is continuing a geophysical and geochemical analysis that shall help discover geochemical cut-offs.
DID YOU READ: Empire Resources Ready to Go Hammer and Tongs for Continued Exploration Success
Systematic Exploration Approach
In order to test the pipeline of targets of ERL, the Company has implemented a systematic exploration approach. Moreover, ERL has planned a first pass AC, infill AC and RC programs for various regional targets.
ERL also plans to test the greater conductive bodies and favourable stratigraphic and structural targets for VMS mineralisation through planned diamond and RC drilling programs.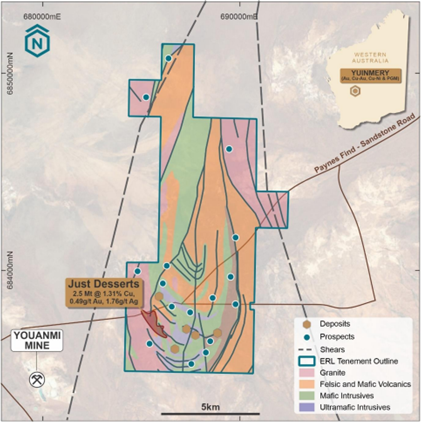 Yuinmery Project Location Map (Source: ASX Announcement 15 February 2021)
RELATED: Empire Resources' Financials Reflect Green Shoots; Exploration Expenditure Increases By 436%
With significant absence of drilling at depth across its tenements, ERL has a prospect to discover promising host rocks.
INTERESTING READ: ASX:ERL tides over the rough patches, moves ahead with Fresh Momentum
All these planned activities of ERL are supported by its team of professionals skilled in exploration, financial as well as development. The Company seeks to generate value through exploration programs across its project portfolio and identify and invest in new value-generating options.
INTERESTING READ: Empire Resources Limited Calls the Tune in Its Significant Landholdings, A Walk Through Its Project Portfolio
ERL share price quoted at $0.015 on 25 February 2021.