Highlights

Torrens Mining maintains significant exposure to copper in its asset portfolio.
An extensive drilling program over the Elizabeth Creek Cu-Co Project has indicated significant resource potential.
Torrens' Club Terrace Project provides exposure to base metal, copper, as well as precious metal, gold.
Chile is going through uncertain political times. The world's largest copper producer is redrafting its constitution after a series of protests rocked its politics.
Meanwhile, a new mining royalty bill is expected to be introduced in the country, which would significantly increase taxes on miners.
As the government is looking into ways to replenish the state coffers after devastations of COVID-19, the funds obtained would be channelised towards development projects as well as projects to address environmental impacts from mining activities.
Related read: Torrens Mining (ASX:TRN) reports busy September quarter with major gold and copper breakthroughs
What are the opportunities for Australian copper explorers?
In such a scenario, accessing conflict-free, ethical supplies of copper is rare. Copper is a key commodity driving the green revolution. The red metal's price has increased significantly in the last one year and is currently trading around US$9,680/tonne.
If the bill is introduced in the Chilean mining industry, it will make mining costly and may affect the prices too.
The September 2021 edition of the Australian government's report Resource and Energy Quarterly ranks Australia second in terms of copper resources. Australian miners are making strong investments and efforts to explore and develop copper assets.
One player that is engaged in developing a number of exploration and mining opportunities related to copper in the Australian market is Torrens Mining Limited (ASX:TRN). The small- to mid-tier mineral explorer is well-positioned to leverage the extraordinary, anticipated growth in copper demand.
Related read: Torrens Mining (ASX:TRN) advancing Elizabeth Creek Copper JV Project at brisk pace
Torrens Mining in sweet spot
Torrens is participating as a 30% partner in the Elizabeth Creek Copper Project in a joint venture with Coda Minerals (ASX:COD), which is the project manager and operator. The project lies in the close vicinity of BHP's Oak Dam Project, a major recent discovery with significant high-grade iron oxide copper gold (IOCG) potential.
The Elizabeth Creek project is unique in the world as the project boasts both Zambian-style copper mineralisation and IOCG potential. The JV partners have embarked on an extensive drilling campaign on both mineralisation types over the project to unlock its value.
The project has several identified prospects, including MG14 and Windabout, which have proven mineral resources. Moreover, a maiden resource update for the Emmie Bluff Cu-Co deposit is scheduled by the year-end. So far, the JV partners have drilled 30 holes to define the maiden resource of Emmie Bluff.
Considerable market interest has been recently generated by reports of broad zones of IOCG mineralisation and associated haematite alteration at the deeper Emmie Bluff IOCG target.
Emmie Bluff Deeps has long been known to be an important IOCG target. The Elizabeth Creek Joint Venture IOCG drilling is now again highlighting the potential of this important target.
Other Cu prospects in the project area are under the initial stage of exploration, including MG14 North, Hannibal and Powerline.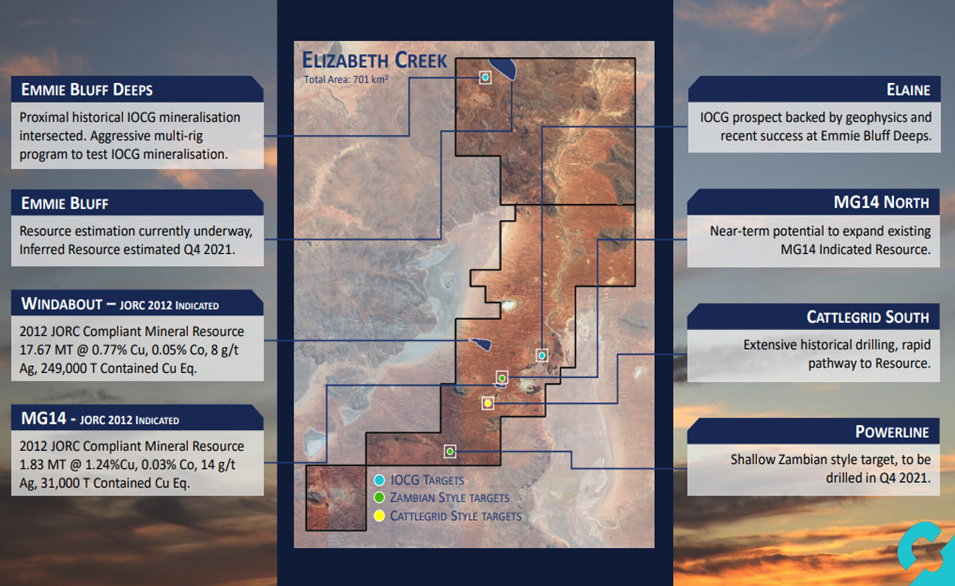 Image source: Coda Market update, 15 October 2021
Related read: Torrens Mining (ASX:TRN) soars on upbeat development at Elizabeth Creek Project
Meanwhile, drilling continues at the IOCG target Emmie Bluff Deeps. The drilling have intersected significant copper and iron mineralisation.
On Emmie Bluff Deeps, in all, 11 parent and wedge holes have been drilled so far, and drilling is in progress on two more holes.
The mineralisation potential of the project has been increased significantly by the recent drilling, and the Elizabeth Creek Joint Venture has planned an additional drilling operation on the second IOCG target at Elaine, which has similar target characteristics to Emmie Bluff Deeps
Image source: Company website
Near-term actions planned for Elizabeth Creek:
Drilling of wedge holes to the parent holes DD21EBD0002 and DD21EBD0003.
Maiden resource update of Emmie Bluff by the end of 2021.
With Elaine exhibiting similar geophysical properties as that of Emmie Bluff Deeps, the IOCG target is on the radar for further evaluation.
Further exploration activities on the cards for the Hannibal, Powerline and MG14 North prospects.
Torrens' Club Terrace Project exhibits significant potential for copper and gold
Torrens owns 100% interest in the Club Terrace Cu-Au project spread over an area of 751km2 in Eastern Victoria and Southern New South Wales.
The Buldah shear zone passes through the tenement and has defined copper, zinc, and gold anomalous zones.
The Company is advancing on Club Terrace and is undertaking preliminary fieldwork and data compilation work on the project.
Read more: Inside Torrens Mining's (ASX:TRN) quest to unlock potential at Club Terrace Copper-Gold Project
Copper is entering a stronger demand phase, backed by factors like a pickup in industrial production and global energy transition. The coming years seem to be highly optimistic for Torrens, considering the way it is progressing with its key prospective projects, in addition to expected potential upside to copper demand.
TRN closed the day's trade at AU$0.15 with a market capitalisation of AU$17.2 million as of 24 November 2021.