Highlights

Torrens Mining, with its JV partner Coda Minerals, is advancing the Elizabeth Creek Project towards a major resource update.
The Elizabeth Creek Project holds dual potential for Zambian-style copper-cobalt deposit and Iron Oxide Copper-Gold (IOCG) mineralisation targets.
The two JV partners are on pace to deliver a maiden JORC-compliant mineral resource estimate for the Emmie Bluff copper-cobalt deposit before 2021 end.
Committed to scripting a new copper growth story on the ASX, Torrens Mining Limited (ASX:TRN) and its joint venture partner Coda Minerals Limited are making rapid progress at the Elizabeth Creek Project, which is located in the Olympic Copper Province of South Australia.
Torrens holds a 30% interest in the project, while Coda Minerals Limited (ASX:COD) holds the remaining 70% stake.
The Elizabeth Creek Project is centred about 100km south of BHP's Olympic Dam IOCG mine and only 15km from BHP's sensational Oak Dam West IOCG discovery. Further to the east, OZ Minerals is now producing copper and gold from its major Carrapateena IOCG mine.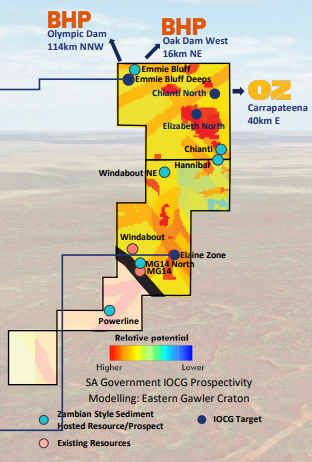 SA Government IOCG prospectively (Image source: Coda update, 15 October 2021)
Related read: Torrens Mining (ASX:TRN) soars on upbeat development at Elizabeth Creek Project
The Elizabeth Creek Project has several identified prospects, including Emmie Bluff, MG14, Windabout, Powerline, MG14 North, and Cattlegrid South, along with IOCG targets like Emmie Bluff Deeps and Elaine.
The project boasts a proven mineral resource of 280,000tCuEq at MG14 and Windabout.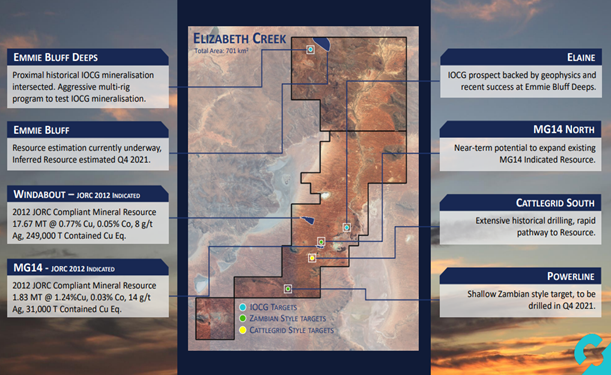 Image Source: Coda update, 15 October 2021
Also Read: Inside Torrens Mining's (ASX:TRN) quest to unlock potential at Club Terrace Copper-Gold Project
Drilling in full swing
Drilling commenced on the Emmie Bluff Deeps IOCG target in May 2021. The drilling program is expected to run through the next year.
Extensive IOCG alteration associated with zones of copper sulphide mineralisation have been encountered, when drilling a target defined by a series of coincident and semi-coincident gravity and magnetic anomalies.
So far, three primary surface holes have been completed on Emmie Bluff Deeps, from which several wedge or daughter holes drilled have been completed. Two more wedge holes are currently in progress.
The parent holes drilled are:
DD21EB0018 – with two wedges, DD21EB0018W1 and DD21EB0018W2, drilled and assayed.
DD21EB0002 – one wedge completed, another in progress
DD21EB0003- Two wedges drilled and completed, work on third wedge underway.
Best assay results include: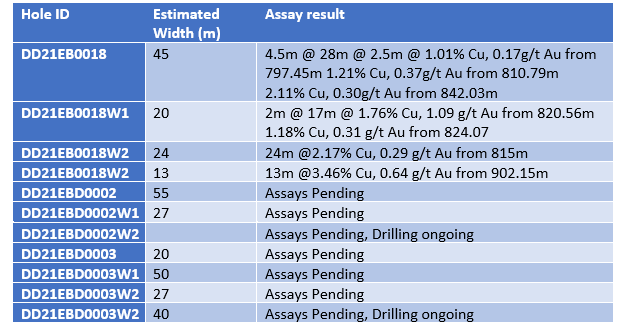 Assay results from ongoing drilling on Emmie Bluff Deeps (Image source: Company update, 15 October 2021)
Cross section from Emmie Bluff Deeps (Image source: Coda update, 15 October 2021)
The lateral zonation of sulphides is a strong indicator of the presence of a mineralising structure in the area between holes DD21EB0018 and DD21EB0002.
Also read: Torrens Mining (ASX:TRN) strikes high-grade gold mineralised system at Northwood Hill
Elaine: Another high-potential IOCG target on the project
The coincident geophysical anomalism in the area has led to the identification of the Elaine prospect, for which drilling is planned. The anomalism on Elaine is similar to other large IOCG systems in the Eastern Gawler Craton.
Historical drilling has focused mainly on the magnetic anomaly, while gravity anomaly remains untested.
Maiden resource update of Emmie Bluff targeted by end of 2021
Nearly 30 holes have been drilled on the Zambian-styled Emmie Bluff Cu-Co deposit. The project partners are targeting Emmie Bluff's maiden mineral resource estimate before 2021 end.
Meanwhile, the final phase of drilling is underway on the prospect.
The Elizabeth Creek Project could witness a major boost in its copper-cobalt mineral resource once the current drilling campaign is completed. The regional exploration program is set to identify more prospects for the future.
Related read: Tailwinds galore for Torrens Mining's (ASX:TRN) Elizabeth Creek Project amid green metals focus
Share price movement - TRN traded at AU$0.170 on 21 October 2021. The Company has a market cap of AU$19.49 million.