Summary

Skin Elements has signed a distribution agreement with WA-based e-commerce company West Coast Naturals.
The collaboration entails online marketing and sales of SKN's SE Formula range of all organic beauty and health care products.
Under the agreement, the two parties will first target the key markets of Australia, Hong Kong, and Singapore.
On 21 December 2020, Australian natural skin care company Skin Elements Limited (ASX:SKN) announced the signing of a distribution agreement with West Coast Naturals Pty Ltd. Following the announcement, SKN shares surged, ending the day's trading session at A$0.076, up by 10.144%.
Collaboration for online marketing and sales of SKN's SE Formula range
SKN's agreement with Western Australia-based West Coast Naturals is related to online marketing as well as sales of SKN's SE Formula product range. The SE Formula portfolio includes Invisi Shield sanitiser, PapayaActivs natural therapeutic skincare, and Soleo Organics natural sunscreen.
With this agreement, West Coast Naturals will offer Skin Elements an end-to-end e-commerce solution and access to its digital platform. Currently, West Coast Naturals is in the process of developing the digital platform to broaden the scale for SKN's SE Formula brand portfolio across Australia and Asia.
SKN to Witness Strong Topline with West Coast Naturals' e-commerce platform
With this collaboration, Skin Elements is set to benefit from the broad market reach of West Coast Naturals with ~4.6 potential customers. Initially, the partnership will target three priority markets - Australia, Hong Kong, and Singapore.
Following the wide recognition of SE Formula range of organic health care and beauty products, West Coast Naturals approached SKN, which could potentially profit from the access to the e-commerce player's target market.
ALSO READ: Going natural: A look at Skin Elements' (ASX:SKN) exciting array of products
Moreover, as part of the negotiation and due diligence process, SKN reviewed the proposed development program for the e-commerce platform of West Coast Naturals, including 3rd party information such as government databases.
SKN mentions that as West Coast Naturals has been established recently, it has not achieved sales through its e-commerce platform, which is currently under development.
While the collaboration opens new avenues for SKN, the Company has apprised its investors that it cannot guarantee improved sales via the distribution agreement.
Key terms of the Distribution Agreement
The key terms of the agreement between Skin Elements and West Coast Naturals are:
The agreement is for an initial term of three years and does not limit any minimum sales commitment during the first twelve months.
The two partners are set to negotiate on minimum sales commitments for the next two twelve-month periods.
West Coast Naturals will pay 50% of the product price upon placing an order, and the rest 50% would be paid before the date of shipment or delivery of the order.
West Coast Naturals will be responsible for all the costs and expenses including the charges incurred as the distributor in executing its commitments under the agreement.
All Intellectual Property (IP) rights of SKN's SE Formula products remain the property of Skin Elements.
Skin Elements has the rights to terminate the agreement with immediate effect-
If West Coast Natural breaches any provision of the agreement that cannot be remedied.
If West Coast Natural breaches any provision of the deal that is capable of remedy and West Coast Natural does not remedy that breach within thirty days.
West Coast Naturals Pty Ltd in a Nutshell
West Coast Naturals was founded in December 2020 by an experienced sales and marketing expert, Ms Amanda Strachan in Perth, WA. The business is the result of a five-year development program to develop an e-commerce platform to offer Australian natural health and beauty products directly to customers across the globe. The Company's e-commerce platform has a special focus on the distribution of products to South East Asia.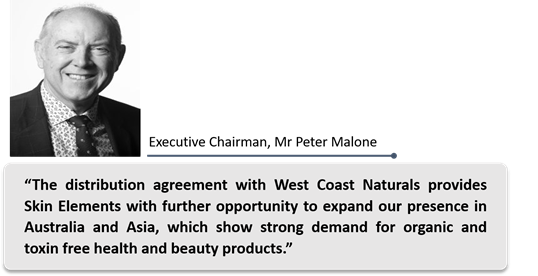 Adding to this, Ms Amanda Strachan, West Coast Naturals founder, said:
Bottomline
The collaboration with West Coast Naturals provides Skin Elements a wider reach as it can sell its Natural Skincare Product Range across the Australian and Asian markets. The robust demand for natural, organic health and beauty products in the Australasian region will act as an icing on the cake and is expected to benefit SKN further.
ALSO READ: Skin Elements Limited (ASX:SKN) Dips Toes into Natural Nail Polish Business