Summary

Renegade Exploration Limited is driven by its objective to emerge into a mid-tier resource company and generating value for shareholders.
RNX has come a long way at its Yandal project with the latest encouraging nickel values returned from a ground sampling program.
RNX has several exploration activities planned to be undertaken across various prospects at the Yandal project during the current year.
Renegade Exploration Limited (ASX:RNX) is a mineral exploration and development company that has been actively engaged in discovering, acquiring as well as developing prolific mineral deposits.
Aligned with its objectives, RNX continues to look for fresh opportunities present in the business environment with a special focus on gold and base metals projects.
DID YOU READ: ASX:RNX Unlocking Potential in Major Gold Province While Seeking Fresh Opportunities
Encouraging nickel discovery at Yandal Project
The Company's existing project, the Yandal East Gold Project, is placed in a well-endowed gold region in Western Australia. This region is known as the Yandal Greenstone Belt and has historically produced more than 10Moz of gold. The positioning of the project in such a prolific region presents a significant upside for the Company.
The Company has made several successful discoveries across the various prospects at the Yandal project in the past.
Most lately, RNX received encouraging nickel values of up to 1,470 ppm after concluding a ground sampling program of historic drill hole cuttings in the Baxter-Andrews Prospect area.
INTERESTING READ: Back to Back Acquisition Agreements Fuelling ASX:RNX's Evolution Into Mid-Tier Resource Company
The sampling program included the historical Aircore spoils that were identified through follow up reconnaissance fieldwork program. These historical spoils were earlier found to be placed in and around the Baxter Andrews prospect.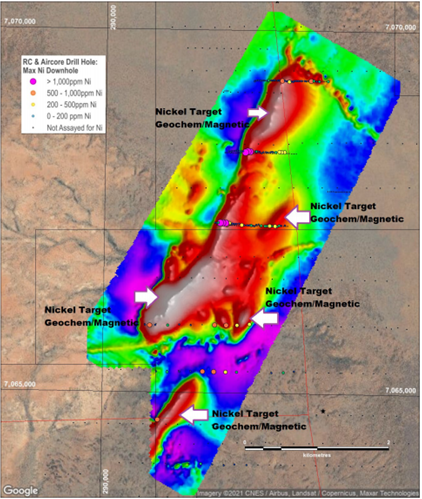 Location of historic holes sampled and Nickel results (Source: RNX Announcement 16/02/21)
Sale of Yukon project
Other than this, RNX holds 90% interest in the Yukon Base Metal Project that is located within the highly prospective Selwyn Basin in Canada. During the second half of 2020, RNX had finalised discussions with Scarfe Holdings Inc of Vancouver, Canada, regarding the acquisition of the Yukon Project.
DETAILS OF THE SALE AT: ASX:RNX Executes Share Purchase Agreement For Sale of Yukon Project
Summary of Company's activities
The past year has been a year of consolidation and development for the Company with various exploration activities undertaken at the Yandal East Project, including drilling at Ward that enhanced gold prospectivity and completed HD gravity survey, Airborne Magnetic survey and Ground EM surveys.
The Company believes that the current year 2021 shall see further activities like intensive Geophysical Work and Modelling at the Yandal project. Moreover, field programs are almost complete, and the Company now intends to drill the region.
Further, Carpentaria JV is an advanced project where database review and planning was ongoing as per the last update from the Company.
DETAILED DISCUSSION: ASX:RNX To Acquire ASX:SMV's Share in Attractive Carpentaria JVA
Significantly, RNX has been managing its costs according to the needs of various projects held by the Company, which varies from either management or exploration funds.
Moreover, the Company works in coordination with specialised and experienced external consultants for its projects, who help RNX by offering in-depth advice related to the ways of managing these projects in the best possible manner.
The RNX stock was noted at AUD 0.007 on 23 April 2021.
DID YOU READ: Renegade Exploration (ASX:RNX) Delivers 250% Growth By Strategising Efforts