Summary

Prescient Therapeutics has entered into a new research agreement with Peter MacCallum Cancer Centre to advance its CAR-T programs.
With this research agreement, Prescient will have access to the facilities and expertise of Peter Mac.
The new agreement enhances the existing relationship between the two parties for Cell Therapy Enhancements (CTE) programs.
Prescient will hold the intellectual property (IP) generated from the partnership.
Prescient Therapeutics Limited (ASX:PTX), an oncology firm developing personalised medicine for challenging cancers, has announced a new research program with the world-renowned institute, Peter MacCallum Cancer Centre. Through this program, Prescient will advance its next-generation CAR-T programs utilising the OmniCAR platform.
DO READ: Prescient Therapeutics charting an innovative path forward with CAR-T therapy
Notably, the biotech company already has an existing research agreement with Peter Mac, which was announced on 14 August 2020. The pre-existing agreement focuses on Prescient's CTE programs, which seek to improve the current generation CAR-T approaches. The new deal expands the research relationship of the two parties to include the development of the next-generation OmniCAR platform.
In January 2021, Prescient had announced the initiation of its three internal OmniCAR programs, including next-generation CAR-T therapies for-
Acute myeloid leukaemia (AML)
Her2+ solid tumours
Glioblastoma multiforme (GBM)
READ MORE: Prescient Therapeutics (ASX:PTX) initiates Three Internal OmniCAR Programs
Interestingly, PTX is developing OmniCAR as a CAR-T platform capable of being used by other CAR-T and oncology players under licence to advance their programmes.
Terms of the new agreement
Prescient will have access to Peter Mac's world-class expertise and facilities to initiate part of the OmniCAR preclinical development programs.
Global CAR-T specialist Professor Phil Darcy will lead Prescient's OmniCAR research program.
The biotech firm will hold any resulting intellectual property (IP) from work.
The partnership now includes two post-doctoral scientists and two research assistants who are fully dedicated to Prescient work.
The Company has also secured grant funding of AU$100K from the Federal Government's Innovation Connections scheme for this research.
CAR-T: groundbreaking cancer treatment
CAR-T is a revolutionary cancer treatment that involves removing immune cells from a cancer patient, reprogramming them in a lab to recognise and attack cancer cells and then, introducing them back into the patient.
The current generation CAR-T treatments have demonstrated unprecedented efficacy in some blood cancers. However, these therapies confront several challenges, including-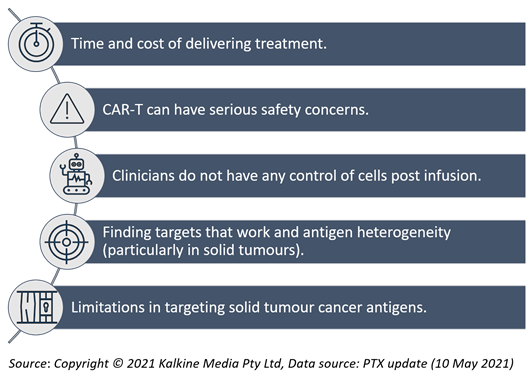 Prescient's OmniCAR platform is a next-generation modular CAR-T platform that aims to overcome the clinical limitations and challenges being faced by current generation CAR-T therapies.
The OmniCAR platform can give clinicians greater control, efficacy, flexibility, safety, as well as the potential to improve CAR-T functioning against solid tumours.
Source: PTX AGM Presentation (November 2020)
MUST READ: Prescient Therapeutics (ASX:PTX) aims to cash in on OmniCAR Programs
Peter MacCallum Cancer Centre: A Global Leader in CAR-T
Peter Mac is at the forefront of research, manufacturing, and development of CAR-T therapy. Peter Mac is a majority shareholder in Cell Therapies Pty Ltd, the only manufacturer of approved CAR-T therapies in the Asia-Pacific region.
In 2019, Peter Mac's Centre of Excellence in Cellular Immunotherapy secured AU$105 million, including AU$80 million from the federal government. The funding was secured to establish a dedicated CAR-T clinical unit and expand CAR-T manufacturing and clinical trials capacity.
Management Commentary
CEO and Managing Director of Prescient, Steven Yatomi-Clarke, stated-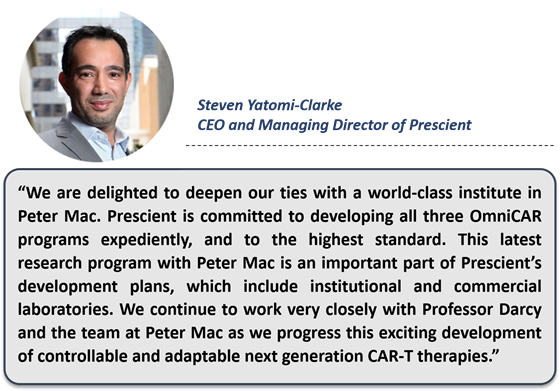 Adding to this, international CAR-T specialist Professor Phil Darcy commented-
DO READ: PTX on a high after a healthy March quarter with impressive progress in its anti-cancer programs
Prescient has been progressing well with its CAR-T platform development, having initiated three OmniCAR programs. Prescient's strengthening of ties with global CAR-T leader Peter MacCallum Cancer Centre adds a further boost to the company's prospects. These developments will help Prescient to establish revolutionary cell therapies for the most challenging cancers and create new licensing opportunities for third parties.
On 11 May 2021, PTX shares were trading at AU$0.087 (at AEST 12:07 PM).
To know more about Prescient Therapeutics Limited, click here.
To stay updated with PTX company activities and announcements, please update your details on their investor centre.