Summary

Platina Resources will kick off exploration at the Xanadu Gold Project after binding purchase agreements are executed, and tenement transfers commence.
The Company has expanded its project footprint with application E52/3946 for an additional 69 square kilometres.
Low-cost geophysics and geochemistry would be initially undertaken to define both shallow and deeper targets for drilling.
Platina Resources Limited (ASX: PGM) is gearing up to advance towards the exploration phase at the Xanadu Gold Project, located in the Ashburton province of Western Australia. Following the execution of binding purchase agreements and commencement of tenement transfers, Platina will hit the ground running and kick off exploration activities.
The project is located in close proximity to the Mt Olympus gold deposit, which hosts millions of gold ounces and is advanced by Kalamazoo Resources Limited (ASX: KZR).
GOOD WATCH: Expert Talks With Mr Corey Nolan - Managing Director Of Platina Resources
Project expansion with new tenement application
Platina has also applied for E52/3946 for an additional 69 square kilometres, covering the target Duck Creek Dolomite and the Nanjilgardy fault zone and its splays.
With this application, the Company's project footprint has further expanded to 562 square kilometres. It includes contiguous coverage along a 60-kilometre strike length of the Nanjilgardy fault and its splays and the Duck Creek Dolomite stratigraphy, which hosts gold mineralisation within the project area.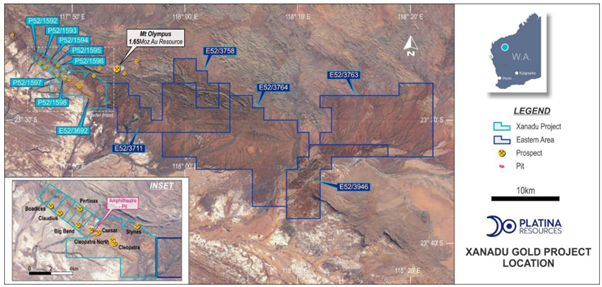 Xanadu location and tenure summary (Source: PGM Update, dated 7 June 2021)
ALSO READ: New Project Acquisition to Add Lustre to Platina Resources' (ASX:PGM) Gold Portfolio
Platina Resources' initial exploration plans at Xanadu
Platina Resources Managing Director Corey Nolan indicated that the Company would initially undertake low-cost geophysics and geochemistry as part of its exploration strategy. This would build a more profound geological potential knowledge of the project while defining shallow and deeper drilling targets.
Mr Nolan added that the Company believes in significant potential for expanding upon the known oxide mineralisation. Furthermore, the longer-term value includes "targeting primary mineralisation within the alteration core of the system", which have never been subject to historical drill programs.
Source: Copyright © 2021 Kalkine Media
ALSO READ: Platina Resources' March Quarter Marked By Golden Strides At WA Assets
Platina Resources believes in immense potential of Xanadu
The Xanadu project boasts immense appeal, owing to the presence of several economic grade gold drill intercepts of significant width. Such intercepts have never been followed up with a systematic exploration campaign.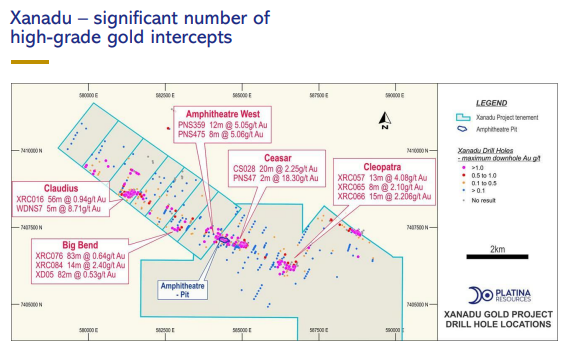 Source: PGM update, 28 May 2021
The project secures an extensive alteration system hosted within carbonates and sediments prospective for intrusion related gold mineralisation such as the Hemi discovery held by De Grey Mining Limited (ASX: DEG) and the Telfer Gold Mine owned by Newcrest Mining Limited (ASX: NCM).
Mr Nolan also stated that Xanadu displays striking similarities to the Carlin gold deposits in Nevada, US.
ALSO READ: Platina Resources (ASX:PGM) on course to pursue its golden dreams at Challa project
What makes Xanadu a project with significant upside?
Platina Resources believes that the project offers significant upside due to a mix of factors.
A favourable regional-scale structural setting which consists of the Mt Olympus gold deposit, situated seven kilometres to the east, is a significant boost to the project.
Furthermore, the Company has identified widespread gold mineralisation within an extensive and intense hydrothermal alteration system, extending for more than 10 kilometres in strike extent.
The host lithology includes the Duck Creek Dolomite, which is a highly reactive rock and favourable host to the target intrusion-related and Carlin styles of gold mineralisation.
Immediate targets at depth and from surface within the interpreted east plunging alteration system also enhance the project potential.
PGM shares were trading at A$0.076 midday on 7 June 2021.