Summary

Pental Limited (ASX:PTL) has announced strong H1 FY21 (1H21) results.
There has been significant growth in revenue, profit, and dividends.
The Company is strong in driving continued profitable growth organically and through mergers & acquisitions, effectively no debt, strong and increasing brand recognition.
Adding great flavour to the ongoing reporting season of ASX-listed companies, branded home and hygiene product developer Pental Limited (ASX:PTL) announced strong 1H21 results for the period ending on 31 December 2021.
The Company continued to focus on its strengths, lowering production costs to remain competitive while staying proactive in expanding its portfolio of trusted shelf stable branded products. The impact of COVID-19 has enhanced the favorable growth trends that Pental has developed across its business.
Notably, Pental started CY21 with A$2.7 million in net cash, effectively debt-free: a strong balance sheet to fund growth strategy via acquisitions, agency agreements, innovation, and market expansion.
RECENT UPDATE: Pental & Duracell implement a new route-to-market arrangement
1H21 highlights
Pental witnessed significant growth in revenue, profit, and dividends across the reporting period-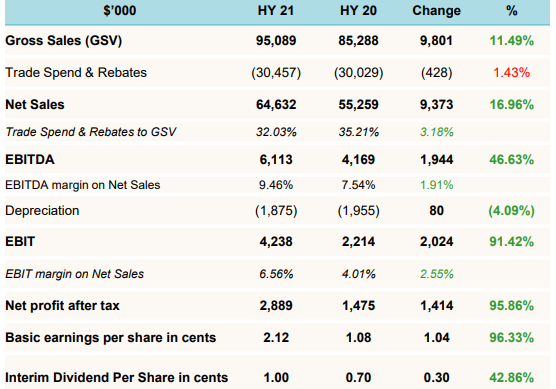 Key consolidated income statement items, Source: ASX Update, 19 Feb 2021
Decoding achievements
The strong financial and operating performance, coupled with a robust balance sheet, is a testament to Pental's potential. Notably, even amidst the business volatility of 2020, the Company positioned itself in a manner to be able to return capital to shareholders via fully franked dividends (payable to shareholders on 24 March 2021). It could also retain enough balance sheet flexibility to detect and assess potential acquisitions.
GOOD READ: Welcome the New Year! What Are Pental Limited's (ASX:PTL) Objectives & Goals For 2021?
Let us decode a few significant achievements from 1H21-
Labour efficiencies improved by 4 % compared to H120, labour utilisation rates improved by 6 % compared to the prior period.
The Company achieved significant margin expansion during the period, with EBITDA and EBIT margins on net sales expanding by 200 bps and 260 bps, respectively.
Pental experienced elevated demand for its strong germ-killing products during the first wave of the COVID-19. Consequently, there was a 20.5 % increase in White King branded sales compared to H120, net sales of Jiffy Firelighters were up by 63.8 % compared to the prior comparative period whereas Duracell recorded a strong net sales growth of 32.5 %.
Since July 2020, Pental has fetched over 25 million impressions, reaching over 14 million highly targeted Australian consumers through paid advertising, programmatic displays, and consumer promotions.
A partnership with Australian charity Royal Far West began to create better futures for Australian kids in rural communities.

Way forward
The Company is in a strong position to drive continued profitable growth. Pental is committed and focused on promoting its core brands across multiple digital platforms, utilising static, animated, and video creative. Besides, Pental has established a strong platform to facilitate growth via eCommerce sales in FY21, thanks to the newly launched website.
The Company continues to invest in developing new products with unique points of difference in line with retailer range reviews. Two new scented Jiffy Firelighters already developed might soon hit the Australian supermarket.
PTL quoted A$0.37 on 1 March 2021 and has a market capitalisation of A$53.13 million.
GOOD READ: Here's Pental Limited's (ASX:PTL) latest Board addition!