Shutterstock Images
Summary

Musgrave Minerals has received high-grade assay results for the first 15 reverse circulation drill holes at the White Heat (official Target 2) prospect.
Assays from the remaining ten drill holes at White Heat are expected in late March this year.
The Company also received an encouraging set of results from other regional drilling targets, including Target 5, 14 and 20.
Australian gold explorer Musgrave Minerals Limited (ASX: MGV) on Wednesday welcomed another excellent set of assay results from reverse circulation drilling at the White Heat prospect of its flagship Cue Gold project.
Having received robust assay results for 4 RC holes early in the month, Musgrave has reported further high-grade gold intersections at White Heat.
ALSO READ: Musgrave Minerals (ASX:MGV) Buoyed up with High-grade gold Hits at White Heat
The White Heat Prospect (Target 2), located 300 metres south of Break of Day, exhibits analogous mineralisation orientation as that of the Starlight lode and is hosted within a basalt package considered similar to Starlight-hosting stratigraphy. The potential for recurrence of high-grade mineralisation intercepts as returned by the stunning Starlight prospects puts Musgrave exploration endeavours at a vantage point.
A Snapshot of Recent High-Grade Results at White Heat
Musgrave received assay results for the first 15 RC drill holes out of the 25 holes drilled so far. Drill holes at White Heat are positioned at 40-metre intervals along 20-metre spaced traverse lines. The mineralisation at White Heat prospect is similar to Starlight Iode at Break of Day and consists of a leached near-surface zone where gold is depleted in the upper saprolite. The mineralisation at White Heat prospect is open down plunge.
Further RC drilling at White Heat prospect identified robust gold results over a strike extent of up to 100 metres with a steep westerly plunge.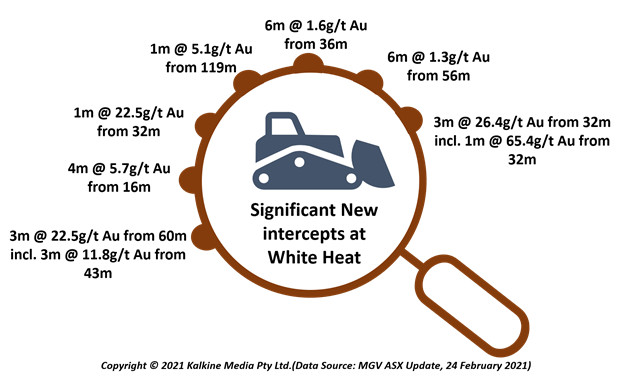 The Company has examined a combination of one-metre individual samples as well as six-metre composites from the RC holes as part of the current program.
ALSO READ: Musgrave Minerals eyes a golden 2021 with Cue project running like clockwork
Encouraging Drilling Results at other Regional Targets
In addition to White Heat, the regional aircore drilling program also identified five other highly prospective targets returning high-grade gold results. In the aircore program, Musgrave has received individual one-metre samples for a further seven holes, with the initial composite assay data supported by the latest results.
Target 5
20MUAC402- 24 metres @ 2.53g/t Au from 16 metres including,

2 metres @ 8.8g/t Au from 20 metres
1 metres @ 33.9g/t Au from 34 metres

20MUAC397- 2 metres @ 21.1g/t Au from 34 metres
Target 20
20MUAC395- 8 metres @ 2.56g/t Au from 27 metres
20MUAC384- 1 metres @ 1.98g/t Au from 36 metres
The current RC drilling program is testing the targets, and assays are anticipated by mid-March.
Road Ahead for Musgrave's Exploration Endeavours
Musgrave's 100% tenements
Musgrave has successfully wrapped up its Phase 1 RC drilling at the White Heat target to a vertical depth of ~125 metres. Further assay results are anticipated in late March 2021.
Initial RC follow-up drilling has been completed at other regional targets including Target 5, 14 and 20. The drilling was focused on defining the basement source of gold anomalism at the targets, and results are anticipated in mid-March.
Musgrave has also kicked off an extensive regional aircore drilling program over existing targets with the aim to define the extent of gold anomalism.
Meanwhile, the pre-feasibility studies are in progress at Break of Day as well as Lena deposit.
Evolution Joint Venture
The extensive regolith gold anomalies identified from the regional aircore drilling program on Lake Austin are being tested with follow-up diamond drilling commenced.
MGV shares closed at AUD 0.315 on Wednesday, February 24, 2021.