Summary

Musgrave Minerals received robust gold results from follow-up aircore drilling at Target 5.
Drilling at Target 14 and Target 20 also recorded additional near-surface gold intersections.
Musgrave has kicked off follow-up RC drilling at the White Heat prospect with initial assays due in February.
ASX-listed gold exploration company, Musgrave Minerals Limited (ASX:MGV) has unveiled another set of brilliant assay results from more than 25,000 metres regional aircore drilling at its Cue Gold Project.
In late 2020, Musgrave completed 445 aircore holes over 25 targets, and composite assays have been received for all holes.
With several robust gold results, follow-up drilling has further extended near-surface mineralisation of the precious metal at Target 5. Following the significant update, MGV shares edged up by ~3%, trading at A$0.385 on 19 January 2021 (at 3:37 PM AEDT).
The regional drilling program has demonstrated to be extremely valuable to test targets derived from geological, geophysical, and geochemical data.

Also read: Musgrave Minerals (ASX:MGV) Soars 6% On Early Wrapping Of Share Purchase Plan
Drilling Results at Target 5
At Target 5, Musgrave undertook follow-up drilling which has confirmed as well as extended the gold anomalism along more than 120 metres strike. Early drilling interpreted two parallel zones of gold mineralisation, both open to the north as well as south along strike.
Several drill holes ended in mineralisation and thus the extent of the gold intersection is not fully defined. Musgrave will complete additional drilling as a priority.
The numerous end-of-hole intercepts and the level of anomalism is exceptionally encouraging.
Furthermore, neither any drilling is present for 0.5km southward of Target 5 to Target 20 nor to the north for more than 2.5km towards Target 14.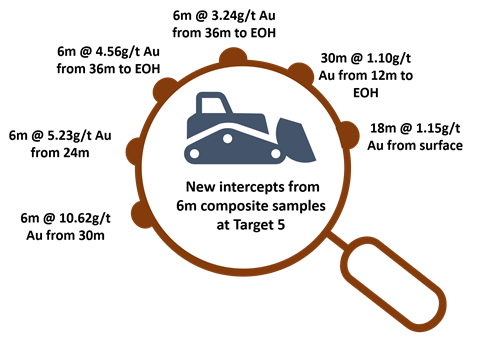 Kalkine Group Image (Data Source: MGV ASX Update, 19 January 2021)
The Company has planned extensional follow-up aircore drilling in February. This will be subsequent to reverse circulation follow-up basement drilling below the current intercepts , which is scheduled to be undertaken in late January.
Outcomes at Target 14
The regolith gold anomalism over 2.8km and open to the south has been confirmed from the follow-up drilling results at Target 14.
One-metre individual samples have returned intercepts, including:
20MUAC335- 2 metres @ 7.30g/t Au from 73 metres
20MUAC336- 7 metres @ 1.39g/t Au from 51 metres
Drilling Results at Target 20
At target 20, the follow-up drilling has extended the near surface gold anomalism along 140 metres strike, where it remains open for 0.5 kilometres north and for 1.5 kilometres south.
6m composite samples returned new intercepts, including:
20MUAC387- 12 metres @ 1.36g/t Au from 18 metres
20MUAC391- 6 metres @ 1.02g/t Au from 36 metres to EOH
20MUAC395- 24 metres @ 0.66g/t Au from 12 metres
Drilling at targets 4, 17, 18, 21 and 25 returned additional anomalous gold outcomes. Meanwhile, the extent of the gold anomalism would be defined through aircore drilling, which is slated to begin in February 2021.
Current Undertakings at Cue
Musgrave has wrapped up initial aircore follow-up drilling at high priority targets like White Heat and targets 21, 20, 17, 15, 14, 9 and 5. While the Company has received all-composite assays, around one-fifth of one-metre assays are still awaited. The Company has also kickstarted RC drilling at the White Heat target with the focus on follow-up of previous high-grade aircore results.
Kalkine Group Image (Data Source: MGV ASX Update, 19 January 2021)
Also read: Musgrave Minerals' (ASX:MGV) $18 Mn Capital Raise Set to Boost Cue Project Development