Summary

King River Resources has received high-grade gold results at the Mt Remarkable Project.
Best result of 6m @ 5.25g/t Au including 1m @ 30.1g/t Au was returned from Trudi Main.
The Company intends to undertake follow-up RC drilling and reconnaissance exploration at the project.
The exploration and development undertakings of King River Resources Limited (ASX: KRR) are hitting out of the park, returning encouraging results at its solid project portfolio. The victory needle at this time points at its gold project- Mt Remarkable, located in Western Australia.
The Company has announced the discovery of a new high-grade gold zone at the project. The best result was returned from 5m grid drilling at main Trudi's western side during 2020 Reverse Circulation (RC) drilling. Also, exploration drilling at Trudi Offset and Jeniffer North has returned significant results.
Notably, the RC drilling program was undertaken in late-2020 with 33 holes drilled for a total advance of 2,310 metres. Assays are pending for 11 holes.
Mt Remarkable Main Zone, New High-Grade Gold Target (Source: KRR ASX Update, 27 January 2021)
ALSO READ: A Growth-Stimulation Outlook for King River Resources' (ASX: KRR) HPA in the New Year
Drilling Results Received to Date
Trudi Vein
Results from the 5m RC grid drilling on Trudi Main project's western side have returned high-grade gold results.
Best down hole results include:
KMRC0278- 6m @ 5.25g/t Au

including 1m @ 30.1g/t Au

KMRC0270- 14m @ 2.23g/t Au

including 5m @ 5.26 or 2m @ 8.85g/t Au
While drilling undertaken in 2018/2019 was aimed to extend and identify new high-grade zones on the Trudi deposit's eastern side, the high-grade zone discovery to the west is an encouragement to the Company.
Trudi Offset
Five holes were drilled at the offset position of the Trudi Vein, that lies 150m east of the main Trudi deposit. The intersection of significant quartz-adularia veining and structure at all holes at Trudi offset confirms Trudi vein's offset position and orientation.
Best assay results include:
KMRC0248- 2m @ 2.87g/t Au including 1m @ 4.34g/t Au
Jennifer North
Out of the seven RC holes drilled at Jeniffer North over a strike length of 250m, assay results for five holes have been returned.
The mineralisation intersected by the westernmost hole includes:
KMRC260- 2m @ 0.66g/t Au, with mineralisation open to the west
Trudi East
Results for two RC holes out of the five drilled at Trudi East in 2020 exploration program have been returned.
Best results include:
KMRC0247- 3m @ 0.66g/t Au including 1m @ 0.91g/t Au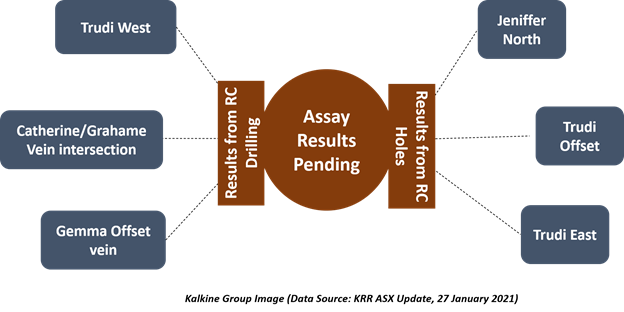 ALSO READ: King River Resources (ASX:KRR) Unveils Gold Potential With Prospective Ironstones Uncovered in Tennant East
Planned Exploration at Mt Remarkable
King River Resources intends to design follow-up RC drilling after receiving all the results. The focus of exploration drilling will be main Trudi vein. It would also cover a plan to start testing of the known strike extent of the Trudi vein to the east and to the west, with even spaced fence drilling up to the depth of 100m.
The Company also plans to kickstart reconnaissance exploration at the earliest opportunity this dry season (commences in May) across its large tenement holdings in the region. It would facilitate undertaking follow-up exploration and drilling at new discoveries or targets in 2021.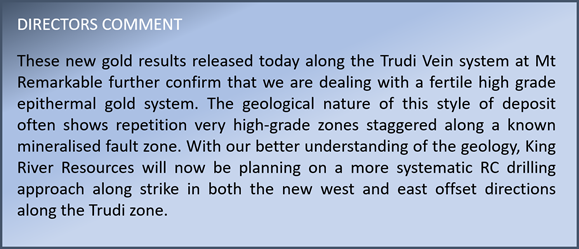 KRR traded at $0.036 on 27 January 2021.