Summary

The online stock trading space has seen a lot of new entrants, but many have removed functions or co-mingled investments to get down to a price.
The market for trading platforms has broken into two groups, the old legacy models with ageing technology, limited technology and higher pricing - or low-cost offerings, with limited live data and function.
Marketech has used the latest technology to supply a product that is both high function and low price, setting it apart as the best of both worlds.
The role of technology should be indispensable in modern day stock trading. Over the years, various technological innovations have completely changed many other industries, however online stock trading is still dominated by old technology.
This process of enhancement and innovation in an online stock trading platform should allow an offering for users that is both lower cost and higher function but has mostly focused on removing live ASX data and making the platforms simpler, not made use of cloud storage and mobile delivery to enhance the supply of the data that a trader needs to maintain their edge.
INTERESTING READ: Getting Acquainted with Marketech Limited and its Modern Trading Platform, Marketech Focus
Traders now have a number of new platforms to choose from. However, many of the new companies that offer trading platforms do not supply a product for a trader that allows them to take their trading seriously.
This is a challenging task and hence, a number of companies have ended up offering trading platforms with less features and less differentiation, aiming at the new user who may think that a cheap product with limited data is enough to outperform. Very few companies have developed an online trading platform that stands apart in the market.
LATEST UPDATE: Marketech Focus Now Comes with Real-Time Streaming Prices
Distinctive Online Trading Platform: Focus
Marketech Limited has been engaged in developing trading platforms for around two decades. The Company's 'Marketech Focus' is a data and trading platform for the serious, active trader. Focus is still easy to learn for the first time ASX investor and is built to satisfy the appetite of those traders who know they gain an edge from mobile access to all the data they need, and are keen to pay less per trade than the dominant bank-related brokers.
Maintaining differentiation in its trading platform is one thing that Marketech Limited has been focusing on. Recently, the Company has introduced its newest premium ASX trading platform that is built to provide market-leading trading instruments and fairer fees to active ASX investors.
DID YOU READ: How is Marketech Setting Trends in Stock Trading Platforms?
Enhancing Competence for Better Experience
Key areas that Focus emphasises on are as follows:

INTERESTING READ: Overcoming Challenges in Online Trading, Marketech Focus to The Rescue
The latest feature-loaded platform helps to strongly position Marketech Focus and establish distinctiveness from its competitors. Moreover, Focus overcomes the limitation of access to real-time streaming prices on mobile devices. This offers a major edge over its competitors while minimising their brokerage and increasing the tools at their disposal.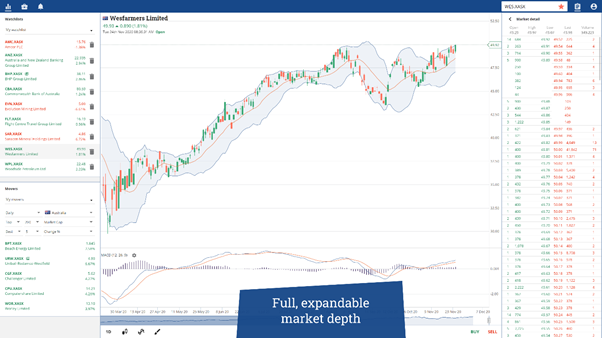 DID YOU READ: What Distinguishes Marketech Focus in the Highly Competitive Market for Online Trading Platforms
In conclusion, Focus is a unique offering, which stands apart by generating a better trading experience yet at a similar cost to the lowest cost platforms in the market. Their distinctive features play a central role in enabling users to achieve their investing goals.
However, all eyes remain glued to their further innovations due in 2021 to offer more value and help traders overcome various challenges in an uncertain market.
INTERESTING READ: Staying Ahead of the Curve, Sorting A Trading Platform for Enhancing Your ASX Trading