Summary

Commercialisation deal executed by LIT for its revolutionary LieNA® process.
The second party in the agreement is Deutsche Rohstoff AG.
Pilot plant construction has been kickstarted.
Lithium Australia NL (ASX:LIT) announced a commercialisation deal for the LieNA® process with a German investment and natural resources holding company, Deutsche Rohstoff AG (DRAG).
The deal offers an option for an exclusive licence issue in Europe for the LieNA® process, subjected to DRAG meeting the following: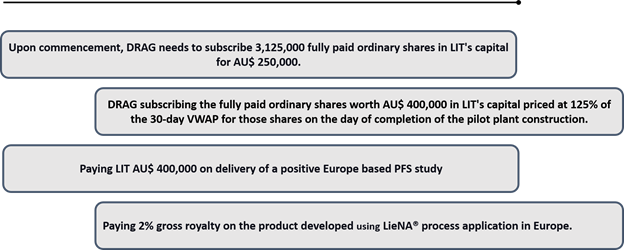 The deal will expire if Deutsche Rohstoff does not construct a LieNA® plant in Europe in the next 10 years from the commencement date.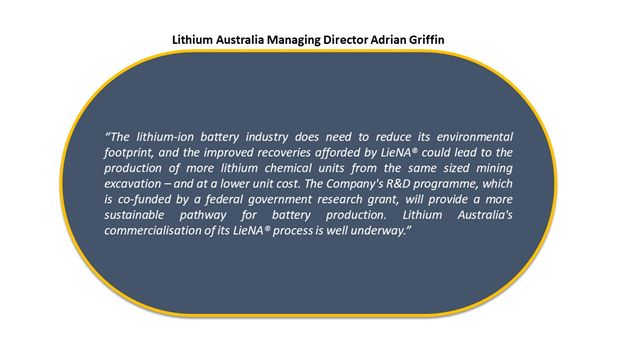 Image source: LIT's announcement dated 29 April 2021
Shedding light on next-generation LieNA® process
Image source: © Gavinp101 | Megapixl.com
LIT's LieNA® process is a revolutionary process for extracting lithium from spodumene. It enables lithium production in the form of carbonate, phosphate, or hydroxide without roasting, which offers flexibility to directly feed lithium phosphate in the production of lithium ferro phosphate cathode powder without needing a carbonate precursor or a lithium hydroxide.
LieNA® process is flexible enough to facilitate shorter path to battery production. LIT's subsidiary VSPC Ltd has already produced LFP cathode powder. VSPC will use lithium phosphate produced by this process to make LFP cathode powder.
Must read: VSPC Ltd's patent application accepted for grant, Lithium Australia (ASX:LIT) shares zoom up 9%
The method also improves the process throughout from mine gate to production by extracting lithium from the contaminated or ultrafine feed.
Also read: Lithium Australia granted Patent for revolutionary Li extraction technology LieNA®; stocks spikes 23%
The process directly digests the low-grade and/or fine spodumene in a caustic solution at high temperature and high pressure to produce lithium sodalite, which facilitates easy leach out of lithium with acid. The LieNA® conversion process had been through extensive bench testing at ANSTO's Lucas Heights facility in NSW, Australia.
Furthermore, LieNA® can extract lithium out of the spodumene discharged to tailings without any roasting needed, and water utilisation is also better than other processes.
In Feb 2020, LIT was granted a CRC-P award as part of an AU$ 3.6 million development programme.
Also read: LIT Receives Federal Government's Backing with $3.6M R&D Program Grant for LieNA(R); Stock up 6%
The construction of the critical component of the pilot plant, autoclave, began in Mumbai, India. While the country is undergoing devastating Covid-19 second wave, at this stage, the pandemic seems to have no impact on the construction schedule. LIT is expecting autoclave's delivery to Australia in October 2021, and plant construction is scheduled to complete before the year-end at ANSTO to enable the pilot run.
On 29 April 2021, LIT closed the day's trade at AUD 0.125, up by 4.166%.