Source: Monica Priscilla, Shutterstock
Summary

Zenith Minerals has received highly encouraging assay results from two holes at Red Mountain Gold Project.
The results have extended high-grade gold mineralisation to a depth of 200m below surface.
The diamond drilling program is being undertaken with the objective of potential resource definition.
Zenith Minerals Limited (ASX:ZNC) seems to be hitting it out of the park, with its exploration efforts returning extremely encouraging high-grade results at the wholly owned Red Mountain Gold Project in Queensland.
The gold and base metals explorer has announced new assay results from two diamond drill (DD) holes, which extend and confirm high-grade gold zones at the project.
Triggered by the update, ZNC stock traded higher by 4% to AUD 0.130 with a market capitalisation of AUD 36.79 million on 14 April 2021.
Red Mountain Gold Project Location Map (Source: ZNC Announcement 14/04/2021)
PREVIOUS UPDATE: Latest metallurgical results shore up Zenith Minerals' confidence in Split Rocks gold project
Robust Results from Two Diamond Drill Holes
The current program is focused on four DD holes, of which ZRMDD041, 043 and 044 have been completed with a total depth of 863m, while ZRMDD042 is in progress with a design depth of 350m.
The ongoing exploration activity has highlighted a sub-vertical high-grade gold zone to a vertical depth of 200m, which remains open at depth and continues to be the focus of drill testing.
The latest assay results from ZRMDD041 and ZRMDD043 offer an extension to the high-grade gold mineralisation that was intersected in both holes, with separate assays topping 29.3 g/t Au and 43.8 g/t Au, respectively.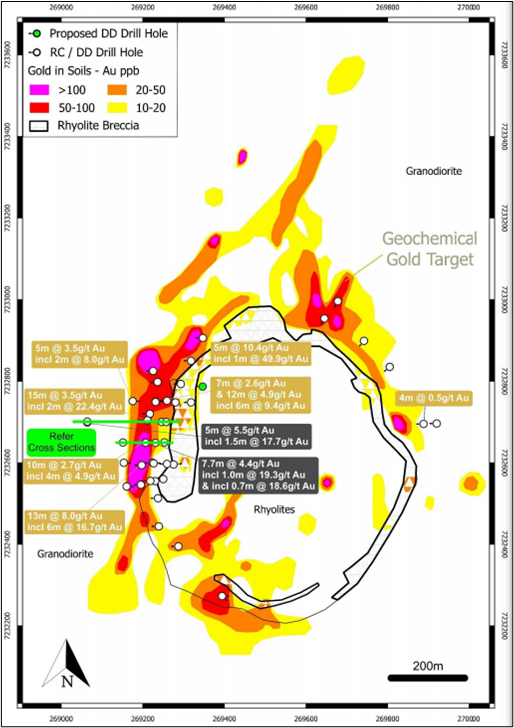 Red Mountain Breccia Pipe Target Showing Gold Soil Anomalies and Drill Collar Locations
(Source: ZNC Announcement 14/04/2021)
The gold mineralisation of 7.7m @ 4.4 g/t Au incl 1.0m @ 19.3 g/t Au & 0.7m @ 18.6 g/t Au in hole ZRMDD041 lies 50m directly beneath hole ZRMRC016 that returned 10m @ 2.7 g/t Au, reinforcing the continuity of high-grade gold mineralisation.
Further gold mineralisation, including 5m @ 5.5 g/t Au incl 1.5m @ 17.7 g/t Au and 5.4m @ 1.8 g/t Au, incl 0.7m @ 12.4 g/t Au was intersected from hole ZRMDD043. The mineralisation is associated with a rhyolite dyke at a place proximal to the end of drill hole ZRMRCD040 where visible gold was detected.
Currently, the results for hole ZRMDD044 have not been received. However, the hole intersected similar geology with alteration and base metal sulphides consistent with gold mineralised intervals in previous drill holes.
DID YOU READ: Zenith Minerals' (ASX:ZNC) Shares Rocket After Drilling Confirms New Gold Zones at Split Rocks
These new results are in addition to previously announced near surface high-grade drilling intersections, including the following: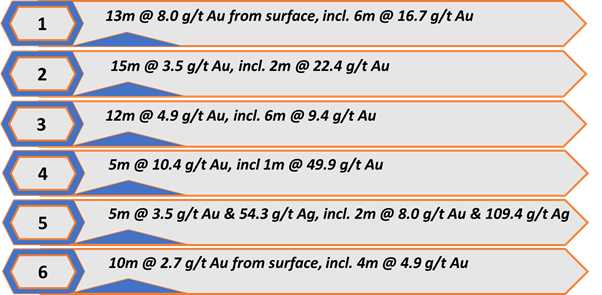 Source: ZNC Announcement 14/04/2021
Further, association of strong silver grades with gold mineralisation include 15m @ 0.4 g/t Au with 20.4 g/t Ag and 4m @ 0.5 g/t Au with 82.0 g/t Ag, 5m @ 3.5 g/t Au with 54.3 g/t Ag and a new result of 5m @ 0.3 g/t Au with 30.6 g/t Ag.
RELATED: Zenith Minerals (ASX:ZNC) eyes an exciting 2021 with three projects in progress
Further Plans at Red Mountain
The current drilling program at the Red Mountain gold project focuses on the western part of the prospect area, which comes under a bigger total target zone covering about 2.2km around the rim of the breccia pipe.
The company believes that mineralisation at the project is analogous to known gold deposits in Queensland. Moreover, evidence includes a zoned system with geochemistry similar to the one recorded at third party-owned Queensland gold deposits like Mt Wright.
ZNC plans to pursue the plunge of the mineralised zone in a higher grade 5 – 8 plus metre wide core zone. Moreover, the Company looks forward to obtaining assays from hole ZRMDD044.
Owing to the recent events like heavy rainfall in eastern Australia and lockdown in Brisbane, the speed of operations has been impacted. However, the field crew carried out an exceptional job in advancing field activities, according to Chairman Peter Bird.
INTERESTING READ: Meet the Stalwarts at the Helm of Zenith Minerals
ZNC is considering to employ a drill rig to the project on a more full-time basis, given the highly encouraging results till now, Mr Bird added.
The company plans to continue diamond drilling at Red Mountain with the objective of potential resource definition. Additionally, associated exploration activities aimed at finessing more drill targets is underway, such as a detailed drone-based aeromagnetic survey, 3D IP electrical geophysical survey and expansion of the soil geochemical coverage.