Source: Kobah, Shutterstock
Summary

Krakatoa Resources Limited has undertaken substantial exploration works across its fully owned Rand Gold Project.
KTA has received encouraging results from these exploration activities, which warrant further exploration work to better assess the prospective nature of the land.
Lately, KTA has commenced AC drilling over the magnetic bullseye targets at the Rand Project, which is expected to conclude by mid-April 2021.
Krakatoa Resources Limited (ASX:KTA) has been making meaningful progress at its Rand Gold Project, especially during the past month when the Company kicked off a comprehensive exploration program at the project. Notably, Krakatoa has been engrossed in systematic exploration at the Rand project since it was granted in October 2020.
Later in February, the Company reported encouraging assay results from rock chip samples secured during a reconnaissance field program. Lately, in mid-March 2021, KTA commenced a 2,500m AC drilling program at the project comprising 40 holes.
Given this backdrop, let us take a glance at KTA's latest exploration efforts at the Rand Gold Project.
DETAILED DISCUSSION AT: Krakatoa Resources (ASX:KTA) begins drilling at Rand Project
Commencement of Soil Program
Last month, the Company initiated an extensive soil program over the Bulgandry prospect. This prospect represents one of several priority targets recognised from the latest tenement wide aeromagnetic survey.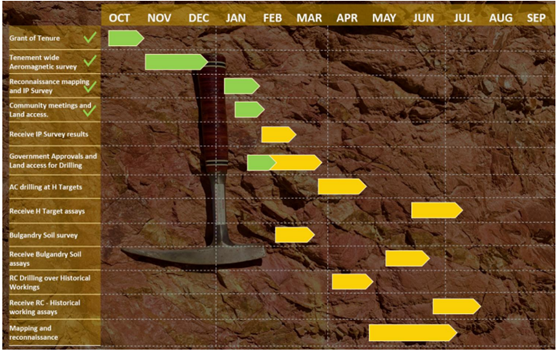 Exploration objectives and priority works program: Rand Project (Source: ASX Announcement 17/02/2021)
This was KTA's first extensive soil geochemistry program undertaken over the historical Bulgandry Goldfields that aligned with KTA's systematic exploration approach. Several of these areas have witnessed very less contemporary or effective exploration, presenting an opportunity for KTA to discover a substantial mineralised system.
MORE AT: Krakatoa unearths high-grade gold rock chips at Rand Gold Projects
High-grade gold in rock chips from reconnaissance field program
After mid-February 2021, KTA received high-grade results from rock chip samples gathered at the Rand Gold Project during a reconnaissance field program.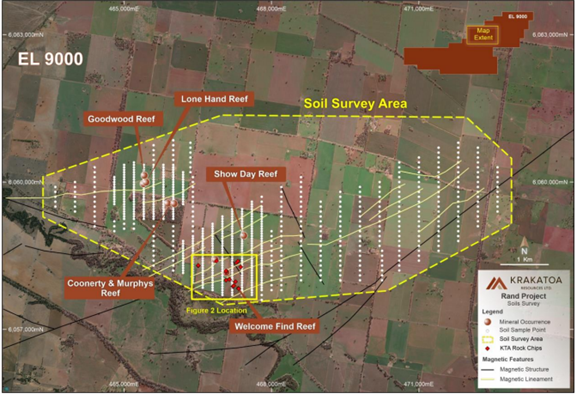 Rock chip sample locations and current auger soil geochemical survey (Source: Company Announcement 23/02/21)
The results validate the potential calibre of the gold system while confirming the geochemical signature of an IRGS (Intrusion Related Gold System) at Bulgandry. Moreover, the assays also confirmed the potential for economic grades of gold and minor silver along with the presence of highly elevated base metals.
Meanwhile, the Company continued with its soil survey over the Bulgandry area ahead of a 2,500m air-core (AC) drilling program, that kicked off in March.
READ: Krakatoa Resources (ASX:KTA) All-Set to Go for Gold
Drilling kicks off at Rand Gold Project
In mid-March 2021, KTA announced that it had initiated the planned AC drilling over the magnetic bullseye targets as part of its systematic exploration program.
Air-core drilling over Bullseye targets (Source: Company Announcement 16/03/21)
This drilling program of the Company comprises around 40 holes, making a projected 2,500 metres of AC drilling that will test three discrete bullseye magnetic features along with areas demonstrating anomalous resistivity highs.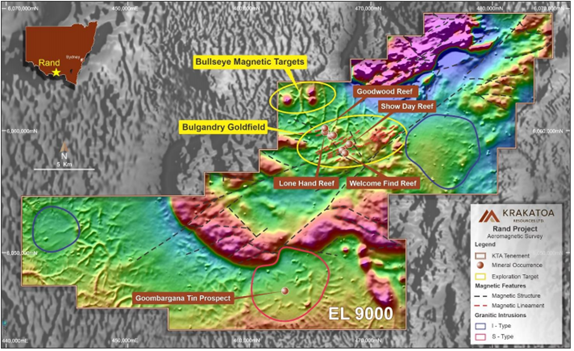 Priority exploration targets (Source: Company Announcement 16/03/21)
The magnetic bullseye targets are believed to be prospective as confirmed by historical drilling in the area. Anomalous gold assays were returned from two shallow historical drill holes finished around the early 1980s. The company plans to extend AC survey over the bullseye targets that have shown promising gold mineralisation through historical drilling.
QUARTERLY UPDATE: Krakatoa Resources (ASX:KTA) Closes A Rocking December Quarter
Besides AC drilling, which is expected to wrap up by mid-April, the Company also plans to initiate a 1,500m reverse circulation (RC) drilling program in early April.
Overall, KTA remains in pursuit of a systematic exploration program across its project and has major activities planned. Having received encouraging results from its exploration efforts so far, the Company is keeping its hopes high as it charts its path forward.
On 30 March 2021, KTA shares closed the day's trade at AUD0.062 up by 3.33%, with a market capitalisation of AUD16.73 million.